Excess moisture can allow mold and mildew to develop inside a car. This guide is about getting rid of mildew smell in a car.
By Bonnie G. 2 2
How do you get mildew smell out of a flooded car? My daughter's new (used) car smell of mildrew. We are afraid it was a flooded car. How can we get this odor out? It didn't smell when we bought it. It has been about two months now and the odor is very strong. They must have used something to hide the odor at the time of the sale.

Bonnie for LA
---
Best Answers
By Debra Langreck 1 Flag
June 5, 2005
Oh Bonnie, I feel your pain. Or son's car seats were used as a litter box at a garage when they left the windows down while it was there being repaired. We thought we had resolved the problem after cleaning the upholstery, but once we rolled up the windows and the car sat in the hot sun down here in Louisiana, NOTHING had changed.
We finally found a liquid enzyme product that we actually sprayed and even soaked into the foam of the seats. (We took the seats out to do this, but you may want to leave yours in and drench the carpet also) Anyhow - It worked! Every trace of the cat urine smell was removed. I would think it would do the same for a mildew smell. A local company here in Louisiana makes and sells the liquid enzyme I used.
If you can't find something in your area, try contacting Long's Preferred Products, (318)387-7304 or (318)398-9750. Hopefully they can help or at least make a suggestion for a purchase in your area. Good luck!
---
June 6, 2005
If you smell mildew. chances are there is still moisture in the car. Use DampRid to suck up any moisture and it will also remove some of the odor. You can buy DampRid just about anywhere, like Walmart in the house cleaning products isle. Bleach is the most effective way to remove mildew but I dont think you want to use that on your interior carpet. Sprinkle baking soda on the carpet then spray it with vinegar and water and watch it fizz and eat the mildew away.The vinegar smell will disapate after it dries. These two combined work miracles on everything!!
Remember, if you smell mildew, there is probably mold in the car as well. The spores can get into your daughters lungs and cause upper respitory problems like stuffy nose, conjestion, mucus build-up, headache, and a general ill feeling. The safest way is to have the interior carpet replaced. I just went through a similar problem with my car after all of the hurricanes. Best of luck to you:)
---
By guest (Guest Post) Flag
June 7, 2005
A few years back, I purchased a used car that had a mildew smell. We didn't smell it when we test drove, but once we had it at home. I tried shampooing the carpets, Febreze, etc. Finally, I went on line and found a product called X-Stinkt (I may have spelled that wrong) it is a powder that you sprinkle, let sit and then vacuum up. I had to use it about three times, but the smell was finally gone. You might try an on-line search for "removing mildew smells" and look for X-Stinkt (or something similar, as I said, I am unsure of the spelling).
---
By chicky 1
Does anyone know how to get the mildew smell out of a car? I accidentally left all my windows in the car open and it ended up storming really badly. Well, needless to say my car was filled with water. It has been about 6 months and it still stinks. I've tried fresheners of all sorts. Nothing is working. Help!
By chicky
---
Best Answers
By Cody Johnston 1 Flag
June 5, 2009
Try spraying it with some What Odor? It completely got rid of the fish smell in my car after someone poured fish oil in my a/c vents. Really works great. had me saying What Odor?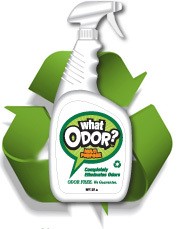 ---
November 18, 2010
Buy a box of Pet Fresh at your local grocery/dept store. Sprinkle it all over your vehicle's carpet; let it sit for 10 minutes, then vacuum it up. Can also put a air freshener in your car.
Tim
---
My truck had mold and mildew on the seat and under the seat. I have pulled the seat out and cleaned it wilh mixture of ammonia and water. The Mold and mildew is gone but the smell is still in the foam rubber under the seat. How do I get rid of this smell?

Judi from the Mountains of NC
---
Most Recent Answer
By guest (Guest Post) Flag
March 24, 2005
There is a product on the market called ODO-Ban. Spray the area with the mold or mildew with a full concentration of this. It has a pleasant fragrance, but may be a little overpowering for a while. However, it will cure your problem. We had a pick-up truck that developed a leak around the windshield and mold formed on the carpet. This took care of it. Good luck!
---
I own a 2003 Ford Thunderbird. For several months I have noticed a strong mildew smell coming from the vents, especially when air inside is on. However, I even noticed the odor in the garage when car was sitting in there. I started smelling all around my car and noticed the odor was very strong in the front right grill. I thought I found the solution/problem when someone told me to change the air cabin filter. I changed it, but am still smelling mildew, coming from front right grill. I have sprayed bleach water solution in the grill, on the cloth hood cover, and in vents to no avail. Please help. Thanks.
By Cindy
---
Most Recent Answer
By Yidene Sande 4 Flag
May 9, 2015
Sorry to hear that Bonnie.
I've had similar experiences in the past, and I was able to get rid of the Mildew, and odor. I cleaned the car with something called Mildew Armor, you can get it at your local home depot store. I purchased the vehicle through JunkCarBuyerGA.com , and they had told me that it had mildew, and that the owners didn't want to risk driving the car.