January 7, 2008
One suggestion is to get pregnant. Works really well.
Not for you just yet, then try jello or geletin tablets. Suppose to help your hair grow longer.
January 8, 2008
How are you brushing it? If you use a comb, thats not good, it rips the hair when you get to a knot. You should use a good brush. Only brush from the bottom an inch or a half an inch at a time. Never pull knots out, gently work thru them.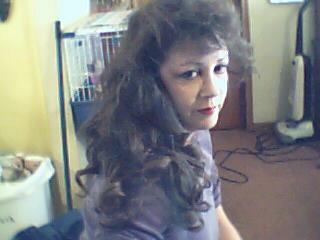 January 8, 2008
Not everyone's hair can grow long. Some people have a limited growth factor and that's it. Although it grows quickly, my hair will not grow as far as my shoulders and I have tried everything possible for the last 50 years. It certainly didn't grow when I was pregnant! My dermatologist told me that it's a matter of genetics.
By guest (Guest Post) Flag
January 8, 2008
Alot of Vitamin A...it helps your fingernails too!
January 8, 2008
I am a former cosmetologist. While it is absolutely true that genetics play the most important role in hair length, there are things to do to maximize what you have to work with. First, look at others in your family, and ask questions, to determine what your average length might be. Then, while it helps to regularly involve a cosmetologist who is interested more in hair care than the latest fad style or color, haircare is a team effort, because if you are not caring for your hair between visits going to a stylist does no good.
When you care for your hair at home, use decent, not cheap shampoos and conditioners; ways to save money when using quality products are 1)unless your hair is really dirty (you should shampoo it at least once a week but if it is dry not every day), rinse it well, shampoo once, rinse again (no need to repeat); and 2)most shampoos and conditioners can be diluted quite a bit with water and still be effective, or just use a smaller amount. If your hair is dry use a quality oil; if just the ends are dry use it just on the ends. A tiny amount will work, and get some that does not list mineral oil or petrolatum in its ingredients. If you use chemicals, be careful; if you relax or put permanent wave in, don't use color, and vice versa.
Use a reconstructor every 1-2 months on your hair, get chemical retouches on schedule, and, this is the part everyone hates at first, GET REGULAR TRIMS! You may start out getting a lot cut if you have been avoiding trims, but after that once every 2 months will keep damage from spreading, and only a small amount will need to be trimmed. My new customers would panic when I had to cut a lot at first, but a year or two later when their hair was at their waists even after regular trims they didn't complain. Seems like a lot but once you settle into a routine it will be as simple and familiar as washing your face. Good luck!
January 13, 2008
I started letting my hair grow a year ago. It was about a inch long all over my head. Now it is past my shoulders. I go to the farmer's almanac on line & look at the best days to cut your hair for growth. I think it works! I also take prenatal vitamins daily. They help your nails & hair.
By guest (Guest Post) Flag
August 9, 2008
I've read somewhere that if you take Biotin (1500 mcg) will help your hair grow faster. My hair naturally grows roughly about 0.56 inch a month (yes, I measured it), however, I am on a quest to grow knee length hair that's healthy and thick. Well, I got the thick part down pretty good by dust trimming my hair whenever I see split ends. The healthy part I'm still working on it because I highlight and color my hair...so far so good. The growth part was definitely taken care of by Biotin because now my hair grows an inch a month. I went from almost above hair length of January 2008 to near my shoulder blade as of August 2008!
I'm frugal so I try to utilized homemade products as much as possible and I hate harsh chemicals to my hair even though I do use hair coloring. This is why I conditioned my hair with homemade egg conditioner and shampoo while stimulating my roots with Rosemary Oil. I also bought a gallon of Jojoba oil to use as a daily hair conditioner and anti-frizz treatment.
Also, I would recommend sort of 'hands off' to your hair. Meaning....don't stress out your hair by over brushing, combing, tight braids, etc. Relax and leave it along. It'll grow!
By guest (Guest Post) Flag
December 29, 2008
If you use Mane N' Tail it will make your hair stronger and shinier. It really makes your hair grow longer. And don't use a brush use a good brush and don't brush to hard.
By guest (Guest Post) Flag
January 13, 2009
You can try this, I found this site not too long ago and I got some, and it really helps. It has Niacin, vitamin B, Biotin, Folic acid, Pantotheni acid, and Magnesium, which are all good for your hair.It has a bunch of other vitamins too, but for hair, it helps keep your hair healthy and it will help it to grow. It taste not too bad. Sorta taste like orange juice, I am not someone who likes bad tasting vitamins, but this one was cool. So give it a try, it's like 20 bucks. I will copy and paste the link for you. Good luck. http://www.shopgbg.com/10inone/5dogs
By guest (Guest Post) Flag
January 19, 2009
I think if you go to walgreens they would have it, but I am for sure that they sell this at CVS, but other pharmacy stores as well, it is called SUPER GRO it is a green product but it also has vitamins for your hair. You can wear it like if you wear to put it in a ponytail as well so it really helped for my hair I saw improvements in 1 week.