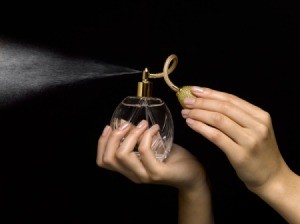 With perfume, a little goes a long way, too much and the lovely fragrance can be overwhelming. Removing the excess from your skin or perhaps a lingering odor in a room can be done easily. This is a guide about removing perfume smell.
Ad
---
Solutions: Removing Perfume Smell
Read and rate the best solutions below by giving them a "thumbs up".
Most people don't even realize they are wearing too much perfume. If you can still smell your perfume a half hour after putting it on, you likely are wearing too much. To help prevent putting too much on, spray it in front of you and then walk through the spray. To remove excess perfume, make a paste of water and baking soda and rub it where you applied the perfume, then rinse off the area with water.

By ThriftyFun
Give a "thumbs up" to the solution that worked the best! Do you have a better solution? Click here to share it!
Questions
Here are questions related to Removing Perfume Smell.
I sprayed too much perfume on me today. I hate when others do it and I want to control the smell. I've tried to dampen a napkin and wipe the smell of a bit but it didn't work too well. Can anyway help me out. I don't want to kill everyone in the office.

Johanna
AnswerWas this interesting? Yes No
Ad
---
---
Best Answers
By Dee 3 142 04/20/20050 people found this helpful
Rubbing alcohol works to cut down on the smell. Just rub over same spot as perfume.
---
By April (Guest Post) 12/13/20060 people found this helpful
After trying out a new fragrance I put too much on too! I sprayed hairspray lightly over the areas I put the perfume and it really helped! THANK YOU!
---
By Gina (Guest Post) 12/03/20070 people found this helpful
I did the same thing to myself this morning. Too much perfume came out in one spritz all over my sweater. I gag every time I inhaled the stuff!

But found a new remedy to tone down the perfume! I'm at my office and lo and behold...I have Hand Sanitizer on my desk. I rubbed it on my hands and wiped it on my sweater.
Ahhh.I can breath again!
---
By Glynn 1 4 06/04/20080 people found this helpful
Use Non Scented hand lotion...put it on wherever you sprayed the perfume. It eases it a little bit.
---
My son has received some great hand-me-downs from a friend, but they have been washed in scented laundry detergent. He has allergies and asthma, so I always use unscented detergent and fabric softener. I have tried washing them in hot water with baking soda and my own detergent, but the smell is still very strong. How can I remove the detergent smell from the clothes?

CJP
AnswerWas this interesting? Yes No
Ad
---
---
Best Answers
By Sherry 72 83 06/25/20080 people found this helpful
Target makes a product called "Smell Remover" you might try it.
---
By A Trevino 12 62 06/26/20080 people found this helpful
I along with the other members agree that you should wash the clothes with a cup of vinegar. Another solution is to hang the clothes outside for a few hours and let the sun remove the odors for you. Launder as usual afterwards.
---
By lynnecollins 1 02/04/20110 people found this helpful
Try "Odor Disposers" It's a shampoo intended to remove the odor from dogs! Pretty appropriate, actually. I soaked cotton shirts in it and then tossed them in the regular laundry. No smell!
---
I had company over the weekend, she used way too much perfume. How can I get the smell out of the whole room? I have laundered some things and tried laying others outside. I sprayed clorox on the bathroom floor and the smell still is making me sick. I feel like I am going to have to move!
AnswerWas this interesting? Yes No
---
Best Answers
By sandy (Guest Post) 09/12/20050 people found this helpful
I have air cleaners that plug right into the wall. I bought them at the grocery and Target. They cost about $25.00 and have an on/off switch. It cleans the air "no perfumes". I can't stand the Glade air cover things cause that is all any of that stuff does is cover up, but this is like a mini HEPA filter.
---
By Ann (Guest Post) 09/12/20050 people found this helpful
Try spraying vinegar in the room. Also, try setting out a bowl of charcoal (that you grill with). The coffee grounds work also.
---
How do you get strong perfume smells out of clothing?
How do I remove perfume smell from clothes?
By Dale
AnswerWas this interesting? Yes No
---
Most Recent Answer
By Monique 105 174 11/18/20140 people found this helpful
Hello, I have heard that full sugar Cola works to remove smoke smells from clothes and even stinky socks! It may well work on perfumed fabric.
You could try a generous cup of white vinegar in the wash, I know that is supposed to work. Spritz with vodka afterwards. Put the vodka in a spray pump bottle and a few mists of the neat vodka; once dried, should kill any smells on your clothes.

Good luck, I hope this helps.
Monique :)
How do you remove perfume smell from dresser?
By Joey from Plymouth, IN
AnswerWas this interesting? Yes No
---
Most Recent Answer
By Tina 3 09/15/20100 people found this helpful
I had that same problem and nothing I tried worked. Finally, a friend of my husband who makes furniture said about the only way he knows of removing that smell is to paint clear polyurethane over it. He said while it may not remove the smell, it seals it in and you can't smell it any more. I tried it and it worked. No more smell!
When I buy clothes from consignment shops they always have a "perfume" smell. I am allergic and have trouble getting this odor out of the clothes yet love the discounted prices.
By C Marie