Roxy (Shetland Sheepdog)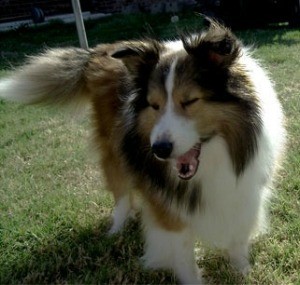 Roxy is a 4 year old 100% Shetland Sheepdog (Shelty)
I went to the country and bought her from a lady that breeds Shelties.
She likes to play ball and is somewhat vocal.
By Jacob from Yukon, OK
Feedback
Read feedback for this post below. Click here to post feedback.

By
06/30/2006
I also have a sheltie (Magic) but she is the double merle variety and because of this type of breeding she is deaf. She barks at things she sees or when she wants my attention. I love her energy and like Roxy she is a very happy dog!

By Kayray (Guest Post)
05/16/2006
Roxy is beautiful! I had a Sheltie, Boomer, who looked a lot like Roxy. They are great dogs, even if they do tend to bark a lot!! I miss my Boomer still, and always will remember him.

By Linda, Las Vegas (Guest Post)
05/16/2006
What a cuttie. Roxy looks like she laughing at you for taking her picture. She lokks like she has a lot of personality

By Susan from Hamilton (Guest Post)
05/16/2006
I have an older sheltie, 10 yrs and we just shaved him for the summer. He has lost years off his age without all his hair. we kept the long hair on the end of his tail, so he still has a plume to wag but has no poop suprises underneath. What a nice change.
My guy lets me know when there is someone around
and I just tell him thank you and he shuts up.

Post Feedback
Add your voice to the conversation.
Related Guides
Related Posts