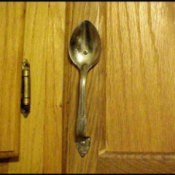 The knobs and handles for kitchen cabinets are so expensive unless you want to settle for plain old wooden knobs. Here is how my husband and I were able to have something a little fancier with lots less money.
By Harlean from Arkansas
Ad
---
By JOYCE (Guest Post) 09/06/2005 Flag
Thank you for this idea. I love it. We are fixing to do some work in the kitchen & this is one we will use. Again thank you.
By the Oracle (Guest Post) 09/22/2005 Flag
I hope you check the pattern with one of the silver vendors to see if it is valuable; collectors will pay a lot for rare pieces. For example, Replacements, Ltd. on the Internet.
By Kathy54 4 2 02/27/2012 Flag
Great idea! :) Love it that its "recycled!"
By melissa 275 422 08/21/2014 Flag
What a fabulous idea! I am going to try this! How did you attach them to the cabinet?