What type of dog do I have? I was thinking a Belgian Malinois mix of some sort? I adopted her from the humane society, they said she was a german shepherd mix.

The picture is a few weeks old, so her ears stand up more now.

Kelly from Seattle, WA
By Kelly
Ad
---
Recent Answers
Here are the recent answer to this question.

By Snowlion57 [3]03/23/2014
The body build, color and most of all the ears look like Abison hound. The short nose is spitz Floppy ears dominate a bread like the color black. My question is does this dog chase cats or rodents when outside? That a sure sign of an Abison.

By Kelly [2]11/06/2008
Here's another photo of her face! Thank you so much for your feedback!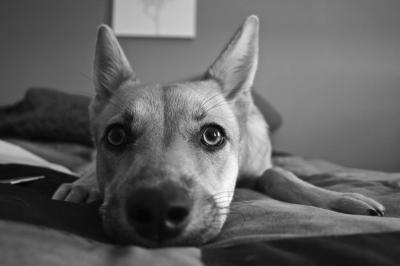 By Kelly [2]11/02/2008
Ok, here are some pictures now that she is more grown up!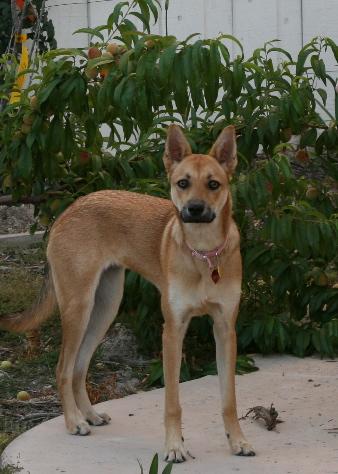 By Kelly [2]02/27/2008
heres another of her sitting...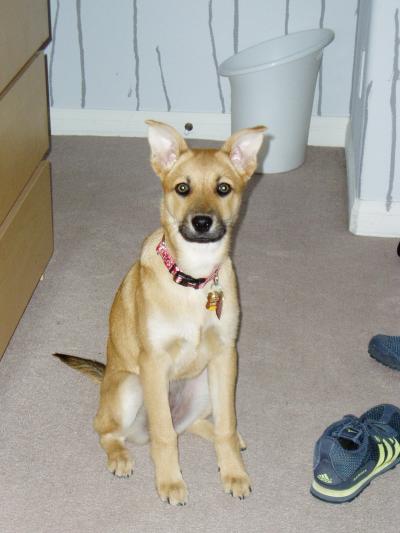 By Kelly [2]02/27/2008
This is basically how she stands. Thanks you so much for your guy's input!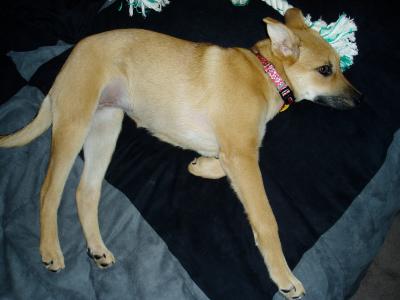 By dh8 (Guest Post)02/26/2008
Sorry, no malinois there.

To do a halfway decent job at breed identification; you need to see a pic of the dog standing to get a better idea of bone structure and how the dog carries themself. You don't do breed identification from just the face.

From your pic it looks like there's some Chow and Pit in there. From what I can see of the tail; it's a terrier tail.

Possibly one or two other things. At best 1/4 or 1/8 Shep. It doesn;'t look like boxer is a real possibility.

By Mellissa Martin02/25/2008
After posting and looking a little more at the picture I think she might have Chow in her. Does she have any spots at all that look purple? It's actually called black but it to me and most looks like a very deep dark purple. If there are any spots at all then there is Chow in her. I had a chow mix once and as a young pup she was very smart and easy to train.

By Mellissa Martin02/25/2008
Beautiful pup! I see the shepherd, in my opinion it's possible that the other part is boxer. It is really hard to tell at this stage and may not be any easier with age if one of the parents was mixed too! In other words there could be more than two breeds mixed within the blood line and the shepherd happens to be the most dominate at the time.

By Denise [6]02/24/2008
She's a CUTE type whatever she is. I would say no Shiba (part Shiba tend to have curly tails-- I live in Japan and see Shiba mixes all the time). Their eyes look different too. I agree with the German Shepherd. Could she have some Lab or Golden Retriever? Cantate

By Robin (Guest Post)02/21/2008
This dog looks like she could have some Shiba Inu in her as well. Maybe Shephard, too?

By Holly Kennedy [10]02/21/2008
What a sweet puppy! Good for you for adoping from the humane society! I think mixed breed dogs are healthier and often smarter than purebreds. Lucky dog and lucky you!

By Leah Jones (Guest Post)02/21/2008
This is quite a young pup, and if you look at lots of puppies you'll see that many different breeds look quite similar at this age, only to change completely when adult.
Looks like a bit of Shepherd, and I'd say probably Labrador, since they are the most mixed dogs of all. Going to be biggish anyway - look at the paws ! ! ! It's an absolute beauty anyway. May you have many years of love and happines from her

By (Guest Post)02/21/2008
I cannot help you but I had a dog that looked almost exactly like yours. Mine had a curled tail and a thicker neck but other wise they looked alike. Mine came from the humane society so who knows what he was. All I know he was the smartest dog I have ever owned but he had one bad problem that I could never correct and that is that he would not come when you called him. He was also kind of territorial.

By LuvMyGingerKids [45]02/21/2008
She's an adorable German Shepherd mix. She looks like she's a sweetheart too.

By Kim [1]02/21/2008
did you go to the vet yet?? for a check up they can usually tell i got a dog once out in amish country never again she was some kind of weird breed people kept saying she is shepard and maybe elk or
and some of the amish in our community said part wolf i was satying i swear she looks like a wolf well took her to the vet she was part wolf?? what the heck??? she had a bunch of problems and asthma also she died only after a year having her!! i never ever go out to amish country for a pet again they are puppy mills and inbred i had no idea!!! i think your dog is too cute i am looking for a white highland westie they are sooo cute!!!!

By Kim [1]02/21/2008
omg the type of dog that is? ADORABLE
sorry couldn't resist what a cutie.

By Joyce [2]02/21/2008
You can sure see the German Shepard in her. She has a sweet face. I never knew there were so many great dogs in a dog shelter just waiting to be loved. There are some good breeds too. I had a part German Shepard once, he was easy to train. I am looking for that special dog and hope to get one at an animel shelter this spring. Good luck with her. J.B.
Answer This Question
Add your voice to the conversation. Click here to answer this question.