If your dog becomes constipated, give it some pureed pumpkin. It is mild and will clear the problem up after a couple of feedings.
Source: our vet
By fossil1955 from Cortez, CO
Ad
---
By Michelle 7 15 02/21/20110 people found this helpful
The title of this tip made me giddy inside because it brought back great memories. On Labor day of last year we lost our eldest dog due to cancer. I miss him terribly. We have 4 other dogs but he was the only one that would sit and beg for the raw pumpkin while we carved pumpkins. I would dig through the gross stuff, find the good pieces, clean them and give them to him. He loved pumpkin! We always enjoyed that time with him because he was the only one that would stick around while we carved them. So while this comment doesn't have anything to do with anything, I just wanted to say thank you for sharing it! You made my day. =)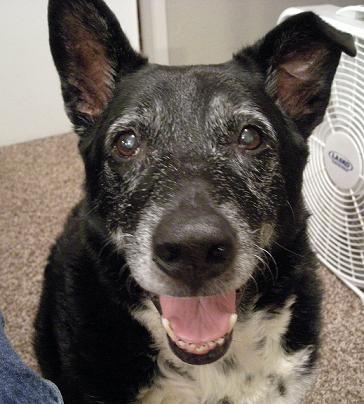 By Beth 25 1,120 02/21/20110 people found this helpful
It also works if your dog has diarrhea. It is a great stabilizer.
By Maya Lee 14 172 02/21/20110 people found this helpful
The pumpkin should not have sugar in it. Just read the label.
By Carolyn McGarraugh 6 02/22/20110 people found this helpful
Butternut squash, fresh cooked, works just as well. We either bake ours or cook in a large pan with just a little water. All of our dogs love it. We eat it often because it is so full of nutrients for humans and animals. Butternut squash is good raw too.
By freedomward76 1 04/17/20130 people found this helpful
I always used rice but since I deal with lots of puppies I found it did not work fast enough for my liking since puppies can drop precious weight so fast, so the search for something better and faster began. Sometimes you don't want to stop the runs but support hydration as diareha is attemting to rid the body of something, but if you know pup is ok or has had tge runs more then 36 hours then you need to take action.

So I came across pumpkin, I havnt tried it on puppies yet but it has worked great on older dogs that are brought to me. I do independent rescue and I hardly ever know what food they were eating or if they ate so the normal transitioning from one food to another slowly is'nt an option so the dog I tried it on was a female great dane, can you imagine a hungry dane that with in minutes is struck with the runs it not pretty , so it works great I have 2 Tbsp. mixed in her food and no messes :) sorce dog breeder turned independent rescuer.
Archives
Thrifty Fun has been around so long that many of our pages have been reset several times. Archives are older versions of the page and the comments that were provided then.
Have any leftover canned pumpkin or maybe even fresh pumpkin that didn't get used up in pies? Try giving some to your dog.
On the Wednesday before Thanksgiving, I was making pumpkin cheesecake and I had a lot of leftover pumpkin. I was planning on making muffins or something with it after the holiday. Well, our dog Honey started making a nuisance of herself in the kitchen, wanting some. A quick check on the internet verified that pumpkin was safe for dogs, even recommended as an ingredient in many homemade dog foods. So we gave her a scoop and she polished the bowl clean! I have been giving her a little bit as a treat now and again as I had 4 pie pumpkins so quite a bit of pumpkin to eat our way through
Be sure to only feed them a small amount at a time, and use pure pumpkin, not any type of filling with spices and sugar. It is packed with fiber and vitamins and she acts like I opened a can of wet dog food so everyone is happy.
Jess in Oregon
---
RE: Feed Pumpkin To Your Dogs
Cooked pumpkin is safe for dogs in moderation! It can provide increased fiber and vitamin A in their diet. Large doses of vitamin A are very toxic to dogs and raw pumpkin is not good for them. It's hard to digest and can lead to intestinal blockages which are often life threatening in dogs. A little cooked or canned pumpkin mixed in with their food is fine but only in moderation. (12/03/2008)
By Shelter Worker
RE: Feed Pumpkin To Your Dogs
I have been giving my T-cup chihuahua, Mitzi, canned pumpkin in her meals twice a day for two years. She loves it. Since she's so little, she gets three small meals a day. Morning is kibble and a little canned meat, lunch is an Alpo cookie crunched up with a scoop of warmed pumpkin mixed in and then topped with a small scoop of baby food (the meats), dinner is kibble with warmed pumpkin topped with baby food.
She's lost weight on this meal plan. I love to eat canned pumpkin out of the can, too. In fact, if I'm craving something at night, instead of having ice cream, I'll have a 1/4 cup of canned pumpkin with some cinnamon on it topped with some cool whip. Works for me! ;-) (12/04/2008)
By lovesthosehounds
RE: Feed Pumpkin To Your Dogs
Pumpkin, for dogs, is generally used for constipation or diarrhea only (1 tsp. per day, for a large dog - no more). I wouldn't recommend feeding it to them any other way or in any other quantities. I have 3 large dogs and always keep pumpkin handy. I buy a can, when it's on sale, divide it up into small bags (about 1/2 cup per bag) and put them in the freezer. I can then quickly thaw a tsp. to give them if they get sick. (12/05/2008)
By Mable C.
I just need to clarify a few things before I buy canned pumpkin for my dog. I have read many articles and reviews about the pumpkin in dog food. Many people feed pumpkin to their dogs to clear up the runs when they have an upset tummy.
I am wondering if it really works? How much and how often? Canned or fresh pumpkin? What's the best place to buy them for cheap price?
Any recommendations that are easily available at Petco and Petsmart will be greatly appreciated, because I got their discount coupon codes. Thanks.
By Alice from Sunnyvale
---
RE: Feed Pumpkin To Your Dogs
Yes! This technique dose work it helps to get rid of constipation, upset stomach or, diarrhea. This may help you out = http://www.pets.ca/pettips/tips-75.htm You can find most can pumpkins in supermarkets. I hope this helps! Dorthy (03/16/2010)
By htdmmmmc
RE: Feed Pumpkin To Your Dogs
I've found the best thing for diarrhea for adults, kids and pets is plain yogurt. (I've used it with success for 30 years) Make sure the plain yogurt has NO sugar added (read the ingredients. All milk has milk-sugar in it, you want no added sugar, or no sugar listed on the ingredients). Recently a new brand of Plain yogurt we bought that said "plain" wasn't really "plain" but was sweetened with lots of sugar. And sugar can give a child or a pet diarrhea or a loose stool. You may be confused about Canned Pumpkin. I know it helps make them poop, I don't think it helps diarrhea, because its loaded with fiber (but I could be wrong, because many soluble fiber's can work for both helping constipation and also stopping diarrhea. Metamucil is one example.) * Pumpkin also prevents hairballs in cats! They make 2 types of canned pumpkin, one that's sweetened with spices added and one that is simply plain pumpkin. Be sure to buy the plain kind, the one without spices or sugar. ---> If you, your child or your pet is ever on antibiotics, be sure to have them eat some yogurt ever day to replace the good bacteria... For years my old boyfriend got the worst case of diarrhea whenever he had to take antibiotics, but after I told him about the yogurt, he never got diarrhea when taking antibiotics again! * People can eat any flavor of yogurt, while pets should only have plain yogurt! (03/16/2010)
By Cyinda
RE: Feed Pumpkin To Your Dogs
My Vet told me to add some rice to their food for diarrhea and some vegetable oil in their food if they're constipated. It worked on my dogs in the past. (03/17/2010)
By keeper60
RE: Feed Pumpkin To Your Dogs
I don't know about clearing up the runs, but it's a fibrous veggie with lots of beta-carotene. My dog loves cooked carrots, a similar veggie. (03/17/2010)
By PIKKA
RE: Feed Pumpkin To Your Dogs
You need to buy the plain pumpkin pie filling-no spices added. What I do is pour it into an old ice cube tray and freeze it. You just pop out the pumpkin cubes as needed. I have a small dog, so I give her one cube (I let it defrost and spoon feed her, she loves it). If she still is having potty issues, I will give her one more cube and that usually does the trick. Larger dogs will need a larger dose-use your judgment. (03/18/2010)
By kathyj311
RE: Feed Pumpkin To Your Dogs
Pumpkin is a good source of fiber to help with constipation. Any dog with diarrhea does not need added fiber to their diet. Make sure it is canned pumpkin. DO NO use pumpkin pie filling, cause it is loaded with sugar and spices which is not good for dogs. (03/25/2010)
By sabrinadog