Does mayonnaise kill fleas on dogs? I know it works on head lice. Is it safe for dogs or cats?
By Jenney from Millville, NJ
Ad
---
By Robyn Fed 394 1,240 11/04/2009 Flag
What I do is this: I wash the animal fist with a dog shampoo or baby shampoo. Then I spray peroxide on the body and add more shampoo and work it in, I let the concoction sit for a few minutes. Rinse off the shampoo and peroxide. Rinse, Rinse, Rinse. This usually kills fleas pretty good although it has no residual effects. Racer
By Carol Rodriguez 35 107 11/04/2009 Flag
I wouldn't be against trying mayonnaise on pets. Anything that causes the fleas to stop flying or breeding, or crawling around, but then I would definitely want to wash off all of the mayonnaise, and make my pet happy again. You may be on to something!
By Carol Rodriguez 35 107 11/04/2009 Flag
I just talked to Vets, and they said they recommend Frontline, that is now available in all of the stores, and doesn't require any type of washing. However, I truly would try something like a mayonnaise or oil wash, then use something like Frontline, or Advantage.

A couple of years ago, we found a dog that really needed help, and the first night, I used the regular dog shampoo on her, then the next day, I realized it wasn't enough, so I saturated her and her coat with oil, and then rewashed her with a regular shampoo. Mayonnaise may have done the trick as well. What it really means is saturating the fleas and ticks so they can't fly anymore, and mayonnaise may do that as well as oil can.

Then, the pets have to go to the vet. Saturating the pet in mayonaise or oil is really just to keep the other pets from getting infested, and to stop the initial infestation, then cleaning them up by taking them to the Vet, Now that Frontline is on the market OTC, I don't know what to say.
Well, that's a good question and let me know when you do it. Mayo, real mayo not salad dressing.. has oil in it.
Its great on human hair! lol

One of the great things to use is orange oil. A little rubbing Alcohol works on flea's too. But you don't want to pour it on the pet. Take a little on a make up pad or gauze pad and place over the flea infected area on the pet.

If you have a tiny spray bottle, so not to get in dog/cat's face / eyes. "Use it and spray it into the fur/skin area.. rub in and after about 15 minutes bath the pet in baby pet shampoo.

Don't use human shampoo, they aren't humans and pets have different PH values.

You might try spraying your yard, and cleaning your house. Bug bomb it.
if the pet has fleas.. so does the yard and house!

Good luck
Tiki ( chi)_ Skeeter (cavy) and Fancee ( mix)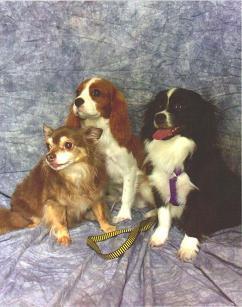 By lynda 44 258 11/07/2009 Flag
After cleaning bedding, carpets, floor cracks well, vacuum every piece of furniture, mattresses, and cracks, not missing a thing larger than a speck of dust, then keeping black rubberized mats at all entrance doors to catch loose debris from all shoes before entering house to minimize bringing in flea eggs. Wash all dirty clothing/ linens, at least twice a week, including pet bedding & rugs/ towels separately, drying it on med-high heat. Vacuum twice a week, changing vacuum bags once every two weeks-month, placing filled bags quickly into tightly sealed plastic bag.

After replacing bag wash hands very well with liquid soap/bleach mixture (I prefer liquid Sunlight dish detergent from Fiesta only? mixed with 1/3 that amount of Clorox and a little water).

1)Shampoo pets with strong chamomile tea/l-limonene (lemon or lime concentrate) /baby shampoo in equal amts., letting it stay on towel-wrapped pet in your arms in a warm bathroom for 10 full minutes unless intense distress from pet which means to rinse quicker than the 10 min. soak-in Avoid getting it into eyes. Baby shampoo will be a good substitute if you prefer.

2)Towel and blow dry fur very well, reasurring pet every two seconds in soft voice. Keep in bathroom for additional 30 minutes while further drying/ acclimating to temperature of environment.

3)Change vacuum bag when through cleaning,

4) Recaulk bathtub and floor edges if need be, gently sprinkling diamatacious earth(food grade from Feed Store) prior to flea-bath.

5)Sanitize broom/mop with bleach -outside,

6) In advance make your own flea collar of denim old jean cuff or side seam material by soaking it with DIY lemon ju.(boiled thin-sliced whole lemon in 1 pt. of boiling water steeped overnight) letting fabric dry, then hand sewing it fairly tightly aroung pet's neck (within a little finger's thickness), Can be cut and easily removed if needed, and about once a month.

7) When pet is dry, warm, calmly brush with "lice comb"; feed it regular food sprinkled with fresh powdered yeast, and garlic powder, finely cut organic Bermuda grass, well-mixed in. Balance the pet's diet with half fish, half cereal, one beaten egg, twice daily. Fresh is much better than canned, which contains many harmful chemicals that cause cats to go into heat and yeowl.

8)Provide plenty of water (with added acidophiles), love, and observation/ reassurance. If pet does not go outside, provide 1 crushed tablet of Vit. D3(not plain Vit D) in food daily, (about 1/8th of adult dosage.)

9) Inspect daily for one week. If a single live flea or significant flea-"dirt" is found, repeat the above pet treatment, until none can be found.

10) Trying mopping a small floor section with lemon concentrate water to see if it harms them. If not, use that for two months of cleaning. Spray all fabric furniture, cushions, drapery hems with straight alcohol to minimize dust mites and flea larvae.

11) Use lemon oil to clean all wooden surfaces, tops and sides, including all cabenetry and picture frames, door thresholds, and fireplace hearths/ mantles; Windex for all glass, Formica.

If pet goes outdoors, plan on doing this routine for the rest of its extended life without poisons. Otherwise, until you get the flea problem well under control and/or eliminated. Flea bomb only as a very last resort. Stay out of the home 2 days afterward and open windows for 10-30 minutes before re-entering. Do not breathe air until aired out. Cover all food, dishes, pots/pan, dishpans/ strainers/ appliances/ countertops and pillows with newspaper. Remember to spray any furniture the pet might have gone under, behind.

With multiple pets, you can expect to spend more time and effort with your responsibilities towards them. When they are happy, comfortable, they will repay with much affection in return. God bless you. : )