Homemade Mayonnaise Recipes
Homemade Mayonnaise Recipes
Share on ThriftyFunCheck out these Homemade Mayonnaise Recipes. If you have made this recipe please submit a photo and let us know how it worked. Or, add your own recipe variation.
Homemade mayonnaise is so much better than store-bought! It's very easy, too, since the blender does all the work. You just have to have a fairly steady hand and drizzle the oil in slowly.

You can make so many variations, too. Try a little garlic. Add herbs like tarragon, a touch of cayenne, or whatever you like best. You can use your favorite vinegar, or use lemon juice, lime, even grapefruit juice. You can use different oils too.
Ingredients:
1 egg
1 tsp. Dijon mustard, or to taste
2 Tbsp. lemon juice
3/4 - 1 cup olive oil
1/4 tsp. salt, or to taste
Directions:
Wash, rinse, and dry the egg. Add the egg, mustard, juice, salt, and any herbs, plus 1/4 cup oil, to your blender. Blend on low for 1 - 2 minutes. Increase blender speed to medium low and drizzle the rest of the oil in very slowly. It should take a minute or two to add it in. When the ingredients have emulsified completely, stop adding the oil. Chill before using.
This should be used within 3 days - if it lasts that long!
By Free2B from North Royalton, OH
Doesn't contain the high fructose as found in commercial mayonnaise. You will never go back to store bought mayonnaise.
Ingredients:
1 1/2 cups hot water
1/2 cup mild vinegar (or lemon juice)
2 tsp. sugar
2 tsp. salt or 1 tsp. sea salt
2 tsp. dry or regular mustard
2/3 cup all-purpose flour
4 eggs or 8 yolks (room temperature)
2 cups vegetable oil
Directions:
Place hot water, vinegar (or lemon juice), sugar, salt, and mustard in Vita-mix container. Clamp action-dome in place. Turn black speed control to HIGH. Lift red impact lever UP to ON position and run until steam rises and ingredients are boiling, 5 to 7 minutes.
When steam rises, turn speed to LOW and while machine continues to run add 2/3 cup flour through action-dome. When mixture thickens and as machine is still running, add 4 eggs or 8 egg yolks.
When thickened, add to running Vita-Mix in a slow steady stream 2 cups vegetable oil. Stop. Store in refrigerator.
Makes about 4 cups.
Source: The Versatile Vita-Mix Cookbook
By Marjorie from Lewiston, NY
This makes 1 cup, and is 125 calories.
Ingredients
1 egg yolk
1 Tbsp. vinegar
dash paprika
1/4 tsp. dry mustard
1/4 tsp. sugar (or sugar sub)
1/8 tsp. garlic powder
Hold until later:
1/4 cup oil
1 Tbsp. lemon juice
Directions
Combine all ingredients (except the OIL and lemon juice) in blender container.
Blend thoroughly. With the blender on low speed, add in a slow stream of half of the oil into mixture. Stop blender and use spatula to scrape down the sides. Add lemon juice while still on low and blend well. Add the rest of the oil blend, blend and pour into container. Store in refrigerator
Mayo is a wonderful addition on a sandwich and in many kinds of salads. This page discusses different kinds of mayonnaise.

Making homemade mayo is super simple and allows you to tailor the flavor to your liking. This page has recipes for easy mayonnaise.

You can make your own mayo with simple ingredients from your pantry. Get this classic mayonnaise recipe in this page.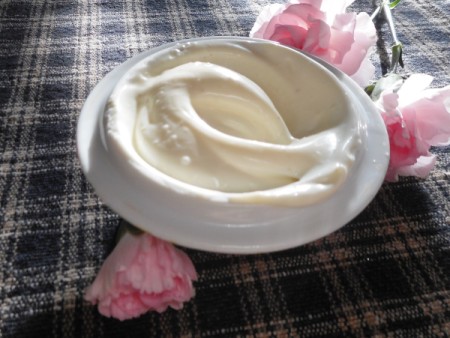 This page contains flavored mayonnaise recipes. Flavored mayonnaise is great for an unusual sandwich spread or dipping sauce, there are endless ways to season mayo.
Homemade Mayonnaise Recipes
Ask a QuestionHere are the Homemade Mayonnaise Recipes asked by community members. Read on to see the answers provided by the ThriftyFun community or ask a new question.
Does anyone have a recipe for mayonnaise?
Answers
By (Guest Post)
August 23, 2006
0

found this helpful
Check out this page and see if there is one you like:
By Josie (Guest Post)
August 23, 2006
0

found this helpful
This is one that I have used:
1 egg
1 tablespoon fresh lemon juice or vinegar
dash of salt
dash of mustard
Blend at high speed for about 30 seconds. Remove the top in middle of the lid and pour in a 1/4 cup of light vegetable oil in a stream while the blender is going. Continue to blend until it is a very light color. Taste and adjust the seasonings. I also use this as a base for making creamy salad dressings by adding different herbs or other seasonings.
August 29, 2006
0

found this helpful
Homemade Mayonnaise
Makes 1 cup
1 large egg, room temperature
Salt
1/4 cup canola or vegetable oil
1/2 cup extra-virgin olive oil
Juice of 1/2 lemon
1. Wrap the outside and bottom of a 1-quart bowl in a damp towel to secure it in place on the work surface. Combine egg and salt with a large balloon whisk, mixing until foamy and pale. Whisking constantly, add oils a few drops at a time, and then in a steady stream as the mixture emulsifies.
Add lemon juice; blend briefly. Add additional salt and lemon juice to taste. Store, tightly covered, in the refrigerator for up to 7 days.
Note: Raw eggs should not be used in food prepared for pregnant women, babies, young children, the elderly, or anyone whose health is compromised.
marthastewart.com
Answer

this Question

...