You can make fun and useful crafts using socks, whether they are lonely ones from the wash or new ones purchased for the project. This is a guide about craft ideas for socks.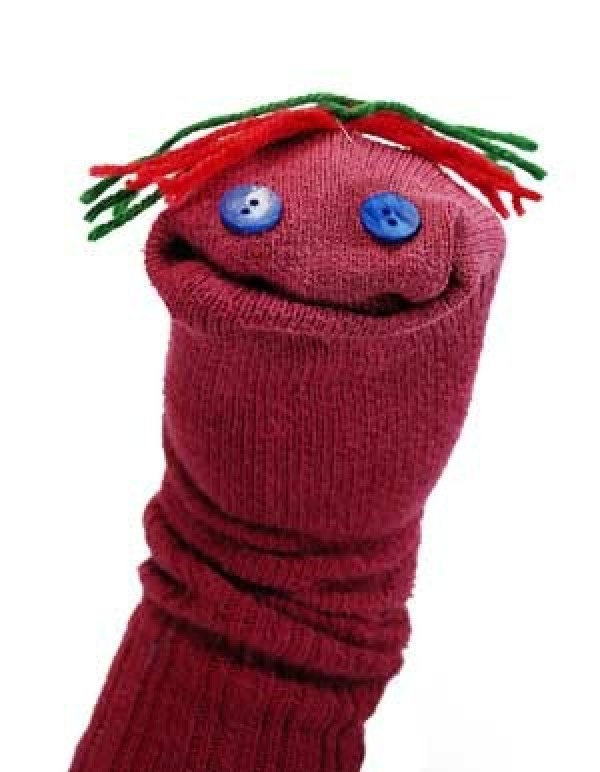 Filter

: All Articles
Sort

: Relevance
I enjoy making a lot of the gifts that I give my grandchildren and when you have 5, it always helps to get an early start on Christmas. I try to think of a new idea each holiday for them and this year, as one of their gifts, they will be adopting an alien and a pet. Sock animals have survived for generations, but making them into alien creatures was a fun, new twist for me.
Approximate Time: 1-2 hrs.
Supplies:
1 pair child's ankle socks
1 pair adult toe socks
stuffing
buttons
felt: red, black, and white
needle and thread
Background and scope of the project:
This clan of creatures reign from the planet Zuff and will pass on a "special" power to their new Earth friends. For example, one is giving the gift of humor and will be the comedian of the family. Another will help our planet stay green and will be the gardener of the bunch.
I made up a little story that introduces each and wrote it in a way so that the alien was talking to the specific child. I included a picture of the alien, the child, and the pet.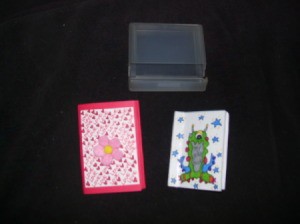 In the comedian's book there are also some alien jokes. The gardener's book has short children's poems about gardening.
Travel size Q-tips come in their own plastic snap shut box so I made the books a size to fit into one of these. They made a great case for each. I will tie them to the creatures using ribbon.
Each one will also get "tools of the trade" goodies. The comedian will get a few gag items (Dollar Tree has a good selection of these in the toy section), such as a whoopie cushion so he can spread humor where ever he goes. The gardener will get a small peat pot, seed, and soil to grow some flowers.
I am choosing their powers to fit each child. For example, my grandson who will get the comedian, always seems to have a smile on his face. He never ceases to make us all laugh. I often remind myself to see the world through his eyes for he is a wonderful example. The youngest one will be the gardener. She finds much joy in seeing something she planted grow. I am still working on the other books, but one will be an artist, for sure.
As a grandparent, I try to pass on encouragement and positive words. They all love to create things and since this gift will contain the alien and pet (the toy itself), a book (praise and encouragement of what they do), and the added "tools of the trade" goodies, I think they will enjoy them.
This entire project started when I found a book that came with instructions to make a sock creature. Although I enjoy designing my own crafts, this little one was just too cute to resist. I had so much fun making him that I decided to create some of my own. I did not preplan any of mine. I had a bag of socks along with some imagination and then just allowed the inner child to come out.
As the alien family grew, I wrote down the steps to make Zik and wanted to share his instructions with the TF readers. I have included a family photo to show the variety of ways socks can be used to create creatures.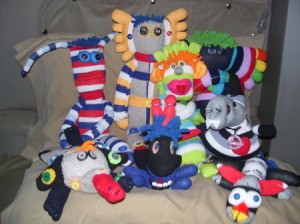 Letting my mind wander further, since this alien family comes from the planet Zuff, I decided their last name would be Zock and all their first names will begin with the letter "Z". The inner child really did come out.
Sock creatures are fun to make and do not require a lot of materials. All my grandchildren are older, so if you do make one that is intended for a younger child, I recommend that you omit any buttons and use something safer for young ones. For those who will try creating a sock creature, I wish you as much fun creating them as I had. You may even find yourself giggling along the way.
Instructions:
You will need one pair of children's anklets and one pair of toe socks. Although toe socks are no longer popular, they do make great stuffed toys for children. You can still find them in some stores. Check in discount and thrift stores also.
Cut one toe sock into three parts. See diagram #1. The middle section will become the body. See diagram #2.
Take one of the anklet socks and stuff it firmly. See diagram #3.
Make a running stitch along one end of the middle section. See diagram #4.
Gather, stitch closed to hold and insert into sock head. Pin all around and stitch outer diameter so the two are joined together. See diagram #5.
Take one cuff and cut in half for feet. See diagram #6. Put right sides together and stitch closed, leaving one short end open. Stuff. Insert into pinned bottom edge of body and sew closed. Repeat for other foot.
Do the same with cuff from other sock for arms and sew onto animal. See diagram #7.
Use strong thread to indent head. Knot thread. Start by going in at point "A" and come out at "B". Go back in through "B" and come out at point "C". Go back in "C" and come out at "D". See diagram #8. Repeat again, being sure you pull thread tight enough to indent material. I left a few threads sticking out the front indents to resemble fire. Sew buttons on side indents.
Do the same for eyes and attach buttons. See diagram #9.
Turn other anklet sock inside out and lay flat. Pin. Sew along pinned line, leaving cuff end open and cut off excess. The part with the "X" will be the tail. See diagram #10.
Turn right side out and stuff firmly. Sew to bottom of body in back. See diagram #11.
Cut toe section off other toe sock. Use toe sections from both socks and stuff firmly. See diagram #12.
Pin along top of animal, starting at the top of the head and continue down to the tail. Sew to animal. See diagram #13.
Cut tail spikes from one solid strip of black felt. Sew on to tail.
Cut 2 pointed teeth from white felt and sew onto front of face, right below the front indentations.
I braided rope and made a collar. I then poked a hole in a bottle cap and attached a jewelry loop through it. I filled the cap with clear glue and sprinkled on some red glitter. I named this animal Zik and pressed letter beads that spelled the name into the glue. I allowed it to dry and attached it to the collar for a name tag.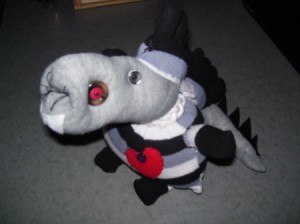 Tip: The cute, colorful hair used for these creatures is from cleaning mitts. These are gloves with the nubby ends on one side that you dust or clean something with. They look just like a large mitten and I found them in Dollar Tree. They come in several bright colors. The back side is stretchy material and I used it to make ears on one of my sock creatures. You can cut pieces from the nubby side and they are made well enough so they don't unravel. You can find them in stores such as Wal Mart also, but they cost more there.
By Mary from Palm Coast, FL
I have seen these cute cupcake socks for sale several places and decided to try my hand at creating my own. This is quick and easy and it is a fun and unique way to give a pair or two of socks!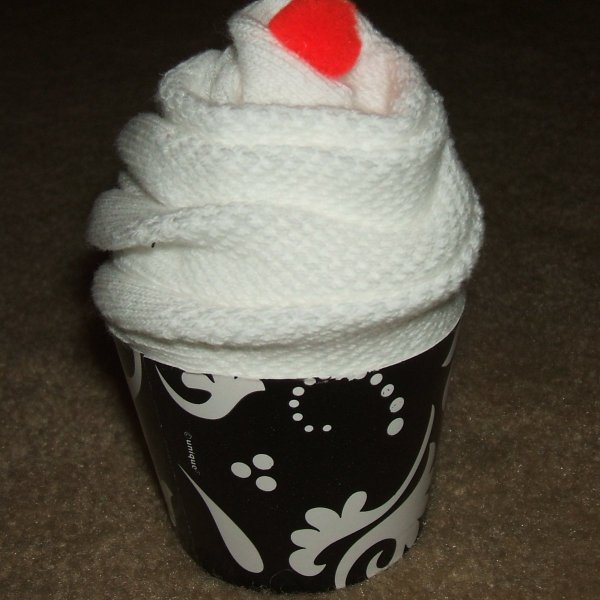 Here are some craft ideas for socks.
Beanbags or Puppets
Make odd socks into beanbags for the kids.
By fats82439
Uses Them for or Make a Heat Pack
Fill with rice and heat in microwave or freeze in freezer and use as a hot/cold pack.
Use for cleaning small messes or for dusting. Slide on a yard stick and secure with a rubberband to dust under fridges, freezers, washers, dryers, beds, etc.
By Barbie
Barbie Tube Tops
The top part of old childrens socks can be used to make Barbie clothes. My daughter and I recently spent the evening making several items. You can make tube tops, dresses and skirts, etc. for the dolls. They look great, it saves money, and you child will enjoy doing it.
By kathy_ph1976
Extend the Life of Pajamas
Save the top part and sew them onto the arms and legs of children's pajamas to extend the usage of the pj's. I did this for many years. Kids didn't care at all.
By Mary
For Freezing Jars
Not really a craft, but if you freeze in jars instead of bags you can put a jar in each sock. Then if they break or leak it will contain the mess.
By johnsonya
Dusting Mittens
Put one on each hand and dust the whole house in no time!
By suzi homemaker
Dog Ear Cleaner
I use them turned inside out and use like a glove for cleaning our Dog's ears.
By mom2mcar
Sock Puppets!
You can use markers to make faces which is fast and easy. Or you can sew or glue on buttons for eyes, use felt for a tongue and yarn for hair. These are very fun and inexpensive!
By Stella
Holiday Snowmen
You can make Holiday snowmen! They are very easy to make and great for childern and the elderly. Take a sock and fill it with Birdseed. Then using a rubberband, string, etc (Or you can twist it a few times and it will just stay, but be careful, if you move it, it may come undone-so pick it up from the bottom) make your three "snowballs". Use something to close the top of the head and then you can fold the top part of the sock down and can color it black for a hat. Use any other items you'd like for eyes, nose, etc. It can be things from a craft store or simply a permanant Sharpie marker, whatever you'd like. Puff paint seems to be the best, it looks great and you don't have to deal with glue!
Beverage Sweaters
Not exactly "crafty", but useful. I cut some tube socks to use as beverage "sweaters" for some glasses I have that sweat profusely. They also keep your fingers from getting cold. I'm considering decorating each "redneck koozy" differently for parties - similar to the wine glass trinkets used to identify which drink belongs to whom. (Be sure they are open on both ends to prevent tipping). Another advantage to using socks - they STRETCH to fit different sized beverage glasses and can be washed.
By Tamara
Protecting Small Items
We also stuffed small glass items inside whole socks to keep the items from bumping during a short distance move (not sure how well it would work for shipping).
By Tamara
A Sock Quilt
Old socks make the warmest quilts you'll ever have. Use clean, stain free socks to make a patchwork quilt. Just cut out useable portions and sew together until you get the size you want.
This is a wonderful "as you grow" project. Start with your childrens baby socks (or clothes) and each birthday take time (together) to add that years collection to the quilt. Be sure to date each sock with the year. By the time they go off to college or move out on their own, they have a warm quilt and a lifetime of wonderful memories of time spent with just you. Add your own socks too, just mark whose is whose.
Add socks from special occasions when possible (even if still brand new)
Easy, Easy, Easy, even for people who can not sew.
By Becky3501
Grass Head!
If you put grass seed in first and then soil and close it up with a rubberband then turn it over and water it you can make a grass head. The kids can put eyes on with a permanent marker, we did it, it was a lot of fun.
By gail2656
Puppets and Doll Clothes
You could use them to make sock puppets with your kids, neighborhood kids, nieces and/or nephews. I always made Barbie and baby doll clothes with old socks.
By Myra
Use Your Imagination
What about the old stand-by: Sock Puppets?
Use old socks to make cat or dog toys.
Let your child make a flag with old socks.
Use them for dry erase board erasers.
Save them for dusting - let the kids do it, they'll get a kick out of it!
Use adult size socks (male) to keep baby socks together in the wash by putting the baby socks in and tying the top of the male sock closed. No more lost socks!
Use them for quilting - nice and soft and washes well!
Use them as a sachet for a sweet smelling undies drawer.
Use your imagination! Kids can come up with the most fun ideas - ask THEM! My children, when very small, would love to play like she was folding laundry by playing in the mismatched sock basket.
By smcarney
Deodorize Your Closet
You can fill the sock with soap flakes (which you can make yourself by grating a soap bar), tie it with a nice ribbon and use to deodorize your closet.
By Sigal
Sock Baseball and Other Ideas
I have used socks as hand warmers in the winter. I couldn't find my gloves one very cold morning and use a pair of socks on my hands until my heater got warm.
When I was a youngin long ago a friend of mine's mother made a old sock baseball. It wouldn't go as far as a Wiffle ball but we sure had many great games. The sock balls were all socks. The last sock tied tight around the other socks.
People have been known to stash their extra money in a sock in a sock drawer.
I remember breaking Brazil nuts in clean old socks with the handle of a butter knife.
And if you feel the need to sock someone in the eye. Well please use clean soft socks. To Sock Or Not To Sock Is it a DeFEETING QUESTION. Sock It To Me.
By Mr. Thrifty
Sock Pot Holders
Use to make pot holders by cutting rings and using one of the loop looms. You can buy one at walmart really cheap in the craft section.
Reinforce Other Socks
Reinforce the toe before you start wearing the socks. Get inexpensive "boring" socks, cut the toe off and sew it to the novilty sock. Then use the boring sock for the other terrific ideas here.
Lap Robe or Quilt
If you have knee length, cut them off at the ankle, cut a seam up the back so they lay in flat "squares" and sew them together for a lap robe or a quilt.
By Carla Bledsoe
Heating Pad
Make heating pads to give as gifts. Fill them with rice then sew the top closed and reinforce the bottom seam. Instruct your giftees to heat them in the microwave for 1 minute.
By Mart
Arm Warmers
If they're long socks, like knee socks, cut the toe off (or right above the ankle if they have that weird heel) and cut a small thumbhole to make arm warmers. Sew a small stitch around the thumbhole and the top so it doesn't fray. Shorter socks can be bunched to make a sachel thing to put those smelly dried flowers in.
By Marissa
Cozies
Cut off the foot part, leaving just the part that covers your ankle or calf (I don't know what style of socks you wear!). Use this "tube" you have left, with all the cute kitties, etc (my favorites have frogs on them) as "cozies" for bottles and glasses -- keeps your cold drinks cold and your hot drinks hot!
By Becki in Indiana
By guest (Guest Post)
Flag
November 4, 2008
0

found this helpful
Use baby socks and turn them into roses. You use a little bit of lace and a wood skewer and you roll the socks and use two sided tape. It makes a great bouquet for a baby's room or just on a table and when you mix them in with plastic flowers it really is pretty.
By guest (Guest Post)
Flag
November 7, 2008
0

found this helpful
Cut the toes out of long socks and put them under soccer shin guards. They soak up the sweat and stop the shin guards from sticking to the kids' legs.
Read More Answers...
What can I make from a red fur Christmas sock with white fur around the top besides little girl purses?
By Donna
January 11, 2015
0

found this helpful
I have used the red part to make valentine hearts. Or the whole thing to make Christmas gift sacks or cut into triangles for Christmas pendant banners.
I want to make a craft called a coin sock, but I am having trouble finding a closure like used on a small coin purse. I hope one of you crafty people out there can help me.

Thanks.
Jean from Columbus, Ohio
April 5, 2007
0

found this helpful
Jean, I have seen what you are looking for at Hobby Lobby. It may not be in the section with purse supplies. It seems to me I saw it in the needlework section.
I have a pattern for a sock bank called "Sock It Away". It is similar, only you make it your self. The sock part holds the money.It is make with 1/4 yrd. stretch knit for sock. The opening is made with a canning jar lid that you stretch the fabric over( from outside to inside). Next you make a stuffed ring shaped animal face to glue over the ring. It uses a ribbon to hang it up. My pattern has a chicken,ckow,pig,bear,bunny and a dog for faces. I made them for my grandchildren for Christmas one year.I have a picture,but am not sure how to send on to thrifty fun. If anyone is interested, I could scan and send you the picture and pattern as well as instructions. My email address is bjptl AT bellsouth.net. Just email me if you are interested.
Judy
ps I just read how to send an image to Thrifty Fun,but couldn't make it work. I'll try and send one directly to them.
April 19, 2007
0

found this helpful
I finally made my first coin sock.. I used velcro on the top-inside of the sock. It seems to be working. Now I need a little poem to attach to it to sell at craft shows. thanks Jean at smithmj@ beol.net
Read More Answers...
Never throw anything away that can be recycled. For socks, I cut the toe off and cut the sock in circles about an inch wide. You can interlace them, roll them into a ball, and use them as you would use crochet cord; making whatever you want - rugs, slippers, even throws.
I also interweave the circles around my fingers in a way that makes long strips that you can sew together and make animal beds, which I have done. They make nice soft thick beds or rugs for animals and humans.
You can crochet anything from your ball of "sock yarn", as I like to call it, it just won't all be one color, but you will have a colorful article when you make your items. Good luck with your socks of many colors.
By Peggy from Tunkhannock, PA
Turn your baby's or kid's socks that they have grown out of into cute cuddly sock babies. Fill them with soft items. The other use for them is to fill them with dried beans and use them as a doorstop
By Ann from Sussex, UK
I love making things that require no pattern or few instructions. This "Little Monster" is made from an orphaned sock, scrape fabric, and my imagination.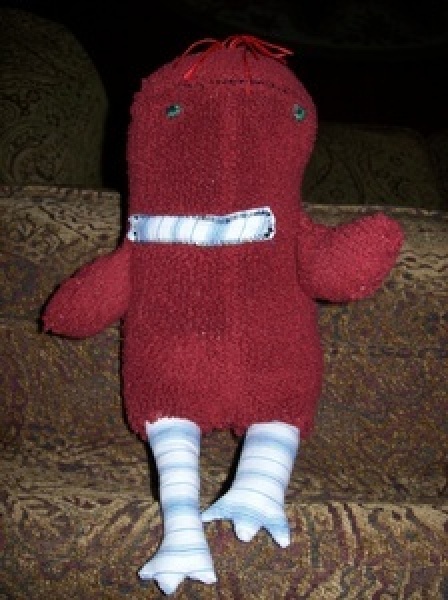 By Gloria from Scottsville, NY
I would like some ideas on what to make with socks that have no mate. Craft ideas would be great. Thanks.
By Shirley from Henderson, NV
September 24, 2012
0

found this helpful
If they are knee socks, you can cut them off at the bend and use them for wine sleeves, leg warmers for kids, or for covering an ugly vase.
Hope that helps. PBP
January 18, 2014
0

found this helpful
If you have some spare tube sock of any color or prints you can make "longjohns". You only need 4 socks, thread, and 5 buttons.
Socks that have beads around the top. They make great gifts for co-workers for birthdays or Christmas. I found socks that were 10 pairs for $7. The beads, needles and string cost about $7.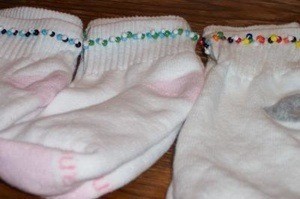 Uses for wool socks. Cut off the bottom part & use it as leg warmers or the men could wear it under their pants in the winter as an extra layer for warmth.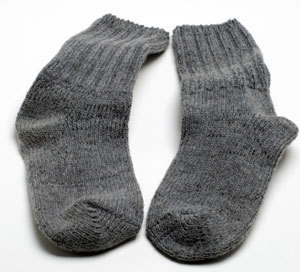 Does any one know any great crafts to do with old worn out socks?

Wendy-Lou from Chilcotin, British Columbia
March 30, 2011
0

found this helpful
Sock-a-mania:
1. ipod case: cut off the foot of the sock and keep the tube. sew the bottom of the tube closed, and fold down the top until the ipod almost can be seen.
2. scarf: use the tube of the sock as a scarf. Either sew multiple tubes together or cut the tube and sew the fabric together for a scarf.
3. bouquet of roses: Attach lace to the bottom of a sock. Roll like a burrito and slide onto a skewer. tape for extra security.
4. cat toy: put catnip in the toe of a sock and tie a ribbon or rubber band around the top to seal it. make sure the bag isn't opened by your lucky feline friend!
5. smell sachet: put your favorite scents into an ankle socks. Tie a ribbon around the top and insert into a smelly place or a closet, mmmm.
6. scrunch: cut an ankle sock into strips. Tie the strips to a thick pony you don't use normally.
7. sock buddy: fill a tube sock with polyfill or cotton balls that are stretched out. Make a knob in the corner of the sock and tie string around it. Repeat on the other bottom corner. go up and mark the middle of the sock and tie two knobs and the rest of the inside stuffing material. then tie the top of the head. draw a face and add hair if you wish.
8. coin purse: Open sock. Add coins. Tie a ribbon on the top and voila!
9. stress ball: roll into a ball and squeeze
10. hand warmers: Microwave and slip over your hands. Ahhhhh...
11. dog toy: slip a rolled sock into another sock's toe and rubberband. To use, throw the toy by the tube of the sock.
12. doll pillow: Stuff other socks into a pretty sock and tie closed. Instant pillw!
13. weights: put heavy rooks into two socks. Use them as anything from dumbbells to balloon weights!
14. burn protector: use the tube of a sock to slide over a hot mug of hot chocolate or coffee.
15. coaster: Put a drink onto a flattened sock to save harmless wooded tables.
16. bookmark: keep your place your favorite book by placing a sock in your place in your book.
17. soapy clean: put slivers of soap from an old soap bar into a thinning sock. Perfect way to clean yourself in the shower.
January 7, 2014
0

found this helpful
I use old socks to hold my Christmas ornaments. They help keep them from being scratched & getting broken.
Use the ribbed ankle part of a cotton sock for "security wrist guards".
Cut the ankle part off, fold in half and stitch around, leaving enough of an opening to turn wrong-side-out, leave an opening, but secure with a stitch so it does not pull apart.
Slip your "treasures" in the wrist guard for safe keeping. This could also be used as "ankle security guards".
By Syd
Does any one know any great crafts to do with old worn out socks?