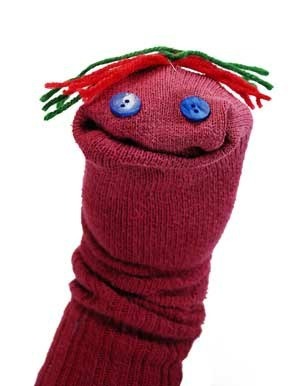 You can make fun and useful crafts using socks, whether they are lonely ones from the wash or new ones purchased for the project. This is a guide about craft ideas for socks.
Ad
---
Solutions: Craft Ideas for Socks
Read and rate the best solutions below by giving them a "thumbs up".
I enjoy making a lot of the gifts that I give my grandchildren and when you have 5, it always helps to get an early start on Christmas. I try to think of a new idea each holiday for them and this year, as one of their gifts, they will be adopting an alien and a pet. Sock animals have survived for generations, but making them into alien creatures was a fun, new twist for me.
Approximate Time: 1-2 hrs.
Supplies:
1 pair child's ankle socks
1 pair adult toe socks
stuffing
buttons
felt: red, black, and white
needle and thread
Background and scope of the project:
This clan of creatures reign from the planet Zuff and will pass on a "special" power to their new Earth friends. For example, one is giving the gift of humor and will be the comedian of the family. Another will help our planet stay green and will be the gardener of the bunch.
I made up a little story that introduces each and wrote it in a way so that the alien was talking to the specific child. I included a picture of the alien, the child, and the pet.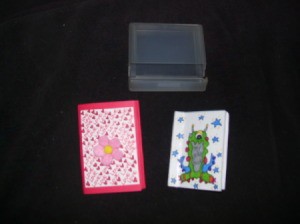 In the comedian's book there are also some alien jokes. The gardener's book has short children's poems about gardening.
Travel size Q-tips come in their own plastic snap shut box so I made the books a size to fit into one of these. They made a great case for each. I will tie them to the creatures using ribbon.
Each one will also get "tools of the trade" goodies. The comedian will get a few gag items (Dollar Tree has a good selection of these in the toy section), such as a whoopie cushion so he can spread humor where ever he goes. The gardener will get a small peat pot, seed, and soil to grow some flowers.
I am choosing their powers to fit each child. For example, my grandson who will get the comedian, always seems to have a smile on his face. He never ceases to make us all laugh. I often remind myself to see the world through his eyes for he is a wonderful example. The youngest one will be the gardener. She finds much joy in seeing something she planted grow. I am still working on the other books, but one will be an artist, for sure.
As a grandparent, I try to pass on encouragement and positive words. They all love to create things and since this gift will contain the alien and pet (the toy itself), a book (praise and encouragement of what they do), and the added "tools of the trade" goodies, I think they will enjoy them.
This entire project started when I found a book that came with instructions to make a sock creature. Although I enjoy designing my own crafts, this little one was just too cute to resist. I had so much fun making him that I decided to create some of my own. I did not preplan any of mine. I had a bag of socks along with some imagination and then just allowed the inner child to come out.
As the alien family grew, I wrote down the steps to make Zik and wanted to share his instructions with the TF readers. I have included a family photo to show the variety of ways socks can be used to create creatures.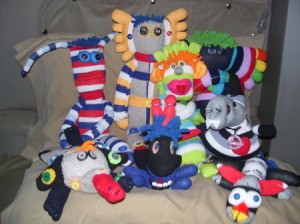 Letting my mind wander further, since this alien family comes from the planet Zuff, I decided their last name would be Zock and all their first names will begin with the letter "Z". The inner child really did come out.
Sock creatures are fun to make and do not require a lot of materials. All my grandchildren are older, so if you do make one that is intended for a younger child, I recommend that you omit any buttons and use something safer for young ones. For those who will try creating a sock creature, I wish you as much fun creating them as I had. You may even find yourself giggling along the way.
Instructions:
You will need one pair of children's anklets and one pair of toe socks. Although toe socks are no longer popular, they do make great stuffed toys for children. You can still find them in some stores. Check in discount and thrift stores also.
Cut one toe sock into three parts. See diagram #1. The middle section will become the body. See diagram #2.
Take one of the anklet socks and stuff it firmly. See diagram #3.
Make a running stitch along one end of the middle section. See diagram #4.
Gather, stitch closed to hold and insert into sock head. Pin all around and stitch outer diameter so the two are joined together. See diagram #5.
Take one cuff and cut in half for feet. See diagram #6. Put right sides together and stitch closed, leaving one short end open. Stuff. Insert into pinned bottom edge of body and sew closed. Repeat for other foot.
Do the same with cuff from other sock for arms and sew onto animal. See diagram #7.
Use strong thread to indent head. Knot thread. Start by going in at point "A" and come out at "B". Go back in through "B" and come out at point "C". Go back in "C" and come out at "D". See diagram #8. Repeat again, being sure you pull thread tight enough to indent material. I left a few threads sticking out the front indents to resemble fire. Sew buttons on side indents.
Do the same for eyes and attach buttons. See diagram #9.
Turn other anklet sock inside out and lay flat. Pin. Sew along pinned line, leaving cuff end open and cut off excess. The part with the "X" will be the tail. See diagram #10.
Turn right side out and stuff firmly. Sew to bottom of body in back. See diagram #11.
Cut toe section off other toe sock. Use toe sections from both socks and stuff firmly. See diagram #12.
Pin along top of animal, starting at the top of the head and continue down to the tail. Sew to animal. See diagram #13.
Cut tail spikes from one solid strip of black felt. Sew on to tail.
Cut 2 pointed teeth from white felt and sew onto front of face, right below the front indentations.
I braided rope and made a collar. I then poked a hole in a bottle cap and attached a jewelry loop through it. I filled the cap with clear glue and sprinkled on some red glitter. I named this animal Zik and pressed letter beads that spelled the name into the glue. I allowed it to dry and attached it to the collar for a name tag.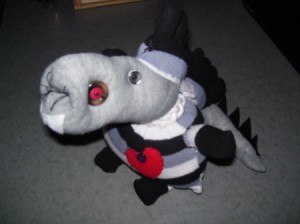 Tip: The cute, colorful hair used for these creatures is from cleaning mitts. These are gloves with the nubby ends on one side that you dust or clean something with. They look just like a large mitten and I found them in Dollar Tree. They come in several bright colors. The back side is stretchy material and I used it to make ears on one of my sock creatures. You can cut pieces from the nubby side and they are made well enough so they don't unravel. You can find them in stores such as Wal Mart also, but they cost more there.
By Mary from Palm Coast, FL
I have seen these cute cupcake socks for sale several places and decided to try my hand at creating my own. This is quick and easy and it is a fun and unique way to give a pair or two of socks! In order to have enough bulk to create the cupcake, use two pair of no-show or ankle socks, or you can use one pair of knee-hi socks.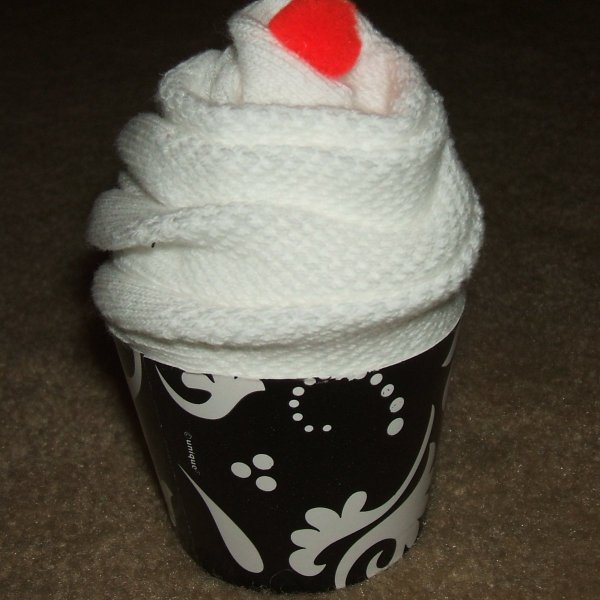 Approximate Time:
Supplies:
2 pairs of low-cut socks
rubber band
paper cup or cupcake liners
scissors
toothpick
medium size pom pom
hot glue gun and glue sticks
Instructions:
Use scissors to cut halfway down the side of a paper cup. Then cut around the diameter of the cup. This will be your cupcake holder. You could also use several stacked cupcake liners instead of a cup.
Begin by layering your socks on top of each other so that the edge of each sock can be seen (refer to photo).
Beginning at the open end of the socks, roll up socks all the way to the toe end.
Secure roll with a rubber band.
Position rolled socks into cut-off cup or stacked cupcake liners.
Hot glue the pom pom to the end of a toothpick. Hold in place a few seconds until glue is dry.
Poke the toothpick down the middle of the rolled socks being careful not to poke a hole in the socks. (I stuck my finger down the middle to help guide the toothpick).
The pom pom is the "cherry" on top. You can place your cupcake in a clear cellophane bag tied off with a ribbon, and you are ready to present your gift!
By Rachel's Mom from Wilkesboro, NC
Never throw anything away that can be recycled. For socks, I cut the toe off and cut the sock in circles about an inch wide. You can interlace them, roll them into a ball, and use them as you would use crochet cord; making whatever you want - rugs, slippers, even throws.
I also interweave the circles around my fingers in a way that makes long strips that you can sew together and make animal beds, which I have done. They make nice soft thick beds or rugs for animals and humans.
You can crochet anything from your ball of "sock yarn", as I like to call it, it just won't all be one color, but you will have a colorful article when you make your items. Good luck with your socks of many colors.
By Peggy from Tunkhannock, PA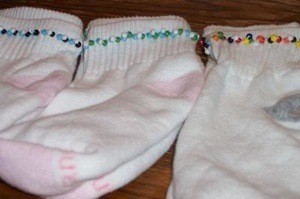 Socks that have beads around the top.
Approximate Time: 45 minute to an hour on each pair.
Supplies:
collapsible eye needles-medium
.5 mm elastic cord jewelry stringing
6/0 4mm-sized glass beads
sport/sneaker socks
Instructions:
Thread a single strand of elastic through the needle, approximately 8 inches long. Go into the inside side of the sock and come out onto the front, leaving enough elastic to tie a knot in the the thread when your done. If the sock is ribbed at the top, go through the furrow(indentation) of the rib to the outside. Put on 3 beads of various colors, count over 2 ribs, and then run the needle back into the inside. Looking at the outside of the sock, skip 2 ribs on the outside and put the needle through the inside to the front in the next furrow. Repeat until you get back to where you started. Stretch the top of the sock where the beads are to make sure you haven't gathered it too much with the elastic string. Tie a square knot on the inside. And you are done.
It sounds more complicated than what it actually is. They make great gifts for co-workers for birthdays or Christmas. I found socks that were 10 pairs for $7. The beads, needles and string cost about $7. That makes for a cheap token of remembrance that is home-made. They could be made in school colors for cheerleaders or sold at school fundraisers.
By Patty from Turbotville, PA
I love making things that require no pattern or few instructions. This "Little Monster" is made from an orphaned sock, scrape fabric, and my imagination.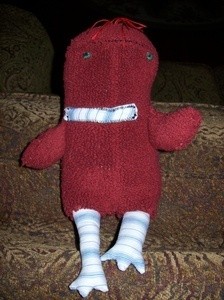 By Gloria from Scottsville, NY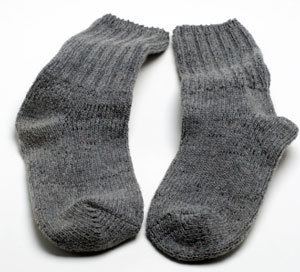 Leg Warmers
Cut off the bottom part & use it as leg warmers or the men could wear it under their pants in the winter as an extra layer for warmth.
By Connie
Make Slippers
I recently read about using them as slippers by adding a sole-sized piece of sueded fabric to the bottoms. I am using a rubber cabinet liner for mine. May still have to mend the holes though.
By Lauren
Fingerless Gloves
You could cut them up and use them for stuffing for something, or cut off the feety bits and use the ankles for fingerless gloves.
Coffee Warmer
You can use them as coffee cup warmers by cutting of the bottom part and then when in need of a mug warmer slip over the hot beverage cup to insulate it and keep it warmer for longer amounts of time.
A Sweater for Small Pets
If you have a small dog or kitten you could use it for a pet sweater by cutting holes for arms and legs.
A Beanie for Baby
If there big enough and you have a little one you can cut of the top part and use the bottom part as a beanie.
For Cleaning
I like using old socks for cleaning, saves on paper towels or when I have to clean somewhere where I really don't want to. You can also use socks to store small things in a closet. Just nail them on the wall.
By Gail
For Drafts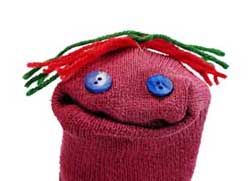 You could cut the bottoms out of 2 or 3 of them, sew them together to make a tube. Stuff and sew both ends closed and you have a draft dodger to keep your house warm. Add a string to reach the door knob to hang it when not in use or keep in place.
By Suitsme
Sock Puppets
Make a cute sock puppet by folding in the toe, stitch it in place, add some yarn hair where the heel is and some button eyes.
Susan from ThriftyFun
Use the ribbed ankle part of a cotton sock for "security wrist guards".
Cut the ankle part off, fold in half and stitch around, leaving enough of an opening to turn wrong-side-out, leave an opening, but secure with a stitch so it does not pull apart.
Slip your "treasures" in the wrist guard for safe keeping. This could also be used as "ankle security guards".
By Syd