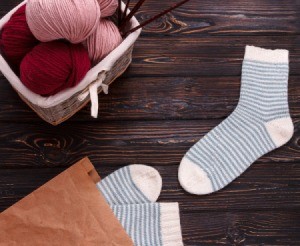 Never throw anything away that can be recycled. For socks, I cut the toe off and cut the sock in circles about an inch wide. You can interlace them, roll them into a ball, and use them as you would use crochet cord; making whatever you want - rugs, slippers, even throws.
I also interweave the circles around my fingers in a way that makes long strips that you can sew together and make animal beds, which I have done. They make nice soft thick beds or rugs for animals and humans.
You can crochet anything from your ball of "sock yarn", as I like to call it, it just won't all be one color, but you will have a colorful article when you make your items. Good luck with your socks of many colors.
By Peggy from Tunkhannock, PA
Comments
Read More

Comments