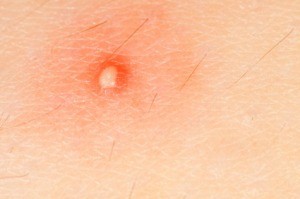 Boils are not only unsightly they can be quite painful. This is a guide about home remedies for boils.
Ad
---
Solutions: Home Remedies for Boils
Read and rate the best solutions below by giving them a "thumbs up".
A way to treat and draw out boils. crack an egg, take the egg white and put it on the boil. Put a bandage on it and leave overnight. When you wake up, you will see a big change. Do this as often as you like until the boil has gotten the core out. Thanks. Good luck!
Source: My mother's old family remedy.
By Lisa45764 from Nelsonville, OH
Mash soap and sugar together to form a paste and transfer the mixture onto a piece of lint big enough to cover the boil. Use a bandage (if a large boil) or a large plaster/band-aid to secure the piece of lint onto the boil. The mixture should draw out the boil's core. Best of luck!
Source: My Great Granny Elsie Snape (1907-1990)
Give a "thumbs up" to the solution that worked the best! Do you have a better solution? Click here to share it!
Questions
Here are questions related to Home Remedies for Boils.
I have been getting boils on my face and I am at the point of freaking out! I got a few in the groin area then they went to my face. It's a little different on the face. I don't want scars so I don't do a lot of the home remedies, just moist compress to keep swelling down. I am going crazy with this and need some advice. From what I understand the antibiotics are just a band-aid. I eat good and I am so sick of this! Help.
By Julie R.
AnswerWas this interesting? Yes No
Ad
---
---
Most Recent Answer
By Linda Valentine - Spokane WA 4 43 03/15/20130 people found this helpful
I started having them under my left arm and then in my groin area. I didn't bother with the ones in the groin area but the ones under my arm were painful and deep. Went to the dermatologist and haven't had one since! I did find out that these things are quite common. So go do something about it!
---
I have a large boil on the back of my neck. The pain of it is starting to go into my shoulders. How can I get rid of it?
By Lynda from Kearny, NJ
AnswerWas this interesting? Yes No
Ad
---
---
Most Recent Answer
By shelley 1 13 02/23/20110 people found this helpful
Ichthammol 20% Draw Out Drawing Salve Ointment and
Watkins Petro-Carbo Salve are both great for boils and Amazon sells both of these.
---
What are the side effects from prolonging not going to a doctor for a boil under the armpit?
By Duck Freeman
AnswerWas this interesting? Yes No
---
Most Recent Answer
By Lelia Jo Cordell 51 1,936 04/20/20100 people found this helpful
Under your arm? Ouch! I'd heed the advice of the urgent-care RN. If your insurance plan includes an "Ask-a-Nurse" help line, give them a call, but they'll prob tell you the same. Do what you can for yourself, and seek medical attention if you must.
---
I had a boil and it was huge. I had tried everything, finally I used the black salve and it made it start draining. The core has still not come out. It still hurts a little, but not as bad as it did. What do I need to do now to get the core out and make it start healing?
By snipemom from MS
AnswerWas this interesting? Yes No
---
Most Recent Answer
By Laura 154 06/14/20090 people found this helpful
This works with most boils. Make a cup of tea. regular tea like lipton. NOT an herbal tea. Now after the tea steeps remove the bag squeeze it out so it is not dripping and place over the boil. Take it on and off as it maybe be a little too hot at first. When I do this on boils. It feels warm on regular skin and intense heat on the boil. I also start to feel a tingling in the boil area.

I use the same tea bag again later in the day and make a fresh one for the next day. It some how heals the boil. It also works for a sty by your eye. My sister learned this from eastern medicine and cures. She loves her tea remedies. Give it a try and be attentive to what is happening in the area. If it doesn't look right go to the doctor. It is always better to safe then sorry. Good Luck.
---