Any ideas to decorate the wall behind my bed as I don't have a headboard (maybe with fabric)? I have a king size bed. Could I use pretty placemats? Also, how do you make a decorative type of mosquito net? I would appreciate any help

Thanks,
Susan from South Africa
Ad
---
Recent Answers
Here are the recent answer to this question.

By Kristin (Guest Post)07/22/2007
Thought I'd throw some of my solutions into the mix

http://bedroom-decor.suite101.com/article.cfm/simple_headboards

Hope you find an idea that suits your style!

Kristin Abraham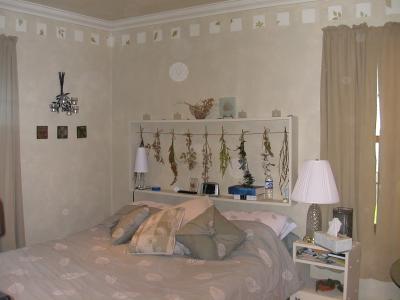 By badwater [242]07/09/2007
On my previous post, I forgot to say the decorators used the curtains behind the bed, as they didn't use a headboard on the bed. It looked really nice. Bed ead boards aren't necessary. We have one to keep the bed from hitting the wall.

By badwater [242]07/09/2007
On a recent decorating show I watched, the crew hung a curtain rod & pretty curtains on the solid wall behind the bed, made it to appear there was a window behind the bed. It was attractive. Only those who knew the room completely would know there wasn't a window there at all. Nice. Best of luck to your decorating!

By Meaghan (Guest Post)07/04/2007
Making your own headboard is a big thing these days, and there are limitless ideas out there. I have found many ideas (with instructions) on the Better Homes & Gardens website -- www.bhg.com.

I have also seen where people have painted or stenciled designs on their wall where a headboard should be, and it was absolutely adorable.

On one of the HGTV shows, they took doors (like a wooden bi-fold door), painted it a contrasting color but that coordinated with bedding and hung it on the wall horizontally above the bed. Again...adorable.

I have attached a link of pic of a nice one as well as links that provide different ideas for you.

http://www.inntravels.com/usa/tx/oldmulberryinn10.jpg

http://bedroom-decor.suite101.com/article.cfm/simple_headboards

http://www.househacker.com/tags/frugal

If you don't find anything on any of those websites, google "how to make a headboard for a bed" and there are all sorts of things. I'm confident you will find something there.

Good luck! Be sure to send us a picture of your finished product. :)

By CAMILLA (Guest Post)07/02/2007
I AM HANGING AN OLD, OLD ROUND MIRROR FROM MY MOTHERS' DRESSER, OVER HEAD OF BED, AND SURROUNDING IT WITH A WREATH OF FLOWERS. THE WREATH WILL NOT BE A TIGHT FORMAL WREATH, BUT LOOSE AND CASUAL, SORT OF LIKE AN ENGLISH GARDEN.

By Tinah (Guest Post)07/02/2007
There are so many head board ideas. You can use curtains, upholstered fabric on a piece of wood cut to size, picket fence pieces, trellis pices painted and framed with wood, Try HGTV, or DYI for ideas. Also type in decorating ideas on google. Your imagination is the only one that will know what you will love! Good luck.

By Pat Giles06/30/2007
For my king-size bed, I got a pretty small (5x6) rug and stapled it to a wood drapery rod which was fastened to the wall over the bed. I then hot glued a wood medallion in the center of the rod. I think it looks quite good. Now, I can change the bed covers to match the colors in the rug. God bless you!

By Maddy06/29/2007
I just did mine and what i did was pick out a pretty not too flowery wall paper then formed a window out of wood moulding complete with panes and then added a curtain rod with pretty curtains and sheers.. looks soo Great and i have had to do one for 2 friends of mine.. You can choose the wall paper that will go with your theme... When you look at it picture it as if you were looking out a real window.. Before that i got wood and cardboard and put it together with some material and batting like the other lady did except i tufted mine it looked great and no one knows but you unless you tell lol...

By Shawna Shoemaker06/29/2007
I have African things in my bedroom. I found an old national geographic at the library (for free) with an african map in it . I bought a poster frame trimmed in black and framed it. I hung it above my bed and it looks great I love it!!!!

By Graycrab (Guest Post)06/29/2007
I made a head board out of cardboard from boxes. I took two cardboard boxes and cut them to the width of my bed and glued them together with spray adhesive. Covered this with a thicker batting. I then made like a snug fitting pillow sham to stick it in and hung it on the with 3 Hercules hooks.
The advantage to this is I can change the color of the headboard at will as I have a winter and summer bed covering.
One of the covers I made was a brown suede while the summer one is is luscious cool blue.

By ginny (Guest Post)06/29/2007
how about a picture throw rug or a little larger one, or even a material picture, and nail it on 4 strips of wood....

06/27/2007
You can decorate stretched canvases or pieces of wood (12" x 12" are a nice size, or even longer ones - depending on the look you want) with pretty papers or fabric, then hang as many as you like across and up.

Cover a piece of plywood with batting and pretty fabric.

Hang a pretty drapery or sheer on a rod attached to the wall.

Attach three or four flat pillows to the wall, side by side, or hang them on a wooden rod at headboard level, tying them to the rod with pretty ribbon or coordinating fabric.

Use pickets, lattice or old shutters, painted any color and attach to the wall.

Here are several ideas, including one or two that I mentioned.

http://interiordec.about.com/od/headboardprojects/Headboard_Projects.htm

http://www.bhg.com/bhg/story.jsp?ca ... ata/Bedrooms_Headboards_02062003.xml

http://www.seedsofknowledge.com/headboard.html

Have fun! And let us know what you end up doing!

By pam munro [447]06/27/2007
A real easy way is just to put up a piece of tapestry fabric, or other decorative fabric that's fairly heavy, behind the head of the bed. I had a piece of Peruvian weaving at the head of my bed for years,

By cookie06/27/2007
hey Susan. Weeks ago I completed this exact project in my bedroom, sorry I haven't any photos to post. I sort of gave my wall a window treatment. I purchased a set of sconces, an appropriate sized rod. I got a heavier fabric the would lay flat against the back wall, and then I purchased some yardage of a lightweight sheer fabric to drape loosely through the sconces. I love, love, love the new look in my room. Happy decorating :)

By (Guest Post)06/27/2007
Go to www.hgtv.com
the shows "decorating sense" & " design on a dime" have done headboards in the past that were really nice. once they took a piece of board and stapled fabric on it but they have sone some other cool stuff too
Answer This Question
Add your voice to the conversation. Click here to answer this question.