Craft: Green Totes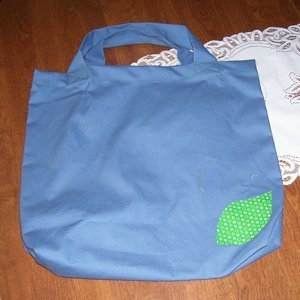 Since we are celebrating "going green" I thought I'd share yet another tote idea. I made these totes (5 in all) for our church fair last fall. Someone generously donated the denim fabric. I added the little green leaf applique before sewing the totes together. I used Aleen's fusible web and followed the directions and then cut out the leaf shape and fused it on. It worked great.
By Jan Lee from L.I. NY
Feedback
Read feedback for this post below. Click here to post feedback.

By
05/03/2009
Nice idea! I often find used blue jeans at yard sales and church sales for next to nothing. A few years ago, I picked up a pair of children's jeans, cut off the legs, stitched the bottom up and had a great tote with pockets on the outside for pens, phone, whatever. I used the leg material for straps, too, so not much went to waste. Hmmmm. That just got me thinking. How about using the scraps, which are guaranteed to be different colors if you use enough pairs of jeans, and make a denim quilted tote. Decorating would be a snap, too.

By
04/30/2009
Looks nice! Did you use my pattern? They are so fun to make! I have another bag pattern that I will post to re-use the furniture swatches. Did you zigzag stitch around the leaf so it doesn't fall off in the wash?
Keep up the creativity. I may try the leaf thing on my solid color bags. Thanks.
Post Feedback
Add your voice to the conversation.