We all try to "go green" and one good way is by using tote bags instead of plastic. Depending on what kind of bag you choose, most can be purchased for $1.00. I recently found 3 brand new material totes at a thrift store for 25 cents each. If you craft, thrift stores are a gold mine and I never seem to leave one empty handed. Totes can be used in many ways and I decorated these for my two daughters in law for Mother's Day.
Approximate Time: 1-2 hrs.
Supplies:
canvas or material tote bag
felt
trim for decoration
letter beads
key ID tags
Instructions:
You can make any animal you choose on any material tote. I like the canvas ones best. They seem to be the strongest and I enjoy painting on them, but I couldn't pass these up. I have included a picture of a few other animals I made. Simple shapes work best in this project so you don't have to be an artist. Coloring books are a great source for pictures. Since I was making these for mothers, I decided on a "My Peeps" theme and chose to make chicks. One has four children on it and the other has one.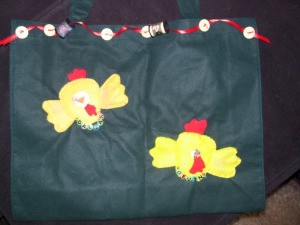 Cut out a simple animal shape from felt. You will need two for the body. Cut out a circle in one which will be the face (front). The circle size will depend on your photo. You want only the face to show. I used double backed tape and attached the photo to a piece of thin cardboard, cut to fit inside felt.
Assemble your animal on the tote and use pins to hold. Hand stitch on to tote. Glue on tiny beaks, if desired.
Decorate the bag however you desire. I decided to fill in the areas on the one with only one child using his hand prints. I colored each with fabric paint. If using paint, be sure to slip cardboard in between and leave until dry. On this one, I added "My Peep" above the chick using letter beads and also the child's name below. I attached photos of him at all different ages on to round metal rim key ID tags. I punched holes and sewed one onto each hand. I also added more of them at the top of the bag, along with ribbon and buttons.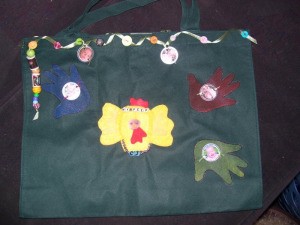 On the one with the four children, I put two on each side. I spelled their names out under each chick using larger glow in the dark letter beads. I added a hanging decoration using letter beads that reads "Mom's Peeps".
They are inexpensive to make and you will have a lot of fun doing so. This would also make a great project for kids to make for their mom or grandmother for Mother's Day. I would recommend using canvas bags for the them to decorate. You can usually find smaller ones at Dollar Tree. They can use paint, markers or crayons and create their own masterpiece! Any Mom would be tickled to receive one.
By Mary from Palm Coast, FL