Did you know you can recycle Tyvek into a waterproof and durable lining for fabric projects. Tyvek can be found in jumpsuits/coveralls for industry work. This type of Tyvek is very soft and fabric-like.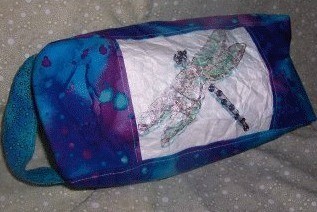 You can also recycle Tyvek from mailing envelopes. This Tyvek is medium weight, but not suitable to use with light colored cover fabrics as the printing will probably show through. Tyvek used to wrap houses in new construction is also useful. This is very stiff and paperlike, but softens when you crumple it. It will stay wrinkled though.
Tyvek should not be ironed or put into the dryer.
The tote in the picture is a cosmetic tote made using jumpsuit Tyvek on the inside. The handle allows it to be hung from a locker hook or wall hook in a bathroom, and the inside can be easily wiped out.
For fun, I write a message on the Tyvek with a Sharpie before assembling the project, so the recipient sees the message each time they open the bag.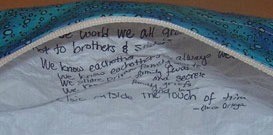 By Regina from Rochester, NY