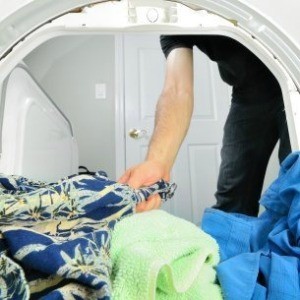 Dryer sheets soften your clothes and help prevent static. They can be quite expensive, so making your own can save you money. This is a guide about making homemade dryer sheets.
Ad
---
Solutions: Making Homemade Dryer Sheets
Read and rate the best solutions below by giving them a "thumbs up".
Take a package of soft cloths (e.g., generic brand of J-Cloth) and cut them in half. Soak in fabric softener, wring out well, and hang dry. When ready to put a load of clothes in the dryer, slip a dried softener sheet in. These can be used a few times over and then you can start the soaking process over again. The sheets last forever and you'll never need to buy fabric softener sheets again.
By sooz from Toronto, ON
Pour a dab of fabric softener on an old sock then put in the dryer with your clothes. It can be used for several loads. It saves using Bounce sheets.
By coville123 from Brockville, Ontario
This isn't homemade, but it stretches your softener. Get a 5 gallon bucket with a lid and add to it:
1 large bottle of fabric softener
2 bottles (use fabric softener bottle) water
4 all purpose sponges cut in 1/2
Stir the ingredients together and when you add a load of clothes to your dryer, squeeze out 1 piece of sponge and add it to your load.
After the load is dry, replace the sponge in the softener. This stretches your softener 3 times as long.
By Jesjospig
Give a "thumbs up" to the solution that worked the best! Do you have a better solution? Click here to share it!
Questions
Here are questions related to Making Homemade Dryer Sheets.
I have read the posts on how to make your own fabric softener. Can you then, instead of putting it in on the rinse cycle make your own sheets as others have recommended and use the homemade softener on a sheet in the dryer? I always forget the rinse cycle. Thanks.
By Lorrie from OH
AnswerWas this interesting? Yes No
Ad
---
---
Most Recent Answer
By Vivian Pettyjohn A. 07/15/20140 people found this helpful
Time how long it takes your washer to reach the final rinse cycle (usually about 20 minutes) and set your cell phone or microwave timer to alarm in 20 minutes, reminding you to put in the fabric softener.
---
Does anyone know how to make homemade dryer sheets using vinegar? I don't have a softener bucket in my washer and I am not always around or hear the final rinse so putting it in that way is not really an option.
By Cynthia M
AnswerWas this interesting? Yes No
Ad
---
---
Most Recent Answer
By kiki Schwartz 05/17/20150 people found this helpful
Dryer sheets are basically scented chemicals and fabric softener leaves a waxy residue on clothes. It also seems to build up mold in front loading machines. They are basically used for fragrance which is unnecessary if clothes are properly washed and clean.

However vinegar works wonders for odor control disinfecting and as a fabric softener. It has endless uses and not only do I use it as the final rinse in my h/e front load washer but also prewash all of my dirty microfiber cloths in several cups of vinegar and a hot water cycle. If the micro fiber has had excessive dirt or multiple cleaning chemicals, I then proceed with a small amount of detergent and another hot cycle. I've learned that from a tip and was shocked that white vinegar could completely clean micro fiber Rags.

Apple cider vinegar is also great to rinse hair prior to washing as it cleans the scalp and all residue in addition to being anti bacterial and anti- fungal. Shampoo will wash the odor out but it also makes your shower smell good as you are bathing. Again, since it has so many uses ...vinegar will become your friend!
---
How do I make homemade fabric softener sheets?
AnswerWas this interesting? Yes No
---
Most Recent Answer
By Angie 08/17/20060 people found this helpful
I simply pour a little fabric softner on an old rag (or you can spray it on from a bottle). I can usually use the rag 4-5 times before having to put more softner on. I've used the same old rag for this purpose for the last 6 months!
---
Can the softener/water/sponge solution be stored at room temperature? I've been told that it should be refrigerated. Yes or no?

By Kathy
Archives
Thrifty Fun has been around so long that many of our pages have been reset several times. Archives are older versions of the page and the comments that were provided then.
Take an old wash cloth and cut into four pieces or reuse the purchased fabric softener sheets. Combine 1/2 ounce of liquid fabric softener with a pint of water. Put the cloth pieces or used sheets into mixture and squeeze excess liquid out and let dry and store. Repeat the process and you will have a ready supply on hand.

By Syd
Take an old towel and soak it in liquid fabric softener. Wring it out good, pour the liquid fabric softener back into the bottle and let the towel dry before using. This "sheet" should last you at least 40 loads of laundry. One bottle of liquid fabric softener should last years.
By Connie from Minnesota
---
RE: Make your own fabric softener sheets.
So, just put it in the dryer with the clothes? Interesting. I will try it. (09/22/2004)
By Jackie
RE: Make your own fabric softener sheets.
I buy the fabric softener sheets but I cut each sheet into 4 pieces. These strips work just as well as a full sheet, IMHO. One small box lasts a long time. (09/23/2004)
By Guest
RE: Make your own fabric softener sheets.
I started off using one sheet for a few loads, then tried to cut the original into 1/2, then 1/4 and now I find that if I cut the fabric sheet into 2" x 3" squares, this size still works great and I just throw one into a load. Plus one box really does last a long long time. (10/07/2004)
By brenda
RE: Make your own fabric softener sheets.
I only use fabric sheet to get rid of static cling. I have found that half a sheet works well for me, less doesn't work at all. I would love any ideas for static removal. We hate getting shock so much lol (11/28/2004)
RE: Make your own fabric softener sheets.
Anyone tried this? Does it work? We use natural fabric softener and it's expensive, almost out trying to determine how we will use the last portion. (12/23/2004)
By Curious
RE: Make your own fabric softener sheets.
So what is in the fabric softener that makes it work? (05/24/2005)
By Alex
RE: Make your own fabric softener sheets.
I take a regular size sponge and cut it into 4 pieces. I then put liquid fabric softener in a jar and add the pieces of sponge. Then when I use my dryer, I take one of the pieces of sponge from the jar, squeezing to remove excess fabric softener, and throw it in the dryer with my clothes. Works like magic. (09/01/2005)
By Saftanaomi
RE: Make your own fabric softener sheets.
Do you put it in the wash or in the dryer. It could go either way but you figure that if you put it in the wash, it would get clean like the rest of the clothes (09/09/2005)
By Jo from Ont
RE: Make your own fabric softener sheets.
White vinegar is a natural fabric softener (1/2 cup a load usually works - in the washer). Helps with absorbency of towels and the like - regular fabric softeners tend to block absorbency. If you want, you can simply add an appropriate fragrance to a sponge as was mentioned above to put in the dryer to offset any vinegary smell.
Also 1/4 cup 20 Mule Team Borax in your rinse water will do the trick.
One idea I've not tried yet but certainly warrants mention is to buy a jumbo jug of cheap hair conditioner, and dilute approx. 3:1. (water - 3, conditioner - 1).
The best non-chemical solution I've seen are DryerMax Dryer Balls Looks more like a dog chew toy, but they certainly work well and are cost effective. (06/19/2006)
By Ed
RE: Make your own fabric softener sheets.
Good idea, but fabric softener does go rancid after awhile. (03/26/2007)
By Jeannie
RE: Make your own fabric softener sheets.
Soaking the fabric softener and then returning the liquid back? I've heard of living thrifty but, I ain't THAT broke that I would be recycling the liquid. You do realize that the active ingredient of the Downy (or whatever you are using) gets stuck on the towel and with every return of your "liquid" you are basically diluting the efficacy of the fabric softener, right? (01/27/2008)
By mikey
RE: Make your own fabric softener sheets.
Some one told me recently that if you put a safety pin in the dryer with the wet clothing, that it will keep the static electricity from building up. It won't soften the clothes though. (02/06/2008)
By june
RE: Make your own fabric softener sheets.
I think that a liquid fabric softener with a dash of your favorite cologne or aftershave would help with the layering of your favorite scents on your clothes. (10/15/2008)
By Bev S
RE: Make your own fabric softener sheets.
All your ideas seem really great, but I do have one concern about soaking a cloth or sponge in liquid fabric softener, and then squeezing out the excess; wouldn't the liquid that is still on the wash cloth or sponge ruin the color of your clothes in the dryer? I have had experiences, where liquid softener spilled on colored clothing and it actually ruined the color of the clothing, almost like bleach does.? (12/30/2008)
By Tammy
RE: Make your own fabric softener sheets.
I have heard about the vinegar solution on many sites. But if you want a nice smell in the dryer instead of using crappy chemical-infested fabric softener - add a few drops of essential oil on a cotton strip and put in the dryer with your clothes. If you are into aromatherapy - you can add your favorite scent mix or even use an anti bacterial oil like tea tree, rosemary and of course my favorite - lemon or orange! Plus you get the natural benefits of of the aroma. Rub the oil into the cloth (I mean 2 drops), let it sit for a minute and then put in. Of course, you don't want to put oil directly on clothes (stain prevention) - but it is very little. You could also mix with a rose water or witch hazel to dilute the cloth a bit. (03/02/2010)
By soulplay
Although dryer sheets are so convenient, I discovered a way to keep my clothes static-free for less. I cut up clean, old washcloths into quarters, then soak them in liquid fabric softener. I squeeze one out to toss into the dryer with each load.
Once I have used each one, I then spritz it to re-wet it with a very diluted mixture of water and a little liquid fabric softener. It re-activates the softener, plus I avoid the wringing and using more softener. I also use the spray bottle of water and softener on wrinkled clothes I don't want to iron. Works great!
By Elle1972 from Columbia, MO
---
RE: Make Your Own Fabric Softener Squares
This is a much greener idea than the one-use, commercially-made sheets. I'll have to try it! (04/05/2010)
By JustPlainJo