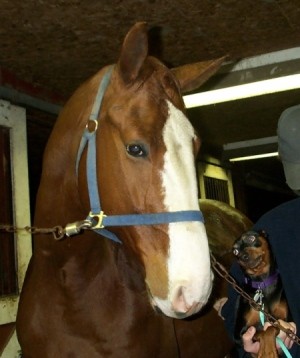 This photo is best to look at in a large format to properly see Jake's eyes that are saying YIKES!
Jake was my girlfriend's dog, a Miniature Pinscher, and this is him meeting my horse Buster a few years back. Jake was normally a very bold little dog and nothing scared him, but when he met Buster my horse, he was a little overwhelmed by the size.
I'm sad to say that Buster and Jake have both passed on, but they were both well loved and will never be forgotten.
By Ann from Goulais River, Ontario
Editor's Note: To see the picture at full size, just click on the image.