I have 5 indoor dogs. As we all know, even if you bathe dogs on a regular basis, they can stink up a house. I have an extra sensitive nose and odors drive me to distraction. What I do to keep the dog smell down is vacuum the furniture daily.
Once a week after vacuuming the furniture, I take my favorite dryer sheets and rub one vigorously all over each piece of furniture. I also stick one dryer sheet in the bottom of each of the dogs crates to help keep their beds from smelling bad until I do the weekly wash.
I keep my used dryer sheets in a tissue box, and when my dogs come in from being outside (especially from the rain) I wipe them down with a dryer sheet. It still has some fragrance and removes loose hair. They smell better and it helps with shedding. It also helps dry them off if it has been raining. Just another way to reuse and recycle!
By cdc343 from Cleveland, TN
---
RE: Used Dryer Sheets to Wipe Down Dog
I would be afraid to use these dryer sheets on my little Shih Tzu. She does get wet when she goes out after a rain, but I just use a towel or paper towels to dry her off. The reason I wouldn't use the dryer sheets, although the smell would be nice, is because she licks her paws and sometimes her fur and I would be afraid of the chemicals on the sheets. I had a little dog die from lymphoma and my Vet said he is convinced that the increase he had seen in cancer in animals was an "environmental" thing.
I won't let my gardener use chemicals around the yard or garden because of her. I avoid all chemicals, such as the insecticides for fleas (which she doesn't have anyway). So I would be hesitant to use them on her fur because of her licking. They do make great dust clothes, though, after they've been used in the dryer. I will check my filter to see if there is any sign of clogging as I have used them in the dryer for years. (11/15/2009)
By Wapite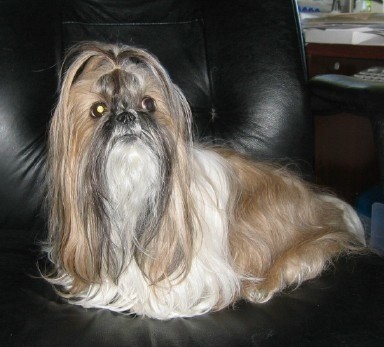 RE: Used Dryer Sheets to Wipe Down Dog
I'm a little iffy on dryer sheets altogether. All those pretty smells don't always come from pretty sources.
http://shop.sixwise.com/index.asp?PageAction=CustomandID=92
Beyond those warnings about them, in our own experience around here: I stopped using my dryer ( and dryer sheets) six months ago in what began as an experiment to see just how low I could pare my electric bill.
We found that line-drying cut the power bill by $60 a month, and that one of us who always seemed to have some kind of skin irritation, well, that ended.
I chalk that up to replacing dryer sheets/liquid softener with 1/4 cup of baking soda in the wash and hanging clothes naturally to dry.
That said, I wouldn't ever use them again on us or the dog. Even just setting the possibility of chemical damage aside, however small that may or may not be, the junk that I'd normally see left behind in the lint trap also translates to me as being left behind on the dog's fur, synthetic residue on that has a good chance of interfering with the natural protection of the dog's coat.
Just a thought. (06/09/2010)
By PupperMom
RE: Used Dryer Sheets to Wipe Down Dog
The #1 cause of house fires is due to the use of dryer sheets as they leave a "residue" behind on the lint catcher! They must be thoroughly washed to remove it! That stated, I would not be using one on any animal! Why not instead simply keep a 100 percent cotton towel which absorbs moisture so well on hand, and reuse it just like we humans do when bathing? I am sure you could use a tiny bit of some essential oil or tree tea oil on it to make her smell lovely! (10/02/2010)
By MzScarlett
RE: Used Dryer Sheets to Wipe Down Dog
Actually, the number 1 cause of house fires is cooking (my brother and brother-in-law are firefighters). Dryer sheets do not contribute to fires (that's a myth), but a clogged dryer vent can. You can even check this website:
http://www.consumerreports.org/cro/appliances/laundry-and-cleaning/clothes-dryers/truths-and-myths-of-dryer-fires/overview/index.html
I realize that's a different issue, but if you're only using these on your dog only once in awhile it's probably okay. It's certainly less toxic than many who use chemical flea treatments and tear stain treatments on their dogs. (10/28/2010)
By volvomom
RE: Used Dryer Sheets to Wipe Down Dog
This is not a good idea! Dryer sheets are infused with all kinds of chemicals, which the manufacturers are not required to disclose, many of which are toxic to animals and humans. Some are endocrine disruptors, which cause hormonal problems, and others are toxic to the nervous system. After wiping the pet with a dryer sheet, the pet will ingest these chemicals when it licks itself. If this happens often enough, the pet could become very sick. Please do not wipe these things on your pets! A cotton towel as another poster suggested is better (if you don't use dryer sheets when you dry the towels). There are alternatives to dryer sheets that are non-toxic and pretty effective, such as the dryer balls available. (10/29/2010)
By Pixiedust7