Making Doll Furniture from Clothes Pins
Solutions
Share a solution for this guide today!
Questions
Here are questions related to
Making Doll Furniture from Clothes Pins
.
Making Furniture Out of Wooden Clothespins
I want to make the clothespin doll house furniture for my daughter. I don't know if I'm missing something on this site or if it's just not posted. Anyone know how I find the instructions on how to make the furniture?
By Cheri from Minneapolis, MN
Making Clothes Pin Doll Furniture
Does anyone have instructions for a round table made with clothes pins?
By Gladys
---
Most Recent Answer

By robynfederspiel
11/19/2011
Here is a link I found, it is so interesting I am going to peruse it further.
http://www.ehow.com/how_6791058_make-own-dollhouse-furniture.html

What a good idea, to make your own dollhouse furniture out of clothes pins.

Blessings, Robyn
Photos
Here are photos related to this page. Rate the photos that you like the best.
Click here
share a photo.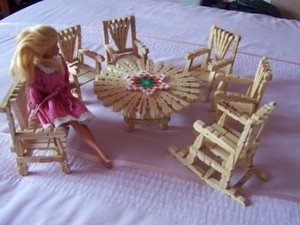 Dolls table and 4 chairs, 1 bench and 1 rocking chair for a Barbie sized doll, made from clothes pins. Cheap and easy!
READ MORE
Archives
Here are archived discussions related to this page.
Making Furniture Out of Wooden Clothespins
I am looking for a website on how to create furniture out of wooden clothespins. I already have a pattern for a rocking chair. I need a pattern for tables, chairs and other pieces. If you have a picture with instructions, please send it.
Nydia from PR
---
RE: Making Furniture Out of Wooden Clothespins
Hope you like the set i have also have made a rocking and bench (09/10/2008)
By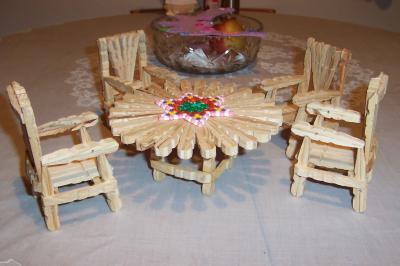 ---
Making Furniture Out of Wooden Clothespins
I saw pictures posted on ThriftyFun making doll's furniture from clothes line pegs. Can anyone help? Many thanks.
Helen
By h.arnott from U.K
---
RE: Making Furniture Out of Wooden Clothespins
Check this ThriftyFun link for instructions for a clothespin rocking chair:
thriftyfun.com
. (10/24/2009)
Related Guides
Related Posts