How do I crochet a rug out of sheets? I could not find it on the website in the way I would understand.
By Marion from Parsippany, NJ
Ad
---
Recent Answers
Here are the recent answer to this question.
By Sandi/Poor But Proud [422]01/01/2010
Using sheets is a wonderful idea, but don't forget how many fabulous fabrics there are out there, too! Any cotton can be ripped just like the sheets, and with the colors you can plan every row to be different, make squares like you would pot holders and then sew them together like a patchwork quilt. The possibilities are endless. When you are done, show us?
PBP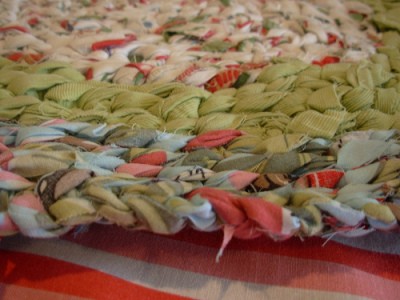 By Clynn Altemus [21]01/01/2010
My mother and I made "rag rugs" over 50 years ago.

She emphasized to me to tear the fabric in strips so it would be on the straight of the material.

We used 1 inch wide strips and the only thing that was stitched was where the ends of the strips went together.

Single crochet, with two stitches in one from the previous row to make the oval of the rug lay flat. Don't put too many double stitches in or the rug will ripple, it will not lay flat, and someone could trip. I keep laying mine on the floor every so often to be sure it's laying the way I want it to.

A good rag rug will wear and last much longer than the ones you buy in the store.

By Cricket [201]12/23/2009
What a fantastic idea! I have so many old sheets here, I think I'll try this! Thank you! What I'll do is simply cut the sheets into strips about maybe 1-1/2 inches wide. Then maybe fold and stitch them so the frayed ends are inside. Then stitch the lengths together to make one long string. Then simply crochet as usual using a large size hook. I'd use the single crochet stitch all through it though. I bet that would make a fantastic looking rug!
Archives
Thrifty Fun has been around so long that many of our pages have been reset several times. Archives are older versions of the page and the feedback that was provided then.
Could someone give me a pattern for a crocheted rug using strips of sheets.
Sincerely.
Patricia
---
RE: Crocheted Rug from Strips of Sheets?
Here's one:
crochet.about.com
and some background info on crocheting rugs: crochet.about.com (07/13/2004)
By Allison
RE: Crocheted Rug from Strips of Sheets?
This site may be of some help to you:
netw.com (07/13/2004)
By Mickeylee
RE: Crocheted Rug from Strips of Sheets?
When I was in the sixth grade a sweetheart of a tutor had our small group make rag rugs out of strips of sheets. She had us kids take about three strips of sheet and baste or sew several of these strips together. After we had gotten the strips sewn she had us braid them together.
When we finished braiding all the sheet material we baste stitched once again starting with a braided strip and working it around the braided strip we started with. When I had finished with my braided rug I was really pleased. I must have been, because here it is 30 some years later and I still remember how we made those awesome rag rugs.
Hope this helps you out some I realize it isn't crochet, but it is a rag rug made out of bedding sheets. Sincerely. evlevo85 (06/12/2005)
By evlevo85
Answer This Question
Add your voice to the conversation. Click here to answer this question.