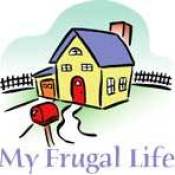 Spring is here and so comes the traditional spring cleaning. This year, due to my retirement, I really have the time to do a thorough cleaning of closets and cupboards. I've been discovering long lost "treasures" and duplicate grocery items.
The items people accumulate is really mind boggling. I saved a few favorite toys (our children have grown, no grandchildren yet) and the rest to give away. That is a few shelves free immediately. Why do I save books after I read them?No more! Better yet I am starting to use the library more frequently.
How many dishes does a family need? Ones that I have not used in the past year are going! In another cupboard, I noticed we have four cans of leather spray for shoes and boots? I have enough tea to last me for two years! Clothes, way too many! It really is quite silly.
As I clean, I feel so much "lighter" and I am actually having a great time! Leading a frugal lifestyle taught from the wonderful entries on this site has inspired me to use up what I have before buying and to find new ways to not spend money. It has become a great lifestyle change!
By ldraisen from Saskatchewan
Do you have a frugal story to share with the ThriftyFun community? Submit your essay here: http://www.thriftyfun.com/post_myfrugallife.ldml