Bandit (Chihuahua/Spitz) KING of the HOUSE
Bandit has been king of our HOUSE for a LONG TIME! He's a mixture of a teacup Chihuahua and a spitz. He loves marshmallows, mints and ice and mom's favorite side on the bed. His favorite trick is beating me to my side of the bed when I turn out the lights. He'll look at me with those big eyes as if to say "WELL-- you MOVED!"
He's a very picky eater until we discovered Kibbles and Bits Homestyle Dog Food. Nice to see an empty bowl for a change! When he came down with Arthritis we bought Joint Relief tablets and they have him back to his old self again.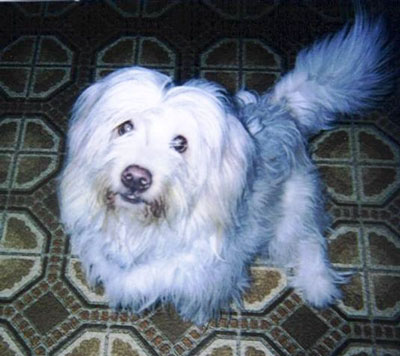 By Sharon Shearer
Feedback
Read feedback for this post below. Click here to post feedback.

By DJ (Guest Post)
07/26/2006
PLEASE EMAIL BACK TO: delmajg at hotmail.com

My husband and I found today-across the street no less-puppies for sale. They are chihuahua/american eskimo (which I hear is also called a spitz) mix. We brought her home for a couple of hours and loved her! I just wanted any info on this breed mix and their temperament. I've known chihuahua's to be mean sometimes and this one took on the looks of the chihuahua much more than her brothers and sisters who look like spitz. Any info please, would be much appreciated.
Thanks!

By Sharon Shearer (Guest Post)
05/02/2005
The Joint Relief Tablets are Hartz brand and were bought at Walmart.Seems like they were around $8. I noticed that another reader said you could give a dog buffered aspirin. This however has worked wonders, as he'd gotten so bad I was considering having him put to sleep.My daughter is 19 but she'd cry her eyes out. He's been with us since she was in grade school.

By Jeneene (Guest Post)
05/01/2005
Which one was the mother? Sounds like an impossible combination to me, but it is a gorgeous dog and looks like a sweetheart too.

By Danialle (Guest Post)
05/01/2005
He is adorable! Where do you get the Joint Relief tablets and is that the actual name?


Post Feedback
Add your voice to the conversation.