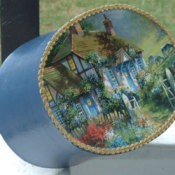 This is a paper mache box bought at WalMart, painted outside blue and inside off white.
I like to save my calendars, I really like Victorian, farms and landscapes.
Here is one that I just measured for the lid and cut it out. I used decoupage glue to affix to the top of lid and added more decoupage glue to the lid.
Then I added rick rack to the border and used more decoupage glue to hold it in place. Then I went over it several times with craft clear varnish.
It looks like a painting.
By Sherry from Valdosta, GA
Ad
---
By irene 8 49 07/12/20060 people found this helpful
Very nice! Looks very professional.
By melinda 1 146 07/13/20060 people found this helpful
This is such a neat idea!! Would make a very impressive gift box. I like to save my calendars too, like the pictures too much!! Would be a great project--thanks for sharing!!!
By Doggy (Guest Post) 07/15/20060 people found this helpful
That's FABULOUS!!!!!!!!!
By (Guest Post) 08/02/20060 people found this helpful
Thanks to all of you who looked at my craft. You can also take pictures, ( copy from your pictures & or add them from the net ).
Sherry

ps. here is a pic. that I saved from thhe net, would like to do it too.
By JoAnn 9 01/04/20080 people found this helpful
Love your idea on the box. I also love the pictures on calenders and I'm going to try this to have another place to store my craft supplies in. It would be decorative and pleasing to the eye. I also was wondering if I could post this picture on my crafting site for my members. E-mail me at jogebczyk@yahoo.com and I will send you my site so you can see where I would like to post it.
Please feel free to join. It"s a new site.
JoAnn
By Lisa Austin 21 89 03/07/20080 people found this helpful
Dear Sherry, I just love your box! I have been doing these for about a year now. I buy the stackable colored boxes from IKEA and then do the same kind of decorating of the tops only. We have an annual Christmas and Easter Bazaar to help fund the Refugee Center here in the city. They are great sellers and I am busy right now working on more for our upcoming bazaar in April. Thanks for sharing your photo with us! Lisa from Greece
BTW, I like to use beatutiful cards that are sent to me and I just can't make myself get rid of them! Of course, my boxes are much smaller than yours.