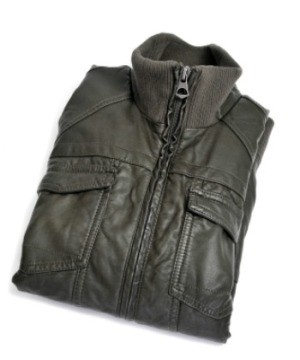 Removing smells can be difficult, especially from this material. This guide is about removing ordors from a leather jacket.
Ad
---
Questions
Here are questions related to Removing Odors from a Leather Jacket.
How do I get rid of frying odors from a restaurant, on my leather jacket? Clarissa D.
AnswerWas this interesting? Yes No
Ad
---
---
Most Recent Answer
By Cyinda [214] 06/09/20090 people found this helpful
The easiest way is to hang it in the fresh air overnight. But before you start, I'd first spray the jacket with a lot of Febreze inside & out (I like the vanilla scent because it's not a strong scent). If this doesn't work, the only thing left is to rent an ozone machine & hang the jacket in a closed small room with the ozone machine running for about an hour or 2 & the odor will totally disappear! If you have a friend that has an ozone based room air cleaner, you can use that. It may take a whole day in a small room with the ozone based air cleaner, but it will work. I'd turn the jacket inside out after an hour or so & keep turning it right-side, then inside out the whole time the ozone machine or ozone air cleaner is on.
I spilled Jet-A on the cuff of my leather flight jacket (not on the leather itself thankfully). Does anyone have any suggestions on how to get the smell and/or fuel out. Thanks!
By Freightdog from Salisbury, MD
AnswerWas this interesting? Yes No
Ad
---
---
Most Recent Answer
By Cyinda [214] 04/14/20090 people found this helpful
You might try covering the stain with baking soda or borax for a day or so then brushing with a toothbrush... then repeating.... I think the baking soda or borax may "suck" the kerosene out (kerosene is what jet fuel is made from). Another thing that would work even better yet to "suck" out the fuel is that Silica Gel they use to dry & preserve flowers with. It's sold in craft stores.

* You may want to try a "foaming carpet & upholstery cleaner" It's the stuff you foam on, then let it dry, then vacuum off... but first read the rest of my ideas, especially the tips at the bottom (from internet). Remember, a "Petroleum Product" is basically the same, if it's gasoline, kerosene, lighter fluid or diesel. Please never smoke or be around fire when wearing this jacket in the future!

---> Read my previous tips (from Cyinda) here:

http://www.thriftyfun.com/tf94067887.tip.html

http://www.thriftyfun.com/tf64314351.tip.html

If all else fails you can either take your jacket into a leather cleaner (NOT a regular dry cleaner!)... OR take it into a boot & shoe repairman, OR cut the area of the lining out, then patch it with new fabric.... But first read the above URL tips I posted, that have much more detail.

Here's some tips I got off the internet:
http://laundry.about.com/od/stainremoval/f/removegasstain.htm
http://www.tipking.co.uk/tip/3109.html
I have an older leather jacket that I love, bit it smells old. It doesn't smell musty or anything, just smells old. Any ideas of how to freshen it? So far I have wiped it down really good with a leather conditioner, but it's still stinky.
Thanks in advance!
By Evelyn
I recently bought a leather jacket and do not like the smell! I read somewhere, years ago, to place leather in a freezer for several days to remove odors. Have you ever heard of this and will it hurt the leather? I do recall putting a pair of new gloves in the freezer and forgot them and they were in there for weeks. It did take the odor away, but wasn't sure about a jacket.
By Ruby from OH
Solutions: Removing Odors from a Leather Jacket
Do you have knowledge about this guide topic? Feel free to share a solution!