May 28, 2010
0

found this helpful
Hello Vicki,
Thank you so much for rescuing one of our Australian Natives. We have so many of them here, and so many of them get treated like poor Big Bird has, and it's absolutely criminal. They love to dance, and he can have an enormous vocabulary, if you have the time and patience to teach him. I would love to see you dancing together - I bet you look just Bonza. Big Bird will know what I mean.
Have a wonderful life with him - they're wonderful birds.
Big hugs, Leah from Down Under.
May 29, 2010
0

found this helpful
Hi Vicky:
You have done a wonderful job with Big Bird - thank goodness you rescued him! Just shows what love and patience can do. Best wishes to you and your husband and, of course, Big Bird.
Joan from Chesterfield, Michigan
May 29, 2010
0

found this helpful
Your bird looks pretty healthy to me. My son had one fly into his yard 17 years ago, but they lost it last year. It has been with the kids ever since they were born, so they missed it greatly. Happy to see you nursed it back to health.
May 29, 2010
0

found this helpful
Poor Big Birdie. A very touching story, and I thank God for the happy ending that you and your husband
gave him. People, Grrrrrrrrrrrr!
I'd give all 3 of you a Thumbs Up, if I could.
StarWarsCollector
May 30, 2010
0

found this helpful
How could someone do this and keep it in a parakeet cage? Most parakeet cages are too small as it is!
I am so happy that you posted this. Thank goodness the darling creature found your loving home to recuperate in.
It takes my fosters about that long to come around if they have been traumatized also, and most of my fosters are doggies!
Bless you !
Here is our Perry, he loves his cage, and is pretty unsociable but we love him anyway!
Robyn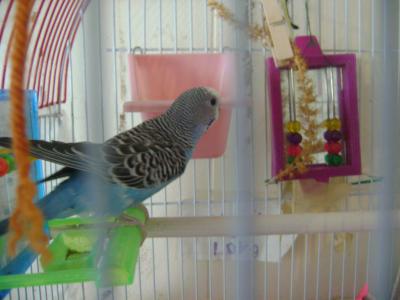 May 31, 2010
0

found this helpful
What a beautiful baby you have! I wish that people who abuse animals such be punished heavily! There's NO excuse for treating something God gave breath and a heartbeat too! He is very lucky to have you. Good job and a big high 5!