Sulphur-Crested Cockatoo Photos
Photos
Share on ThriftyFunCheck out these photos. Click at right to share your own photo in this page.

Big Bird is about 8 years old. He is a Sulphur Crested cockatoo. Big Bird came to us as a very sick, traumatized bird about three years ago. He had been owned by a couple who were heavily into drugs and who also had no idea what to do for a bird. He had been kept in a small budgerigar cage and fed (of all things) dry dog biscuits. It was a wonder he had survived at all.
Poor Big Bird was nearly bald from having his feathers ripped out constantly from the small area in which he lived, and nearly died with malnutrition as well. But we nursed him back to health and considering the trauma he lived through, has become the sweetest, most loving cockie ever.
He adores my husband and I (My husband not so much as he is the one who has to trim his beak!) and lives on an open gym in our lounge room. Makes a mess, but what the heck? His feathers are finally starting to grow, though he still has no flight or tail feathers. But at least what he has grown back keeps him cozy, and we don't care how scruffy he looks!
Big Bird has becoming very cheeky now that his health is good and has taken to swinging upside down on one of his branches and saying "Hullo, how ARE ya?" Dancing is a fave too, and he has no end of fun 'bopping' along with me to a song. (Believe me, I am the one that looks silly!) It goes to show what love and patience can do, and though it took a couple of years to let him learn to love, it was most certainly worth it!
By Vicki K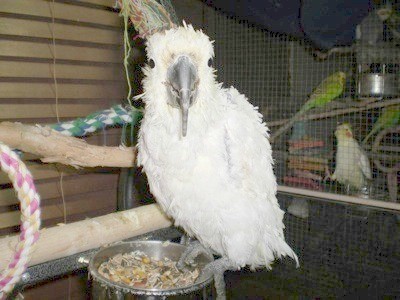 TBird (Tookie Bird) is 26 years old. He is 1/2 Sulphur-Crested and 1/2 Umbrella Cockatoo. He was given to us 6 years ago, when the owner could no longer take care of him.
TBird likes to whistle and call for the dog. He also likes to sing, laugh, be outside, and loves to eat ice cream cones. He cries when people around him cry and laughs when they laugh. He loves coffee (but I don't let him have very much). TBird talks a lot when he's happy and screams a lot when he's mad or upset.
By Gail from Brunswick, GA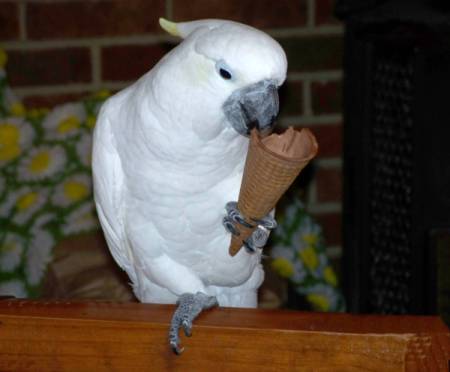 Hannah is a 5 year old Lessor Sulphur-Crested Cockatoo I adopted from Avian Rescue. She loves to be with me, and ride on my shoulder; and she very frequently rides along with me in the car. She does not like to be left alone in a room, and she will let out an eardrum-splitting yell if I am gone too long and she thinks that I've forgotten her. She watches cartoons on the TV when I have to leave for a couple of hours.
She loves to help anyone eat whatever it is that they do or do not need help eating. In this picture, she is attempting to eat a rib bone. Hannah has abuse and neglect in her past, which causes her to pluck her feathers; she sometimes wears an acrylic collar to try to prevent her from doing this, but it doesn't help much, for Hannah is a very dedicated feather-plucker!
I feed her pelleted bird food, for optimal nutrition, as well as assorted vegetables and limited fruit. (fruit has sugar, which promotes yeast in birds, so I limit fruit.) We don't even notice the loss of feathers, until someone out in public will ask, "What's wrong with your bird?"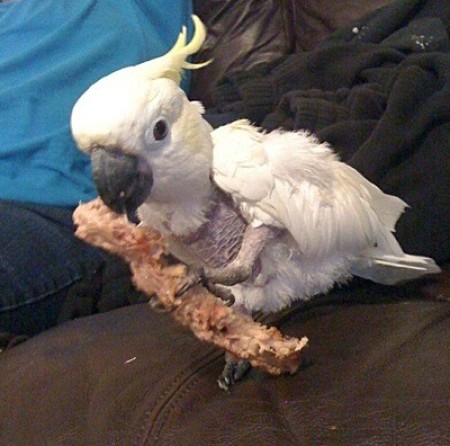 Sammi is a 10 year old Lesser Crested Sulfur Cockatoo bird. My son purchased her, but after 6 months she came to reside with me, by default I guess. She has been at my house ever since.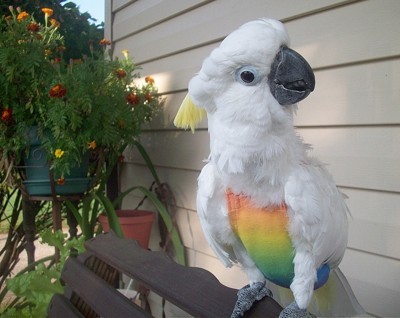 Read More...
Mr. V the Sulphur-crested Cockatoo is 5 years old and Rocky the Huntaway Cross is 11 years old. I think this was love at first sight.
Mr V loves to feed Rocky and there is often a lot of teasing going on.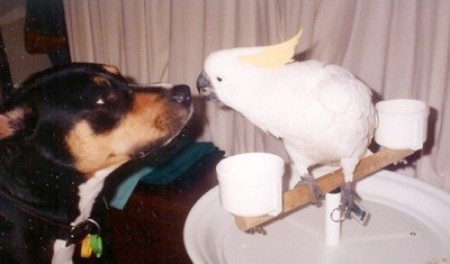 Read More...