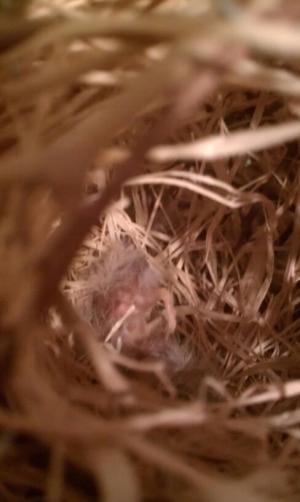 I have two zebra finches one male (Micky) and one female (Minny). I recently learned that they have babies in the nest. They have laid eggs before and the babies died and also they have lost eggs. Now I have at least two babies in the nest. What can I do to ensure that the babies survive this time? The babies are maybe a few days old.
Answers
petlover
Bronze Feedback Medal for All Time! 128 Feedbacks
March 30, 2013
1

found this helpful
Best Answer
Congratulations - it is thrilling to have your birds breed sucessfully - but most importantly - do not handle them - leave the parents to care for them - google finches on the internet & read all about the breeding of finches . Keep the parents diet healthy & plentiful - this is a great interest but do your homework.

May 24, 2014
1

found this helpful
Best Answer
Hi! I recently had my first fledglings, you are best to leave them alone and one day you will notice birds who look as big as their parents but has black bills and grey and black downy feathers. In a few weeks their beaks will turn orange or red depending on the sex.
It's such a marvelous thing to happen, I had a third baby late comer and it died, because it was either pushed out of the nest by the siblings which would go back to nest for food or the parents did it, I just don't know! You are best to let nature take it's course and leave well alone.
Answer

this Question

I had 7 finch eggs; 5 hatched, but 2 didn't. Should I take them out?

By Rita

Answers

January 31, 2012
2

found this helpful
Best Answer
Leave the other two eggs in the nest box until Mom ignores them. If you take the eggs out now and Mom still thinks they might hatch, it can prompt her to lay more eggs right away. This is called "double clutching." Double clutching is not encouraged because it can cause the Mom hen to deplete her calcium.
I've bred large parrots and cockatiels. This is the voice of experience.

Cricket
Bronze Post Medal for All Time! 205 Posts
January 31, 2012
0

found this helpful
Best Answer
MsHawklet is right. Leave the eggs in there for a while. Eventually the parents will push the unhatched eggs out of the nest, then it'll be safe for you to remove them.
I had a pair of zebra finches several years ago that quickly became 7 (5 hatched eggs). This happened a couple of times with them.
I now have two more zebra finches. I didn't want them to breed this time though, so I got two males. They have a grand time together and I don't have to worry about nests or eggs or hatchlings.
Answer

this Question

My finch had two eggs on Thursday, today is Saturday. The eggs were buried in the buttom, so I took the nest out and put the eggs on top.
Now the mom doesn't want anything to do with the nest. What do I do now?
Answers

June 14, 2015
1

found this helpful
Best Answer
When any bird lays eggs, don't touch them or move them from where they are buried. A bird can smell human on the eggs and won't sit on them to hatch them.

June 15, 2015
4

found this helpful
Best Answer
Birds can't smell human. Their sense of smell is poor.
However, their eyesight is better than ours. The birds know exactly where those eggs were and they saw that they were moved.
There is no way for the birds to know a snake didn't disturb the nest. Small birds are terrified of snakes, so they don't want to take the chance in case the snake comes back. In this case, you were the snake.
I'd suggest removing the nest and dumping everything in it. The eggs are no longer alive. Put it back and put fresh nesting materials into the cage. They'll probably start over.
Answer

this Question

So I have a trio of 3 zebra finches, 1 grey regular female, 1 white female and one half white (underbelly and up halfway on the sides) half grey (top of head, neck, back with regular fawn on sides and orange cheeks) male finch.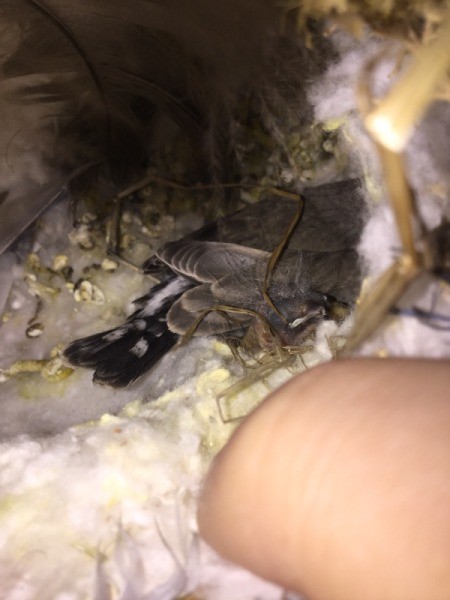 The birds have 2 nest boxes/wicker finch nests. They started in one, but migrated to the other where they made their nest taking everything from the other nest out and putting it into the second nest box. Then they laid eggs and hatched them for the first time ever. This is the first time she has laid fertile eggs and mated with male instead of staying paired with the other female. She laid 4 eggs and 1 hatched really fast so I have this big grey fully developed baby you can see in picture and then half the size half fluff/fuzz and skin baby which I can only see because I can't see in the back of the nest.
The other baby seems to be doing well. Now the white female who is the only one who lays eggs, cuz the grey female has yet to do so, is super broody and into her eggs decided to lay an egg in the second nest box and it's been there just today. I put soft materials (cotton) underneath the egg after pulling it out and that's how I've always done it, but now she and the male seem to be fixated on sitting and staying in that nest. The grey female seems to be occupied with the other nest and I'm not sure how this will affect the babies they already have if she is gonna make another set of babies when the other babies are still in the nest.
Answers

poehere
Bronze Post Medal for All Time! 105 Posts
November 3, 2017
0

found this helpful
Best Answer
This shouldn't be a problem. The male and female take turns tending to the nest and the babies. The parent's know what they are doing and they will take care of their babies just fine.
You should like a first time mother and so concerned for the birds. This can be troublesome when you have never had eggs that have hatched before.
You should leave them alone and let them handle the babies and the new nest of eggs. Just make sure you give them plenty of food in their cage so they can feed their babies.
I wouldn't handle the eggs once they are laid in the next. Leave the birds to make their own nests and take care of the eggs.
You are fine and the birds are fine. They won't let anything happen to the young.
Answer

this Question
I have two males and a female zebra finch. She laid 7 or 8 eggs and I don't know the first thing about raising birds. What do the chicks eat? How will they survive in the cage? I know the alpha male seems to be the daddy and already he's territorial. I have no idea what to do. Help please.
By Jamie
Answers

April 16, 2012
0

found this helpful
Best Answer
Well, I don't know anything about Zebra Finches specifically, but I do know a few things about birds (do an online search on Zebra Finches to find out specifics). The mother birds usually feeds the babies, you don't worry about that.
The daddy bird usually stays out of it, but not always, so find that out. Some daddy birds kill the babies, also find that out, you may need to separate mother and babies from him until they are quite a bit larger. In fact this information pretty well covers the whole spectrum of "nature". Hope this helps, kinda :).
Answer

this Question
I was recently given two zebra finches (1 female, and 1 male) as a gift from my parents. I have only had them for about a month and a half and noticed them mating the last week or so. I have a basic cage that measures 18 X 13 X 10.5 inches with a small bed/nest hanging from the top.
I honestly never expected them to lay an egg, as my parents have had theirs for months and they never had and was told it probably wouldn't happen. Well sure enough, I came home today after work and noticed both the parents in the bed/nest which they have never once used before. When they left the bed/nest I shined a flash light in the bed/nest and noticed an egg. I couldn't believe it!
I have been researching finches and egg laying and have read that they usually lay one egg a day and can lay up to 8! I understand that many times the female will lay an egg, but it may not be fertile and will not hatch - therefore it can be removed after 20 days if nothing has happened.
My concern is that if they do hatch, my cage is just not large enough for more than two finches, but they have already started laying eggs and I have read you should not move them or the eggs until after the baby birds leave the nest and can be on their own. I just want to make sure that information is correct.
My other question is, can I still clean the cage even though they started laying eggs? I normally let the birds out of the cage in the bathroom to fly around while I clean the cage and I normally take the entire cage apart. But with there being eggs in there now, should I just leave the birds in there and only remove the bottom part of the cage that slides out and clean that part off or what? Thank you for any help and advice you can give. I am very new to this and never expected it to happen. Thank you!
By Ariana G
Answers
petlover
Bronze Feedback Medal for All Time! 128 Feedbacks
November 16, 2013
0

found this helpful
Best Answer
If you are going to move them into a more comfortable size cage (which the bigger the better) then do it now - then you may only sacrifice the one egg. The move will likely upset them, but only for the moment - they will lay again. I would still leave the egg in the nest.
Also, the less you disturb the birds the better once they've been re-housed - so the cleaning of the cage is as you have suggested. Best by just removing the bottom tray and refreshing their water. It will be ok to be a "little" dirty as it's only for a short time.
Once they have been hatched, are fully feathered, and flying you could move them into the smaller cage. Give the big cage a good scrub - with soap and water (and without the use of disinfectant). Then return them to the big cage - I suggest that once the babies are fully weaned that you separate them from their parents as they will likely want to breed again and the babies may get harassed. Good luck! Bird breeding is a joy.
Answer

this Question

I have a Galapagos finch as a pet and she laid 5 eggs. I wasn't prepared for this to happen and the eggs are without a nest. My question is, are they OK being without a nest?
By tori from San Antonio, TX
Answers

February 21, 2011
0

found this helpful
Best Answer
If you do not have a male finch in with her then the eggs are no good. Just toss them out. A female bird will lay eggs but they are not fertile so they will never hatch. You can buy inexpensive bird nests at most any pet store. I don't think it's necessary to have a nest but it does seem to make mama bird feel more secure as she is up higher and away from any predators. I have raised finches and always had nests for them.
Answer

this Question