I have recently bought a female zebra finch and I have a 10 year old male white zebra finch. He is completely white with no zebra stripes on the tail and no tear drop. I am wondering how long do I need to keep them in separate cages, so that they get to know each other before I join them together. Can someone explain to me the steps that I need to do so that I can keep them together without them fighting.
Also a strange thing happened, I've put the male inside the female's cage since the male is not freaking out and is tamed and she freaked out and landed next to him. He kinda picked her a few times with his beak and I seperated them quickly. I was not sure if they were fighting or what. She didn't freak out when he did that, she just stood there. Can someone explain what he was doing and the steps? Thanks in advance.
Answers
January 26, 2016
0

found this helpful
These are the finches.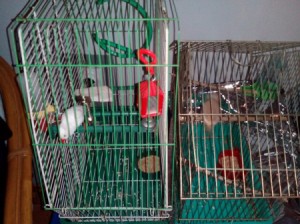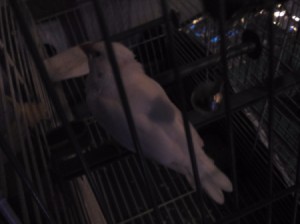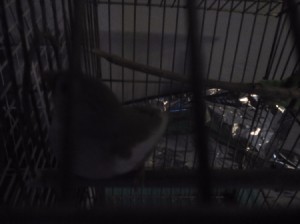 January 30, 2016
0

found this helpful
Sounds like he might have been actually grooming her. Zebra finches are highly social and shouldn't need long to get to know each other, especially if one is male and one is female.
Try putting the cages next to each other for a few days, then put them together.
February 7, 2016
0

found this helpful
They are not fighting each other, my female zebra died when she could not lay an egg that she could not pass. We went and bought a young female and she was not thrilled to see our male. He was so excited to see her, he got to close and she pecked him. She was only frightened by his excitement. And after a few days they paired and laid many eggs.
February 13, 2016
0

found this helpful
I am currently building a bigger cage , indeed he was not grooming her , he just poked he off the branch he was on , he is really old and can fly only vertical but I have let him out of his cage and he flew horizontal towards a curtain and landed on it ..
They might have been fighting because the cage was too small , the female doesent fight back though and strangly the male was never aggressive before , actually he was the one getting bullied around by 2 other finches ... maybe he is traumatized from then? I dont know but now when I make a bigger cage i will put them together and see what happens ...
February 23, 2016
1

found this helpful
Hi,
I believe it was not picking rather showing interest and approaching her for courship.
April 11, 2016
0

found this helpful
Try it again. They are just meeting!
June 22, 2016
0

found this helpful
He was approaching her in a courtship way testing the water so to say
July 13, 2016
0

found this helpful
I always add new finches by just putting them in the cage. Have had no problems except one jumped on another three times. Now all is well. Have four zebras and two society.
October 12, 2016
0

found this helpful
I think she probably didn't like him, He was 10 years old and I'm guessing if you just bought her she must have been under 1-2 years old?
If you get what I'm saying? -.....-
October 20, 2016
0

found this helpful
I inherited a seven finches. Only one female in the bunch. She has one mate and the rest are her offspring. The previous owners failed to seperate the offspring in time. How can I determine which male is her mate? Educated guesses accepted!
December 8, 2016
0

found this helpful
just put them together they are sosial annimals,leave them too it.
December 8, 2016
0

found this helpful
put nesting material in and the father will place it in the nest.bingo
Read More Answers