Breeding Zebra Finches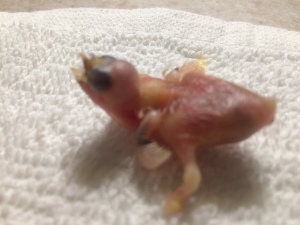 A baby zebra finch at 10 days old seems not be be growing as it should. Its toes are still curled and its wings are not changing so it flip flops to move. I have pictures of it.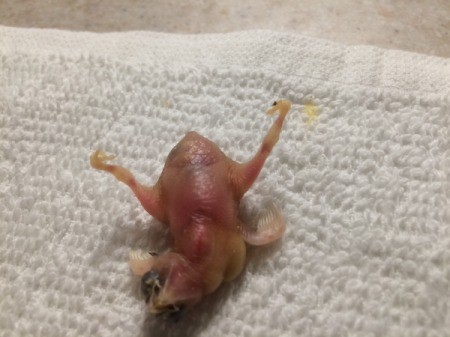 Answers
October 7, 2017
0

found this helpful
Best Answer
It is sad but some of our pets arrive deformed and sometimes it is difficult to care for them. Caring for a deformed animal always takes a lot of love, patience and dedication.
I do not have personal experience with finches but they come to my feeders and they are beautiful creatures.
I believe each case of an injured animal is unique so the solutions as to care may be unique also.
I have found a site that is dedicated to helping deformed finches so I hope you will find some information you can use.
This specialist also will help anyone who ask questions on her site so maybe you should give it a try just to see what really can be done.
Email Us:
If we can help with any bird health question please feel free to email us: Support@ladygouldianfinch.com. Please give us as much information about your question as possible. The more information we have about your birds diets, housing and their environment, the more help we can be. Please understand we cant answer medical or health question via email.
October 11, 2017
0

found this helpful
Best Answer
Give the wee one time - as some take longer than others to grow. The eyes should be opening soon. Sometimes there is a runt in the nest. As long as it is being fed by it's parents at this stage. Too much handling will only stress the baby out. They can die of stress. You may need to learn how to hand rear because as a breeder you are responsible for the life of the wee ones if the parents falter in their duties at any point.
Answer

this Question
101 More Questions
Ask a QuestionHere are the questions asked by community members. Read on to see the answers provided by the ThriftyFun community or ask a new question.
Are my zebra finch chicks alright? It's day five since the first chick hatched, but no noises are coming from the hidden babies since an adult is always in there.
There are 2 females and a male and they all take turns going inside and sitting, sometimes all at once. Are the chicks alright?
Answers
October 20, 2017
1

found this helpful
Best Answer
A few facts to know about Zebra Finches and their babies:
When you raise Zebra Finches they aren't the type of bird that do well with normal handling.
Therefore it's important to leave the parents take care of the new hatching.
it is best to leave them undisturbed and just let them do their job.
Your job will be to provide plenty of millet in the cage for the parents.
They will use this to feed their babies.
Normally the babies are weaned between 4 to 6 weeks.
The first week or two the mother and father take turns sitting on the nest to keep the babies warm.
You won't see the babies if they are in an enclosed box/nest. Just the parent's will be going in and out to take turns sitting on the nest to keep the babies warm and to feed them.
Do not worry so much about this I am sure they are fine. Just make sure you keep plenty of food in the cage for them so they can feed the babies.
Answer

this Question
I had a pair of zebra finches, they laid 6 eggs, the male died suddenly on December 27th. On January 1st, 2nd, and 3rd all of the six eggs hatched, This morning she laid a new egg? I've never had finches before, only canaries, and this never happened with them. I'm guessing it's best if I just leave it alone. But could that egg possibly be fertile?
Answers
January 4, 2018
0

found this helpful
Best Answer
She may not have finished laying all the eggs. It could be fertile. Leave it alone and let nature take its course.
January 4, 2018
0

found this helpful
Best Answer
It is very unlikely the egg is fertile. I think for now it is best to just leave the egg in the cage with the mother. As long as the babies are doing fine this shouldn't be a problem. Normally, the pair of birds takes turns tending to the babies and keeping them warm and feeding them.
Answer

this Question
I had a pair of zebra finches and the dad died. The mom stayed with the 4 babies, then 3 died and she has one left which survived. I then bought another male.
I was wondering if I can put him in with the mom and the baby. Also, how often can I breed my zebra finches?
Answers
November 21, 2017
0

found this helpful
Best Answer
They should be one year old before you breed them. You should have them vet checked to make sure they're healthy first.
No, I would not put a male in until the baby is gone. Make sure you have a cage big enough for her to move around. Line the nest with paper and give her good diet of finch seed and pellet mix.
They breed all year round. Do not handle the babies. The finches are great parents and will take care of them.
Answer

this Question
I just put a male finch in the cage with my female and they seem to be getting along good. I noticed that my female finch was grooming my male, that does that mean they are they going to breed?
Answers
June 18, 2015
0

found this helpful
Probably. Make sure you have a nest box or basket in a safe place (high up in a corner is good) and you have nesting materials in the cage.
June 19, 2015
0

found this helpful
Canoodling is a good sign of acceptance - most bird species do this once they are paired , both for grooming & loving - not just at breeding time. It is highly likely that they will breed - just give them a nest box & a little time.
July 14, 2015
0

found this helpful
Thx guys they I saw them mate so thx for helping me out.
October 22, 2015
0

found this helpful
male zebra seems to like to stay in the nest but female goes in and comes back out quickly but both stay in nest at night
Answer

this Question
So I bought a new male pied Zebra finch and I had two female Zebra finches together that I bought previously. One is white and the other is grey. The white one laid eggs and I took them from her before putting the male in that same day.
The white female seems to always attack the male before flying to her female companion and either staying to one side of the cage or going in their nest, but I'm trying to get her to breed with him since she's the egg layer.
Answers
April 24, 2017
0

found this helpful
Put only one male and one female in a cage. There will be fighting otherwise.
April 24, 2017
0

found this helpful
Try to get them in two separate cages but near each other to get them used to each other first.
April 26, 2017
0

found this helpful
I dot need have another cage unfortunately.
Answer

this Question
Published by ThriftyFun.
© 1997-2020 by Cumuli, Inc. All Rights Reserved.
https://www.thriftyfun.com/tf/Pets/Birds/Breeding-Zebra-Finches.html