I read in other messages how to clean my laminate countertops and now need to know how to restore the shine to them. Is there a product made especially for this? I have used Countertop Shine but it has to be done everytime you wipe them with a wet cloth.

Faye Huskey
Ad
---
By Susan Sanders-Kinzel 9 2,498 07/15/20030 people found this helpful
To renew the shine use a rubbing or polishing compound available at automobile parts stores. It is used on scratched oxidized automobile finishes (paint) so try some on an out of the way place and see what happens. It's worth a try.
- Susan
By Susan Sanders-Kinzel 9 2,498 07/24/20030 people found this helpful
Several weeks ago, I posted asking for help with restoring the shine to my counter tops. I took the advice of a respondent and used auto compound. I used a product with light grit and they turned out beautiful. After cleaning them I waxed them with a car wax. The waxing will have to be repeated about every 3 months. Thanks you for this excellent advice.
- Faye
By mgb (Guest Post) 05/21/20070 people found this helpful
You may want to reconsider the auto wax on your kitchen countertops. There are chemicals and toxic compounds in car wax that may be safe on the surface of a car, but may be dangerous if it comes in contact with food on a kitchen countertop.
By barbara 1 09/08/20070 people found this helpful
I have a very large kitchen counter in light blue laminate,it's temporary but just plain furniture lemon oil does the trick and NOT greasy ( unless you don't rub it in)
quick, easy and beautiful,especially if you just want to impress your guests
By Debra Bentley 1 01/03/20080 people found this helpful
Could you please tell the name of the auto compound and wax you used?
By blondewithattitude. (Guest Post) 01/04/20080 people found this helpful
I recently put nice brown counter tops in my kitchen that look like marble but they have stopped shining, I had some orange glo degreasing foam that worked but cant find it anymore, what can I use?
send response to gail_al_england AT yahoo.com
By Jenny (Guest Post) 01/15/20080 people found this helpful
I clean homes for a living. One of the homes I clean the woman insisted I wax her shower and countertops with a product called Gel-Gloss. At first I thought this was the best way to punish your older child instead of grounding them. My point being that it's not the easiest thing to do. That was 10 years ago and I've learned to appriciate the difference this product makes. It makes water pill up instead of running and you are able to wipe off the soapscum, makeup spills, etc. with ease and the shine is unreal. You can pick up Gel-Gloss at Home Depot back where they have the sheets of counter top or, if you're an online junkie like me, you can get it on amazon. The price varies but you're gonna pay in the neighborhood of $7 for a can. You can choose the spray or the old fashioned ""wipe on"" like car wax. Both work equally FANTASTIC! If any one has another cleaning question please ask. I like to use my years of cleaning for good and not just wonder what I've been doing for the last 10 years.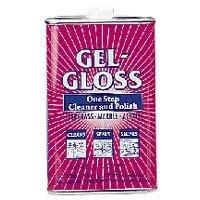 By ronnie (Guest Post) 08/19/20080 people found this helpful
Can you used the gel gloss on granited and marble? My granite has a liitle haze.