Dry hard calluses on your feet are uncomfortable. This is a guide about home remedies for foot calluses.
I have calluses a half inch thick on the bottom of both my feet, the whole bottom of my foot is covered with it. How can I get them to go away without cutting them off with a knife, like I've been doing?
I have had them my whole life and have never seen anyone else have them like this. Both my girls have it too, but my parents don't! Were did this come from and how do I get rid of it?
By Chris S.
Most Recent Answer
February 27, 2012
After years of buying everything on the market for cracked heels I found the solution! First buy Tree Tea oil in the health food or vitamin store and apply it every day until the skin starts to thin. Then purchase some Emu oil and apply it faithfully and it will soften the skin and make your feet look and feel much better. Good luck!
With warm weather finally here, I've started wearing sandals, but my feet are extremely dry and rough, especially my heels. Does anyone have any good ideas on how to soften feet and get them ready for summer? I've also got some calluses that need some attention! I can't afford a pedicure so have to do it myself.

Linda from Alabaster, Alabama
Most Recent Answer
By Mary Anne 1 7 Flag
May 21, 2007
Hi there. I broke my ankle last year, and the podiatrist really opened my eyes about a few things. first off, according to him, lots of people get fungal or skin infections from pedicures. Probably fine if you go to a good place, but you may be better off doin it yourself! You can get a kit of pedicure equipment, often with directions, and use it over and over again to save money. Be very careful about rough mechanical skin removal if you have diabetes or tend to suffer from infections. The heel thing is common (I'm almost an RN) and the build up of dead skin there can lead to heel pain, where it hurts a moment or two when you get up to walk, causing a slight limp. That's not the dead skin directly, but the way it shifts how your shoes fit and the damage done deep in the heel of the foot. The skin that builds up, anywhere on the foot, is actually protective from some irritation. Check your shoes, before you remove the build up of skin or calouses so that you don't develp blisters instead. Again, if you have any history of diabetes or sores that heal slowly, infections etc, don't be too rough with your feet. Actually, open shoes should be rarely worn if you have diabetes or circulation issues affecting your feet, so maybe you already are clear of that issue. There are som fun books out there on how to do your own pedicure. The other thing is to use alcohol first on all equipment, even if it's just yours. The reason is that in the unlikely event that you damage your tissue, or cut yourself with the equipment it's already clean. You can transmit disease, some very serious, with shared equiment. Same reason, tiny bits of tissue or blood.
I know, it's all medical and you were looking for more fun stuff. But it is fun, more so, when you know you won't hurt yourself. And it's actually lucky you cant' go somewhere else, less risk of complications! Have a good time!
I tend to use duct tape to splint my fingers when they need a bandage that lasts through dish washing. I eventually discovered that if you put a piece over a clean toe where there is a callous, by the end of the day the skin is softer. I have only ever had one problem using duct tape, and that is when I left it on as a splint on a broken finger for more than a day without taking it off and it got infected. Even the doctor I went to said it was not the duct tape that caused the infection.
By Robyn Fed from Hampton TN
I use a styrofoam sanding block to buff off the dried dead skin from the bottom of my feet. It's best to use them after bathing or showering while your feet are softer. It's best to slightly wet the sanding block as well. Sanding blocks are less expensive, more coarse, and last longer than the coarse finger nail files that I've used. In addition, they leave your feet feeling very soft and smooth.
By anorman from Williamsport, TN
By Pamela Rochelle Woodworth 21 145
Does anyone know of a natural remedy for a callous on the bottom of my foot? It is on my left foot, on the left side which makes it hard to reach. I tried soaking it in Epsom salts. Thank you.
By Pamela from Sun Lakes, AZ
Most Recent Answer
May 28, 2009
As a diabetic, I have to take special care of my feet. I bought a "stone" at the pharmacy that is slightly less coarse than pumice. Every morning I just rub it on the places where calluses form on my feet, and then apply a store-brand deep moisturizing cream and then my socks. Most of the foot creams are very expensive (to me, anyway), so I came up with the stone, instead. It's safer to use than the pads, rasps or files out there. As someone posted before me, you can remove too much skin and that just opens up another whole box of aggravation.
In the summer, I try to go barefoot outdoors as much as possible, which naturally removes the calluses. Of course I have to pay attention to where I'm walking, but the lawn and driveway are pretty safe and it's nice to feel the cool grass under my feet. Good luck!
I am a pastry chef so I am on my feet for hours everyday. Not only do I work, but I commute via public transportation to school and back. The past 3 years have been rough on my feet. I have thick calluses on the bottoms of both feet. I could wear the most comfortable shoes, but at the end of the night I'm walking in pain because of my calluses. It feels like both feet have been dragged/scrapped against pavement. Please can anyone help me out? I use to have smooth beautiful feet. Now my feet are just disgusting and the pain is horrible.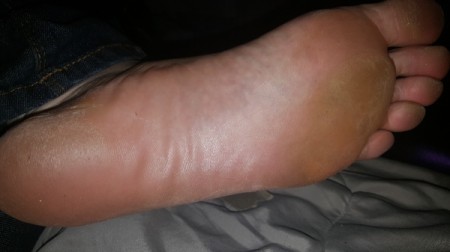 Most Recent Answer
By Louise B. 6 2,509 Flag
October 23, 2015
I agree. I would see a podiatrist, as it looks to me that your shoes are not fitting properly. You likely need an orthotic insert. It made a world of difference in my shoes. Also, I wonder at the quality of socks that you are wearing. I have thick calluses when wear sandals, but far fewer problems when I am wearing good socks and shoes.
What will remove a callous naturally?
By Cindy
Most Recent Answer
By Lizzyanny 9 1,256 Flag
February 27, 2012
I use a foot file from WalMart. In the beauty section, it is about 10 inches long with part of it covered by an abrasive. It works fast and makes your feet look and feel wonderful.
By Tracy P. 1
I am type 2 diabetic and bought an Emjoi Micro-Pedi foot file. It runs on two AA batteries and has been a relief. I find that if I soak my feet in hot water with a 1 cup of apple cider vinegar and then use the micro-pedi while my feet are not quite dry but mostly dry, I can get most of them off.
It took a while to figure it out. Tonight, I used the micro-pedi and my calluses are not as bad as they were yesterday. It will take a few treatments and hopefully they will not be so bad. Sorry that I have not put pics of my feet up, but I hate my feet right now and am embarrassed to post a pic of them. LOL
I've noticed several people asking about dry skin or calluses and my podiatrist recommended for me corn huskers lotion available at most retailers usually runs about $2 a bottle and a little bit will work. I have used vaseline and while it does work is very messy to use. I also use a corn/callus shaver to trim up the calluses on my feet. This is very safe and inexpensive to use. It is also available at most retailers for around $2-$3 or at Sallies beauty shops.

By imaqt1962
By Nancy286 1
Is there a way to permanently remove callouses? Also is it better to use a pumice stone or shave them?
By Nancy286 from Sunset Beach, NC
Most Recent Answer
March 13, 2011
http://www.ehow.com/how_5213797_remove-foot-calluses-feet-soft.html
This procedure is not recommended for those who have been diagnosed with diabetes. If you have diabetes it is best to have a physician care for your feet.
This winter I had problems with my heels being very dry and cracked. I went to Sally's Beauty Supply and purchased an inexpensive foot file. After showering I used the abrasive side of the file and sanded off the dry cracked skin. Then used the smooth side of the file on my heels. Then massaged my feet with foot cream. I've been doing this on a regular basis and now the heels on my feet are very soft and smooth.
I use a Stridex pad over the calloused area, add Vaseline and a cotton sock before bed. In the morning, my feet are soft and smooth for longer periods than just filing them down. I do file them first though.
By Susan from Indiana
This foot exfoliant can be used on your feet to help smooth rough calluses.
Ingredients:
8 ripe strawberries
3 tablespoons coarse sea salt
2 tablespoons olive oil
Directions:
Combine lightly mashed strawberries with olive oil and salt. Don't over blend or mixture will become runny. Rub over feet to smooth rough calluses and rinse.
By Ellen Brown
Note: Some recipes are not suitable for sensitive skin. Each person is different, so test on the inside arm or wrist for any possible allergic reactions before using these recipes.
By Cindy 2
I would like to know if there is an alternative to expensive pedicures (even at the beauty school here they are $20, the salon/esthetician is $30-$60). My feet are very dry and calloused, moisturizing, even using petroleum jelly at night with cotton socks isn't enough. I would love some frugal ideas/solutions to help me solve this beauty issue. Thank You

Cindy from Alberta, Canada