June 6, 2011
0

found this helpful
Beauty salons and most beauty supply stores sell foot files which are not expensive. The files usually have a rough sand paper on one side and a smoother sand paper on the other. Try soaking your feet which will help soften the skin. Sand the areas of the feet to reduce the thickness of the calluses. Apply a good foot cream to keep the skin on your feet soft. You have to keep at it in order to get rid of the calluses. I take care of my feet 2 or 3 times a week. I use the foot file and sand my heels, then apply a good foot cream. In this way I no longer suffer from cracked heels.
If you are diabetic it would be best to go to a podiatrist to have the calluses removed.
June 6, 2011
0

found this helpful
I'm making a correction to my post, I meant to say that beauty supply stores sell foot files.
June 7, 2011
0

found this helpful
I was just reading about pedicures in a magazine I received yesterday (Martha Stewart). It said to soften by using a foot file or pumice. "Avoid callus shavers or graters; they can tear skin or take too much of it off, and they can make calluses grow back faster." Maybe, by using a knife, you've been taking away too much of the rough skin?
I have a file that I use on my feet, too. I looked on the Sally Hansen website to find the one I use, but it looks like they've redesigned their line. This is the closest to what I have:
http://www.sall … our-pedi?rtid=40
Use the steel side first, then the ceramic side to smooth the skin. I do this maybe every other day at the end of my shower. I apply Blue Goo Cracked Heel Skin Softener when I get out:
http://reviews. … iews/reviews.htm
I've found it near the pharmacy area at Wal-Mart. It comes in a little container sort of like a large pot of Carmex. If you look for it, don't be turned off at the small size, a little goes a long way!
If you try what MCW or I have suggested, and you don't see any appreciable improvement within a reasonable length of time, maybe it's time to consult with a doctor. But I hope that these over the counter suggestions work for both you and your girls!
June 7, 2011
0

found this helpful
CVS and Wal-greens have a moisture cream, mostly Vaseline. Put in on your feet while they are still damp and before going to bed wearing socks. This will keep the skin soft and the sheets clean. Perhaps it is the shoes you are wearing. The other suggests will also work. I thought I was the only one who treated their feet.
June 8, 2011
0

found this helpful
There is a thing called a ped egg which will sand your calloses off. It is inexpensive at most pharmacies. Then you need to get a good foot creme and make sure you are wearing properly fitting shoes.
June 8, 2011
0

found this helpful
I know I have this problem too. Feet sound like velcro when I take off socks, feet catch on the bedclothes, catch on the carpet. I saw a doctor, 2 foot doctors, and then a dermatologist. Finally he told me it is hereditary in my case, it's a form of dermatitis where you don't slough off the skin on your feet. It's not catching, but it runs in families. Mom's feet are like this too. I got a Rx for 40% urea cream and it's helped me. Hope you don't have to go to the trouble I did for relief.
June 8, 2011
0

found this helpful
I got a Dremel for my dogs' toenails and one day I thought, gee, I wonder. Now I use it whenever my heels are too bad for that little file thing or lotions. (From Lowe's, use with sandpaper-type wheel). Gross, I know, but some of us have this problem of "overgrown" skin on our feet.
June 8, 2011
0

found this helpful
I saw a podiatrist (here in Oz) for the same thing and she did say that for some people the regular pumice and creams just do not work. She shaved the stuff off and I have since bought a "corn plane" - Manicare, I think, and do it myself. You have to be careful, but it does the trick like nothing else. I nicked myself the first time, but you get more skilled. The trick is mostly to hold your skin taut while you do it.
June 8, 2011
0

found this helpful
Actually sometimes this is a fungus. I know it sounds silly but its true. If you use anti-fungus cream like Lamisil AT it will relieve it like crazy. Then just air dry your feet well before putting on shoes or socks and rub lotion on every night--no more calluses!
June 9, 2011
0

found this helpful
Can you handle one more? I joke that my feet are more like hooves because the calluses are so thick. I vote for the Ped Egg and Avon's Intensive Callus remover. I never would have thought the Ped Egg would work so well, but it was very inexpensvie at BJ's so I thought I would try it. I now buy refill grates at Bed Bath and Beyond. I find that I do absolutely need to use the finisher or they stay rough. The Avon cream is so good (and I tried many that I could buy in the stores) that my sister-in-law no longer has to go to her podiatrist to take care of her problem. But you do have to be consistent with it's use. I have a tendency to get my feet in shape and then let them go until I have to start again.
June 10, 2011
0

found this helpful
I know it sounds crazy but try Vick's Vapor Rub on them each night before retiring. Good luck.
June 11, 2011
0

found this helpful
I used to be on dialysis and suffered from cracked, dry and thick calluses on my feet. I do my own pedicures on a regular basis. When in the shower I use a double sided sugar file. After the shower I use the ped egg then a regular nail file to smooth a bit then I use Eucerin/Aquaphor healing ointment (works wonders) then put socks on. If I don't have the Eucerin/Aquaphor ointment I use Vaseline, if I don't have that then I use lotion with a bit of olive oil mixed in. Sometimes when I put these things on my feet I put saran wrap around my foot and then a sock on.
I don't recommend using anything that shaves thick layers off, too dangerous.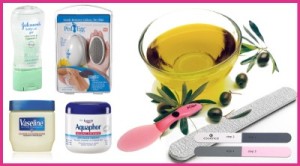 February 27, 2012
0

found this helpful
After years of buying everything on the market for cracked heels I found the solution! First buy Tree Tea oil in the health food or vitamin store and apply it every day until the skin starts to thin. Then purchase some Emu oil and apply it faithfully and it will soften the skin and make your feet look and feel much better. Good luck!
March 20, 2016
0

found this helpful
Noxzema. Rub on feet in the morning and when you go to bed. Rub it in and put sox on. I did this and all my calluses turned yellow and wiped off with a wash rag. It will take a couple of months of applications. My feet are smooth now. It even got rid of my toe nail fungus.
July 25, 2016
0

found this helpful
My sister had calluses on the bottom of her feet and she had hammertoes come to find out the callus came from her toes trying to protrude from the bottom of her feet most of her life... she recently had foot surgery to break and reset her toes the calluses have dissipated.