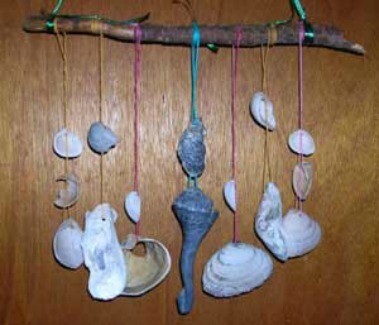 A set of seashell wind chimes is a great reminder of a summer vacation at the shore. Kids and adults love to collect shells, and here's something creative to do with them!
What you need:
seashells, preferably whole shells
Get more than you think you'll need, because a few may break.
clear plastic thread, like fishing line
a Phillips-head screwdriver or any tool with a point
scissors
something to hang your shells from, like a curved branch or a short wooden dowel
Step One: Preparing the Shells
When you get the shells back home, the first thing you'll want to do is wash them! Clean out the sand, the bits of seaweed, whatever debris is stuck to the shell.
After the shells are dry, you are ready to make the holes. Young children may need an adult's help with this part! Take your screwdriver or other pointy implement and grab a shell. Pick the spot you want the hole to be -- mark it with a pen or marker if you need to. Using a twisting motion, bore a hole in the shell. Some shells are thicker than others; don't use too much pressure or the shell can shatter.
Step Two: Hanging the Shells
Measure a length of fishing line and cut it. If you want all your shells to hang at the same length, make all the plastic thread the same length. If you want your shells to hang at different lengths, make the thread different lengths!
Thread the fishing line through the hole and knot it securely. Tie the other end to whatever you are hanging your shells from -- a piece of branch, a wooden dowel, a piece of driftwood, whatever.
Step Three: Special Effects
Be creative! You can hang more than one shell on a piece of plastic thread; just be sure the thread is strong enough for the weight of the shells! Put smaller shells closer to the top and larger ones towards the bottom.
Once all the shells are tied to your branch, you can decorate the top to hide the knots. Wrap yarn around the branch or glue more shells along the top.
And don't forget you'll need a way to hang your seashell wind chimes. Take more fishing line (or a sturdier sort of line if you have it) and tie it to each end of your branch. Hang from a hook and wait for the wind to blow!
Ad
---
Feedback Forum
Feedback about this article is posted here. Want to contribute? Click above to post feedback.

By Kathie L. [1]07/26/2015
I would also know what to get to drill the holes. I also have sea glass that I would like to use
.


By amber05/10/2009
I found that the easiest way to make it is to look for shells with holes already in them. there are plenty of them since no one really picks them up. and they're usually in a perfect circle. Very easy to find.

By Stacy04/28/2009
This is so wonderful to find! I make seashell chimes as well! I used 2 CDs that were all scratched up (also save those free AOL ones that come in the mail!) glued them together, drilled holes where I wanted my shells to hang, then spray painted the CDs, glued shells and beads, sand and sea glass on them and proceeded to string my shells. I found that a dremel works great for smaller shells, but for larger, thicker shells, I used a masonary bit used for drilling cement! I also use beads for a filler on the strings! Here is one! thank you for sharing all these!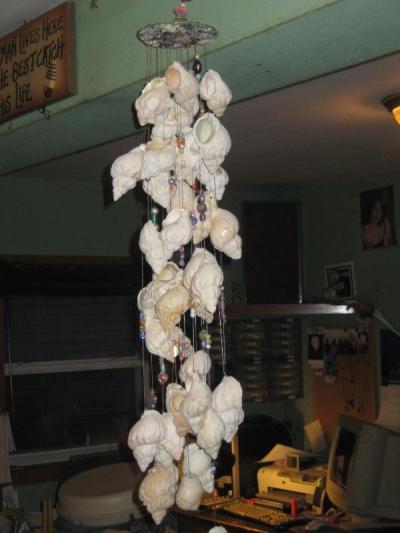 By Shell Girl (Guest Post)02/21/2009
I'm attempting to make a "chandelier" from sea shells. This is for the fixture hanging over my bar that's casting resin with sea shells and Siesta Key sand in it. It should be gorgeous, but I'm having trouble with the holes in the shells. My drill bit is apparently too slow. Will try the Phillips screwdriver suggestion I read, but I'm determined to do this. I know it will look as outstanding as my bar top does (and it's AWESOME, if I do say so myself!).

By dianne10/05/2007
so cool i live in new zealand by the beach and pick up lots of shells this is a fantastic idea thanks a million cheers dianne""

By pookedee (Guest Post)07/12/2007
I found if you use a diamond bit with the dremel tool and drill the shell in water its done very easy. Dont use very much speed, hope this helps

By (Guest Post)04/11/2007
You should also wash the shells in water with bleach to kill any mites inside.Tha bleach makes them smell good also.

By Bohemia (Guest Post)11/28/2006
A great easy way to clean shells thoroughly is to put them in the dishwasher.

I love the wind chimes!

By Caribbean Imports - www.shelloutlet.com (Guest Post)10/25/2006
Very nice!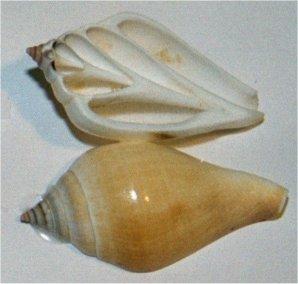 By adoptedbyjohn (Guest Post)08/06/2006
Just love this idea. I'm originally from Mass so miss my ocean, but I have lots of shells. Now I know what to do with them and give me a little ocean flavor here in Kansas.
Thanks a bunch
Marsha

By Lewissan [39]07/12/2006
This is an sea shell wind chime I made when I got bored.

By Joyce wis

Here are instructions for making the wind chimes. If you have any questions, please post them.

6 lbs fishing line
Sea Shells
Small drill bits
A star or circle for the top

I wanted something different so I got a star for the top instead of a circle -- I use 6 lb. fishing string, sea shells of any kind you want and a small drill bit.

Just be careful drilling the hole in the shell, because I did break 6 drill bits doing this. I bought the shells from a craft store so the shells were a little bit harder the regular shells are. I drilled a hole in just one end.

At each of the points of the star I tied the strings to go down. I didn't measure the string I just guessed at it, but it is about 2 ft. long. I put 6 sea shells down each string. Where I tyed the string together on the top, I put a fishing lure. I left it longer to come down for the center one where I have 8 shells coming down. I hot glued each one were i did tied the knots at so they wouldn't come out.

I hope this did helps you a lot. I also just got though making another one with the shells from when I go out too eat at a Chinese place here. Instead of leaving the clam shells there and let them throw them out I brought them home with me -- washed them up and let them dry.

Then the next day I drilled a hole in each end of it. There is 4 strands coming down with another in the middle.

Answers:
RE: Sea Shell Wind Chime
08/14/2005
Joyce - OH MY GOSH! Those are beautiful. I too have a bunch of shells that I have picked up on trips and the like. That is absolutely beautiful. I don't have any kind of drill though so could you please make a suggestion? I'd appreciate it. I am just jumping up and down on the inside. Thanks so much for the inspiration.
By TonyaG
RE: Sea Shell Wind Chime
04/26/2006
AWESOME
By imaqt1962
Post Feedback
Add your voice to the conversation. Click here to share feedback.