Sea Shell Wind Chime
A set of seashell wind chimes is a great reminder of a summer vacation at the shore. Kids and adults love to collect shells, and here's something creative to do with them!
What you need:
seashells, preferably whole shells
Get more than you think you'll need, because a few may break.
clear plastic thread, like fishing line
a Phillips-head screwdriver or any tool with a point
scissors
something to hang your shells from, like a curved branch or a short wooden dowel
Step One: Preparing the Shells
When you get the shells back home, the first thing you'll want to do is wash them! Clean out the sand, the bits of seaweed, whatever debris is stuck to the shell.
After the shells are dry, you are ready to make the holes. Young children may need an adult's help with this part! Take your screwdriver or other pointy implement and grab a shell. Pick the spot you want the hole to be -- mark it with a pen or marker if you need to. Using a twisting motion, bore a hole in the shell. Some shells are thicker than others; don't use too much pressure or the shell can shatter.
Step Two: Hanging the Shells
Measure a length of fishing line and cut it. If you want all your shells to hang at the same length, make all the plastic thread the same length. If you want your shells to hang at different lengths, make the thread different lengths!
Thread the fishing line through the hole and knot it securely. Tie the other end to whatever you are hanging your shells from -- a piece of branch, a wooden dowel, a piece of driftwood, whatever.
Step Three: Special Effects
Be creative! You can hang more than one shell on a piece of plastic thread; just be sure the thread is strong enough for the weight of the shells! Put smaller shells closer to the top and larger ones towards the bottom.
Once all the shells are tied to your branch, you can decorate the top to hide the knots. Wrap yarn around the branch or glue more shells along the top.
And don't forget you'll need a way to hang your seashell wind chimes. Take more fishing line (or a sturdier sort of line if you have it) and tie it to each end of your branch. Hang from a hook and wait for the wind to blow!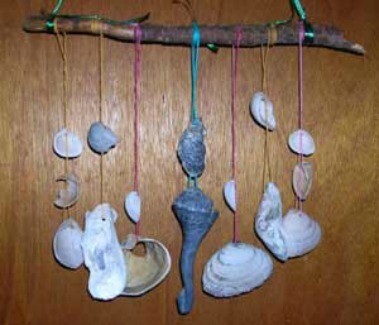 Add your voice! Click below to comment. ThriftyFun is powered by your wisdom!
Add your voice! Click below to comment. ThriftyFun is powered by your wisdom!
Related Content
In This Guide
Categories
Guides
More
Categories