Lilli (Golden Retriever)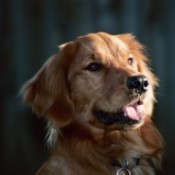 Lilli is a 5 year old Golden Retriever. I bought Lilli in May 2006. I just woke up one day and decided I wanted another dog in my life.
I looked in the local newspaper then visited several private homes where the puppies were born and raised. The minute I looked into Lilli's eyes, I felt an electricity go between us and never let her go!
Lilli loves to play ball. She taught herself how to put two tennis balls in her mouth at once, which is very cute. She prances around like she's "Hot"! Lilli is the most intelligent Golden Retriever I've ever seen.
I've had 4 Golden Retrievers and none of them were as smart as she is. I teach her something new every day and her vocabulary is huge. She not only knows words she also knows phrases and hand and body signals.
By Hearts1 from San Diego, CA
Feedback
Read feedback for this post below. Click here to post feedback.

By
07/22/2011
What a beautiful picture of a wonderful dog, my brother raises these wonderful creatures and I can't say enough of their loving personalities. Thanks. klr

By
07/17/2011
These dogs are great people dogs, loving & protective, loves kids, playful dogs. Beautiful dogs. 'Cookie17"


By
07/14/2011
I was raised with my parents' Golden Retriever, and for about 5 of those years, Princess was my "sister". She chose to sleep with me from the time I can remember and there were never any "monsters" under my bed. As long as she was with me, I always felt so secure. I never gave much thought to that until one day we were at the vet's and a lady was there with her
Goldern Retriever and her 4 year old son. We started talking and she remarked on the fact that her son had never suffered with being alone at night or the dark or monsters of any kind. I remembered feeling the same way with Princess, and now I have to wonder if having a good dog wouldn't solve a lot of problems for many children.

We've always had dogs and I would never want to be without a good dog both for my children and I admit it, I just feel better with one in our home too.

Your Lilli is a very beautiful girl and I know how smart they can be. Golden Retrievers are amazing dogs and so loving.

Thank you for sharing her.
Suziq9
Post Feedback
Add your voice to the conversation.
Related Guides
Related Posts