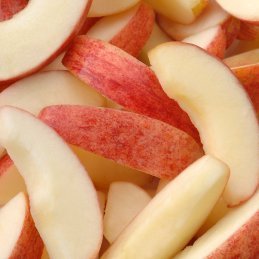 If you have a large crop of apples or have bought them in bulk, freezing them will allow you to use them later. This is a guide about freezing apples.
Ad
---
Solutions: Freezing Apples
Read and rate the best solutions below by giving them a "thumbs up".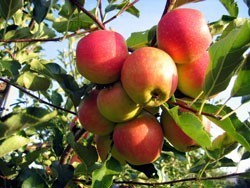 Selecting High-Quality Apples:
If you're purchasing apples, fall offers the greatest selection. Choose ripe apples for freezing that feel firm and crisp in hand and have a bright color. Avoid apples that feel soft and mealy or have cuts or punctures in the skin.
Preparing for Freezing:
Wash, peel, core and cut apples into quarters for freezing. Approximately 1 1/4 to 1 1/2 pounds of sliced quartered apples fills one pint, and approximately 2 1/2 to 3 pounds of slices or quarters fills 1 quart.
Preserving Fruit Color:
There are three ways to keep apple flesh from turning brown before and during freezing: (1) dip slices in a solution of 1/2 teaspoon of ascorbic acid to 3 tablespoons of cold water ( or use a commercial antioxidant), (2) soak them in a solution of 2 tablespoons of salt and 1 gallon of water, (3) steam-blanch them for 1 1/2 minutes and cool them in ice water before freezing.
Best Freezing Method(s):
Unsweetened Dry Pack: This is the simplest and fastest method for freezing apples, but it is not as good for retaining texture and flavor as the other methods. Treat apple slices with ascorbic acid or blanch to preserve color, pack them into a suitable container leaving 1/2 inch of headspace and freeze.
Sweetened Dry Pack: Place 1 1/4 pounds of quartered or sliced apples into a shallow bowl or pan. Dissolve 1/2 teaspoon of ascorbic acid in 3 tablespoons of cold water and sprinkle over the apples. Mix in 1/2 cup of sugar and pack apples in container, leaving 1/2 inch of headspace per pint and freeze.
Syrup Pack: The syrup pack method is useful if you plan to serve the apples uncooked (desserts or fruit cocktail), because it preserves a fruit's flavor and texture the best. Use a medium syrup (1/2 to 2/3 cup for each pint). Combine sugar and water in a saucepan and bring to a boil until the sugar is dissolved. Chill. Add 1/2 teaspoon of ascorbic acid to each quart of syrup. Pour 1/2 cup of syrup into the freezer container and add apples. If necessary, add more syrup until apples are covered and place a small piece of water-resistant paper on top to keep apples submerged. Leave 1/2 inch headspace for pints, 1 inch for quarts.
Containers & Packaging: Containers suitable for freezing should be airtight and include plastic bags, rigid plastic containers, heavy-duty aluminum foil, oven-ready casseroles sealed with freezer tape or glass containers.
Maximum Storage Time:
Apples in syrup packs or sweetened dry packs will keep 10-12 months when stored at 0F. Unsweetened dry packs should be used within 3-6 months.
Tips:
Some types of apples freeze better than others. In general, those that work well for making pies or sauce freeze well. Granny Smith, Golden Delicious and Winesap hold up well to freezing and resist bruising. McIntosh bruises easily and Red Delicious is the least desirable to freeze.
Shortcuts:
If you're freezing apples for pies, place sliced apples in a pie tin lined with heavy-duty aluminum foil or a freezer grade plastic wrap. Wrap the apples and place the pie tin shaped package into the freezer. When you're ready to bake your pie, simply remove the wrap, place the slab of apples directly into the pie crust, add sugar and spices and bake. The syrup used for syrup packs can be prepared a few days ahead of time and kept refrigerated.
Refrigerating Apples:
Sprinkle fresh apples with a little bit of water and place them in a perforated plastic bag in a cold part of the refrigerator. Apples give off an ethylene gas that can speed up ripening, so keep them away from other fruits and vegetables in the refrigerator. Store apples in the refrigerator for 1 to 2 months.
Give a "thumbs up" to the solution that worked the best! Do you have a better solution? Click here to share it!
Questions
Here are questions related to Freezing Apples.
There are a great deal on apples right now at the grocery store. I like to put apples in my smoothies. What is the best way to freeze applies to be used in smoothies?

Glenn
Ad
---
---
Best Answers

By Debbie (Guest Post)05/10/2005
Lemon juice has ascorbic acid and is recommended everywhere for keeping apples from turning brown. But it will add a lemony flavor!
---
Best Answers

By Grammy24 (Guest Post)05/09/2005
I freeze apples for pies and other desserts, but I put them in salted water for a short time, drain and then freeze in plastic bags. This keeps them from turning brown. You can buy axcorbic acid to prevent them from browning too. Use according to directions.

How long do I have to soak apples in salt/water solution before freezing?

Tammy from Foreston, MN
Ad
---
---
Best Answers

By Mary Lou [14]11/14/2008
Can't picture using salt to keep apples from browning. I always use lemon juice and water and just coat them in the mixture, no soaking needed.
---
Best Answers

By Graycrab (Guest Post)11/14/2008
The salt water bath is just to stop them from turning dark. It is not necessary to soak for any length of time.
Is there a substitute for abscorbic acid in freezing apples?
By Susan from San Diego, CA
---
Best Answer

By Grandma J [54]02/21/2011
Salt does not work, it does not inhibit the action you want with the apples. The salt will draw the moisture out of the fruit/veggies and result in freezer burned produce rather quickly. And you could not mask the sodium in the reuse of the apples.
You can use lemon juice or plain orange juice. They are high enough in acid. You can use some citric acid mixed with water. This is what powdered lemonade is made from. It can be found in natural foods sections of the grocery.

I have an apple tree with a ton of tart apples (Anna). I want to freeze them to be put in Greek yogurt or to add to plain oatmeal. What is the best way to do this? I was thinking about adding raisins, cinnamon, apples, juice, and cooking for a while (not until mushy) then cooling and freezing. Should I add any other ingredients?
By Carol from San Marcos
---
Best Answer

By Anne Carter [4]07/23/2012
I freeze apples in one of two ways. Either peel and chop them up and pop them in a freezer bag raw, or secondly, cook them and fill bags with them when cooled.
What is the best way to freeze apples?
By Linda W L.
---
Best Answer

By Litter Gitter [145]07/08/2012
I like to prepare the apples by my recipe for apple pie and freeze it. When I get ready to make a pie, I make the crust, thaw the apples just enough to get them separated, add a few pats of butter and bake it. I have kept them in the freezer for a couple of years this way and it's good.
Can I bake apples and then freeze them?
By Drama A.
---
Most Recent Answer

By frances [1]06/06/2012
I would think that freezing baked apples would make them too watery, and you end up with, basically, applesauce.
How long can you soak apples?
By Clifford from NE
---
Most Recent Answer

By cagarts03/18/2012
For what purpose would you "soak" apples? Can you provide a little more information that might help someone provide an answer?
How do I freeze apples?
By Martyn B
---
Most Recent Answer

09/26/2011
I found this in the ThriftyFun archives. Read the first answer given by Miss fun2no showing a bit below the question. It gives information for a few alternatives:
http://www.thriftyfun.com/tf58326455.tip.html
How long to soak in salt water?
By Todd from Idaho Falls, ID