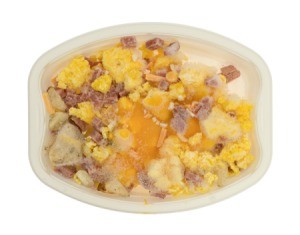 Whenever I cook a frozen dinner, I save the plates they were cooked in. Then, when I make meat loaf or roast or whatever, and veggie or mashed potatoes, I'll put the leftovers in individual portions in the saved frozen dinner plate and freeze.
Makes for quick meals if your strapped for time. Just pop in the microwave and voila. Your own homemade frozen dinner.
By Penny from Ipava, IL
Editor's Note: While freezing dinners in these trays is probably safe, reusing them more than once is not recommended by Food and Drug Administration. You probably should put the food in another microwave safe dish before reheating it. Here's some advice from a PDF titled "Reusing Food Packaging . Is it Safe?" that was published by the University of Illinois.
"Do not reuse microwave packages that contain "heat susceptors" for browning or crisping. The adhesives that hold the susceptor to the package may be damaged by the original use. The material is more likely to migrate into the food if it is used again."
You can download the PDF here: http://web.aces.uiuc.edu/vista/pdf_pubs/FOODPACK.PDF
Read More

Comments
Don't waste money on prepared foods. Instead, prepare meals ahead of time and freeze them, or double a recipe when cooking, and freeze the second for a hectic day coming up.
Read More...