Buy produce in large quantities and then prep it for the week, then save the ends for lots of uses:

I keep a freezer bag with the extra air squished out in the door of my freezer. Every time I chop off a carrot top or have stems left from fresh herbs or bones from a pork chop, I throw them in the bag. Then every week or two, I throw them in a pot, cover with water, maybe add a bouillon and I have fresh stock.
You can use shrimp shells, mushroom stems, and save time on cleaning onions by just chopping off the tops and bottoms since you know you'll be using them for stock later! In winter, I keep a few bags going with Asian seafood, meat/stew veggies, and vegetarian.
You can also reuse seeds. Scoop the seeds out of the cantaloupe and cover with water. Blend and strain for a Mexican "agua fresca". I also put the seeds in with less water than will quite cover, some herbs and vinegar and oil for salad dressing. The seeds are a natural thickener and the dressing turns out creamy and very healthy.
I also love juicing melon rinds. The little scraps we have left, I'm planning to compost. But I'll need to search around on Thrifty fun for some ideas of how to build a cheap composter first!
Source: My own ideas I think...well, cantaloupe seeds are used in traditional Mexican cooking but the dressing is my recipe.
By Erica from Dallas, TX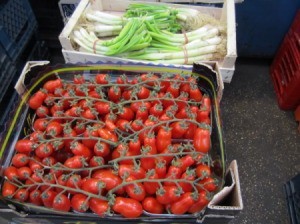 Can I cut food costs by buying a small upright freezer and filling it with locally grown produce to supplement my refrigerator/freezer? It will increase my electricity bill and I'll have to add packaging costs.
By Elaine
Answers
July 18, 2011
0

found this helpful
I have never seen the cost effectiveness of buy produce to can or freeze. The only produce I ever bought was things like peaches, pears, etc., that didn't grow in my area. Also in my area I found that the locally grown produce, is much more expensive than what you buy in the stores. I used to know a woman who bought tomatoes by the bushel to make catsup and one day I asked her if her homemade catsup was less expensive than buying it and her reply was no, but what if we get snowed in some day and I run out of catsup. The irony of this is we lived in a town of about 15,000 and she was no more than a mile from the nearest large grocery store. There was no way that she would be snowed in for an extended period of time.
July 19, 2011
0

found this helpful
I would say it depends on where you live. The point of preserving of stuff isn't really to save money if you're not growing it yourself, though. The point really is that you're eating in season and not transporting food across the globe to put on your plate. The idea is that you're conserving resources and leaving a smaller imprint on the planet.
Living in Alaska this is a little difficult, especially because I'm vegan and don't eat fish, which is our biggest food resource. I bought a little more than a pound of heirloom tomatoes at a small farmer's market (which we only have for several months out of the year here...) and spent about 7.50. I get a pound of tomatoes from my CSA box out of Washington when they're in season for about 3-5 bucks.
Your electricity bill will not raise much if anything, especially if you're storing the food in a freezer that you already utilize. You will save money when the produce you have saved is being consumed when it's out of season and will be of better quality than the frankenfood that is grown out of season.
Hope that helps with some insight...
July 19, 2011
0

found this helpful
If you can buy local from a farmer's market, it may not be cost effective but it is much healthier food. It is picked fresh and does not have a bunch of chemicals thrown on it. I agree with cat nip.
July 19, 2011
0

found this helpful
Why not just buy a small chest type freezer you won't have such a cost and your light bill won't be noticeable in difference. You can come out doing this but keep in mind do you want to spend the time it takes to put it up. I do but some folks don't feel they want to. I can tell you that if you start you won't want to quit and the learning process is on going. If it were me and I could afford the small chest better I would get it and by the time you fill it you'll know whether you want to keep up or just use the little freezer for spare bread, meat on sale etc., you won't go wrong.
July 19, 2011
0

found this helpful
Why not just buy a small chest type freezer you won't have such a cost and your light bill won't be noticable in difference. You can come out doing this but keep in mind do you want to spend the time it takes to put it up. I do but some folks don't feel they want to. I can tell you that if you start you won't want to quit and the learning process is on going. If it were me and I could afford the small chest better I would get it and by the time you fill it you'll know whether you want to keep up or just use the little freezer for spare bread, meat on sale ect. you won't go wrong.
July 19, 2011
0

found this helpful
Try looking on Craig's list for a used freezer and look for freezer containers at thrift stores or yard sales. That should help with up-front costs. If you compare labels "apples to apples" buying local can be competitive or even cheaper. (preservative free, organically grown, etc) but the real savings come in your healthcare savings from not taking in all of those chemicals in grocery store produce!
Answer

this Question

...
We have a huge garden and I'm wondering what to do with some of the produce that we have an abundance of to preserve it for the late fall and winter. I don't want to can; I've never done it and I don't want the added expense of starting it right now. Has anyone ever frozen tomatoes, cucumbers, or zucchini? Any suggestions on how to prepare them before freezing would help.

Freezing and More Ideas
Tomatoes can be frozen as is. They will be a little watery when you defrost them, but if you have bushels to deal with I think it is worth the convenience. And the skins will slip off when they defrost. Cucumbers and zucchini will be a mushy mess if you freeze as is (yuck!) without being combined with something else. Like made in to a zucchini bread or the like.
Suggestion, experiment with making salsa or spaghetti sauce or other tomato based items in the freezer and put the zucchini (finely chopped) into it and see if you like the flavor and the texture when it comes out of being frozen. Just make a small batch and see how you and your family react to it. Everyone's taste is different.
Not sure about the cucumber as an addition to salsa, but you might like it. Just make the salsa as dry (strain the extra juice out with a colander or strainer) as possible or when you thaw it out it will be very loose and watery, but, hey, maybe you like it that way? Experiment.

Consult a good cookbook like "Putting Food By" or the "Joy of Cooking" or as your country extension agent for advise on freezing garden produce. They know a lot and your tax dollars pay their salaries, use them as a resource. Warmest Wishes.

By Denise
Pickles, Brea and Italian Zucchini Tomatoes
As above tomatoes can be put in the freezer in many ways. I know of no ways to put cuke in unless some type of cold processed pickles (only for certain types of cukes). Have you thought of making pickles?

Zucchini can be sliced, breaded, and frozen in a single layer (ie: on a cookie sheet) and later placed in a freezer bag, for frying at a later date (this is also how you would do okra); shredded, drained, and placed in a freezer bag and frozen, for bread, etc.; or chunked (size depending on use in recipe) and placed in freezer bags and frozen.

I like to make Italian zucchini-tomatoes, celery, onion, green pepper, and zucchini with spices, and a little sugar and freeze it that way also. (07/31/2004)

By Deborah
Grate Zunnhini
I grate my zucchini and put in containers for freezer bags after draining the liquid well. This way when I want to make zucchini bread or zucchini cake it's done. I also freeze my tomatoes whole or chop for sauces and soup base. There is a great freezer recipe for freezer cucumbers and it tastes great. (08/01/2004)

By Robin
Freezing, Canning and Drying
I have frozen tomatoes before, and it was very successful. I core them, and place them in a freezer bag or container. I don't wash them, because that would make them get soggy. I have frozen zucchini, but not very successfully, but I suppose it could be done if you were to salt them and allow them to sit after being salted. That would draw the water out. The same thing might work for cucumbers.

I have also frozen things like green beans and snow peas, with no problem. I just pull the strings off of the snow peas, and pull snip a tiny bit of the ends of beans off. I have roasted peppers (red peppers,) and put them in a jar with olive oil, but they do not last very long.

Canning is a great thing to learn. I would love to learn. But canning tomatoes is a tricky proposition. Tomatoes carry botulism and so you run the risk of getting horribly sick unless you follow the protocol to the letter. If you have a large garden, with a huge quantity of produce, canning and freezing could save you a substantial amount of money come winter.

Another thing I have done with tomatoes is to dry them. I did it in the oven, and sprinkled them with a fair amount of salt so that the salt would draw the water out. I left them in the oven at a very low temperature for the better part of the day. When I took them out of the oven, they were just like sun dried tomatoes, and could be reconstituted by immersing them in water. I used them in several recipes, and they were really good. If you have spices, you can dry those as well. Simply cut the herbs and tie a string at the bottom end of the bunch and hang them upside down to dry. I have also done this with hot peppers. I turn them into ristras or a hanging chain of hot peppers. It makes a great gift.

Canning
You can stock up on canning supplies at yard sales and flea markets also. As far as the botulism in canned tomatoes goes, when I started canning many years ago, I took a course offered by our farm extension service. They told us to add 2 tablespoons of lemon juice (no sugar) to each quart before processing as a preventative. You do not taste it and I never had a problem and felt secure with the process. Like you, I was new to canning and a little leary from all the stories. It is really a simple process, but makes one appreciate the 28oz. cans of tomatoes when they go on sale 3/$1.

By Betty
Freezing Tomatoes
Yes, we do the tomatoes in the freezer, we just put them "as is" in bags and bring em out all winter long for making spaghetti sauce, chilis, I even throw them in my meatloaves. Best way is to put em in the nuker and thaw them, then just mash em, skins and all (cuz that's where the vitamins are hiding). Then throw them in while you are cooking, or in the meatloaf fold into ground meat and bake. We have 2 freezers now, one for veggies and one for meats and home cooked TV dinners.
Our veggie freezer is full already (08/05) and its overflowing into the other one. Yes, we freeze our string beans (so EZ I wouldn't think not to). Just leave ends on, wash to clean, air dry on towels and put em in Ziplock bags. Peas we blanch for 3 minutes and throw onto cookie sheets let freeze then break up and into Ziplocks.

We also make "meatless" spaghetti sauce in our preserving jars and yes we make sure to watch for botulism by keeping them in a "cool dark place", because yes tomatoes are dangerous. Canning beans is even more so because they won't "tell" like tomatoes do.

By Deb
Garden Muffins
I have raised zuchinni and crooknecks across the front of my yard by the street for years. The dozen plants in the 65 foot strip yield about 400#. We let them get big, we haven't found that small ones are one bit better, just more work. Grated in the processor and frozen just defrost, use one egg per cup, a little chives are nice, season to taste and cook with a bit of olive oil like a hash-brown pattie. Pureed, we put about four cups (quart bag) in two Walmart 97 cent cake mixes, your choice spice cake and cinnamon swirl make a good combination. Why fool with the mess, just leave out the water maybe, add 1/2 tsb. baking powder if you want more rise. Offer a child a zucchini, that will be a no. A muffin on the other hand and you have them eating something very healthy and they don't know it.

By Farmer John
Processing Garden Vegetables
Gardening is the way to go with today's food prices skyrocketing. I suggest you find a good book on processing garden vegetables, such as "Stocking Up" by Rodale Press. My husband and I have been using this book since the 70's, and I hear there is a new version of it out now. It has absolutely everything in it you want to know about freezing, canning, or processing any garden foods, and then some. I look stuff up in it all the time during the year.
By the way, tomatoes are one of the easiest vegetables to can or freeze, and the acidity in them is a natural preservative. Botulism is more common in dishes with meat in or from using veggies that were going bad already. You need to can or freeze only perfect veggies to insure a quality product.

By Sue
Freezing Roasted Tomatoes
I chop big tomatoes and halve small ones sprinkle with Italian herbs and a splash olive oil, slow low roast about 2 hours, stir once, blend and freeze. I use this all winter in soups and sauces, very concentrated flavour. You can add eggplant and capsicum if you want to. They all roast well and the caramelized flavour and hardly any juice are very good. I've done it for years.

By Jane S. Western Australia