Homemade Spa or Hot Tub Cover
When we got our hot tub it came with a nice insulated cover. What we did not count on was that my daughter's pit bull puppy would love to tear it up. Our hot tub is outside so we tried everything to keep it covered and ended up not using it for a couple of winter's because it became a real money drain.

Well, this weekend we came up with a great solution and it costed about less than 100.00 total compared to 300.00-400.00 for a new top. We bought two sheets of the new wall insulation that is made of styrofoam. We used liquid nails to glue it to a 1/4" piece of plywood. We made the cover in two pieces so it would not be to heavy to take off with just one person.

We then installed an eyebolt at each corner of the hot tub in our deck and one in the middle of the outside on the deck. We then got some long bungee cords to hold the lids down. Got up this morning it's about 30 degrees and no steam escaping from the hot tub. The bungee's held it securely and I know that we won't be losing it in any wind storm either. I hope this helps someone else.
P.S. My husband did paint the plywood and for maximum efficiency he says we should wrap the whole unit in heavy plastic, stapling the plastic to the painted side of the plywood.
By Debra in Colorado
Add your voice! Click below to comment. ThriftyFun is powered by your wisdom!
By guest (Guest Post)
November 18, 2006
0

found this helpful
What a great idea, I think I'll do the same, spa covers are too expensive and don't last.
By guest (Guest Post)
May 11, 2008
0

found this helpful
It all looks good but the plastic will condensate and not really help things. I put a 4 dollars 8x8 Brown vinyl Tarp on the top of my blue foam top that has an H fixed 2x4 treated frame and 2 galvanized 2 in strapes under neath for holding foam up to frame and lift it with a 12 volt winch. Works great. remember the paint and any glues used on the underside will not last and fall in the water . Tom
June 25, 2009
0

found this helpful
If your hot tub is round & all you need is something to keep out bugs & dirt - go buy an outdoor umbrella & cut off the pole. Use a bolt to keep it open & it is the perfect, lightweight, hot tub cover for only $49.99! Ours works great!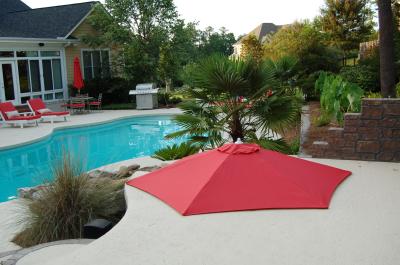 November 3, 2016
0

found this helpful
Cool ideas, I made a spa cover lifter following the procedure shown here http://notseale r-home-made.html and from other ideas around the web.
Saved a packet, large spa covers require 2 people to remove and replace , not any more. Galv water pipe :)
Add your voice! Click below to comment. ThriftyFun is powered by your wisdom!
July 25, 2012
0

found this helpful
Is there a place where you can just get the outer skin to the cover made for the hot tub?
By Lyn
Related Content