Recipes for a Dog With Allergies
Dog food recipes. My dog has bad allergies. I am not very talented at cooking. I would like easy to prepare foods for my dog. Thank you. I appreciate any help. Lisa from Westland, MI
---
RE: Recipes for a Dog With Allergies
If you do your research there is really no way to get all that you need without a lot of ingredients to ADD to a cooked dog food diet, taurine is one of them I believe. In a week or two the Natural Balance Venison for dogs food (allergy line) will be back on the shelves (they actually only had a few bags of tainted rice protein and there was only a small amount of food that was affected, but they decided to pull ALL to make sure). They are the only over the counter single protein and veggie source food (that I know of at least for cats) unless you buy Royal Canin expensive stuff from the vet. You have to do a lot of research on what is best for the dog, because people have caused WAY more harm than good trying to cook for their dogs. I know that dogs are carnivores, coming from wolves but you also have to remember that that was a LONG time ago and they've been adapted over hundreds of years to eat our version of "dog food", so we can't assume that throwing some cooked (or raw) meat at them will make them healthy. Our animals live way longer than those in the wild do, one of the reasons is that they get a much better nutrient rich diet than their wild cousins. Do a lot of research before you pick up your cooking pot and apron, good luck either way! (04/24/2007)
By michawnpita
RE: Recipes for a Dog With Allergies
When my dog went into kidney failure, her appetite decreased, so the Vet suggested giving her baby food. It worked well but it wasn't cheap, because the jars were so small, we had to use a few to make a meal. (04/25/2007)
By Ms. henkel
RE: Recipes for a Dog With Allergies
Check out Oprah.com, she had a dog show yesterday with someone on who does Holistic pet food. He advocates raw diet but does go down the scale as to the worst (grocery store kibble) to the best, raw (in HIS opinion) but you might want to check out the book. I can't remember the name, but I know that Oprah's site links all the info. from her shows. (04/26/2007)
By michawnpita
RE: Recipes for a Dog With Allergies
Do you kow what your dog is allergic too? Is grain, types of meat, etc.? Visit http://flip195.wordpress.com/, this is a blog primarily about making food for your critters. Lots of useful info there, and the great news is IT"S FREE, Recipes, Ideas, Hints ALL FREE. (06/26/2007)
By flip195
RE: Recipes for a Dog With Allergies
Buy ground turkey rolls, bake them PLAIN with no salt. Cool and slice for doggie to eat. Feed them cooked carrots, green beans, etc. My dogs love these more than any treats. Some others feed apples, we are going to try some too. Our vet said these were good for my 3: 1 yorkie 1 shih-poo\ 1 jack russell (07/23/2007)
By meoowmom
---
Recipes for a Dog With Allergies
Does anyone have any homemade dog food recipes for a dog with food allergies? My Boxer is on Royal Canine Sensitivity Control and this doesn't seem to be working. We have tried other hypo-allergenic foods, but nothing helps. I want to try home cooked recipes.
Rachel from England
---
RE: Recipes for a Dog With Allergies
I have had 3 Boxers and they all had allergies to one thing or another and very sensitive stomachs. There are lots of alternatives to dog food, which in my opinion does not make for a healthy dog. I feed my dogs rice with a lean meat and a vegetable. They will eat carrots, peas, apples, plain yogurt (yogurt has active cultures and will not be a problem for lactose intolerance) and eggs, they love canned pumpkin and I sometimes substitute the rice for a pasta. My Boxers have lived very long and healthy lives so I hope this will help. Also there are some websites available to help you select a homemade diet you think your dog will enjoy. Good luck. (12/28/2007)
By Tara
RE: Recipes for a Dog With Allergies
My dogs love it when I boil a whole chicken and mix the meat with vegetables. A simple chicken dinner for your dog would be to buy a whole chicken, boil it in a large, deep pan in water. I add a can of chicken broth for taste. Boil until the meat is cooked well. Let the chicken cool. You can use turkey as well, but chicken is less expensive. Depending upon how many dogs you are feeding, mix a large can of "Veg All" vegetables. You can also add cooked white rice if you want. Make sure to get all of the bones off of the chicken meat by carefully peeling the meat away from the bones, after it cools. Mix the meat and veggies together and serve.
Some people substitute the rice for pasta. You can even add a spoon full of peanut butter. The most important thing to do when any pet is suffering from allergies is to find out what exactly is causing their allergy issues. Have your pet tested before changing things. Sometimes the allergy issue isn't coming from where we think it is. If you type in "home made foods for your pet" in your Google search bar, you'll find all kinds of good websites come up that have hundreds of terrific pet recipes that you can make at home. (01/01/2008)
By Doodleplum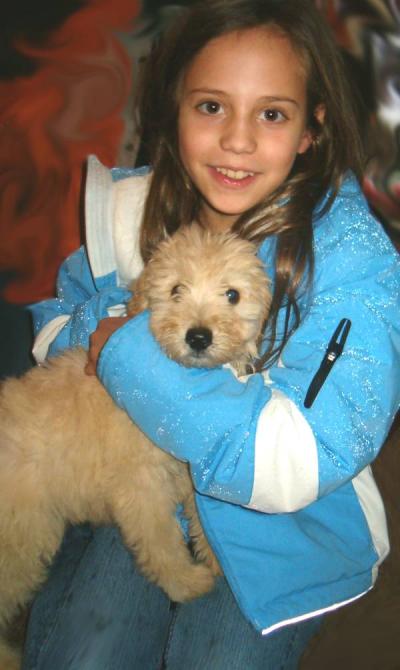 RE: Recipes for a Dog With Allergies
There are other causes of allergies other than food. If you have tried the hypoallergenic diets and he is still itchy, he probably also has atopy. That is allergies to other things, grass, house dust, fleas, you name it. They can be allergic to anything like you can be. You didn't say how old your dog was. If he is less than a year old, then his food is a very common cause, if no fleas are in the picture. (01/02/2008)
By junebug_000
RE: Recipes for a Dog With Allergies
petdiets.com
This is a site run by veterinary nutritionists.
Another good site, but you have to know what he's allergic to. Good healthy whole wheat or stone ground corn meal, eggs, or milk can cause severe reactions if you're allergic.
homemadehealthypetfood.com (01/02/2008)
By aardvark
RE: Recipes for a Dog With Allergies
I have an English Cocker Spaniel. At first, his allergies were just awful, mostly itchy skin, lots of scratching. I went on line, researched and learned that allergies are mostly diet related. So, I changed his diet. I use my rice cooker and do a mixture of hamburger meat, rice, and veggies.
First I boil the hamburger meat and then I use this juice to make the rice. You can use either white or brown rice. Then I chop onions, garlic, celery, broccoli, and carrots and put this whole mixture in my big rice cooker. It only takes a little while to make this in the rice cooker. I then cool this mixture and put it in Tupperware in the refrigerator and mix this half and half with Science Diet.
The mixture will last for about 4 or 5 days for two dogs (we also have a German Shepherd). My dogs love this food. No more skin allergies. My pets are healthy and happy. Good luck to you. It is really sad to watch your animals scratch and scratch and this diet will eliminate these allergies. At least, it helped my dogs. I have also given liquid Benadryl for children in an eye dropper and this helps if allergies are really bad. (01/03/2008)
By Sharon S
RE: Recipes for a Dog With Allergies
If found this recipe in my groomers magazine. The ingredients are as follows:
3 lbs ground beef
3-16oz cans of tomatoes
2 cups corn meal (white or yellow)
2 cups Wheatena
3 eggs
up to 2 cups water as needed
Mix the ingredients together as you would a regular meat loaf, bake in a loaf pan in a pre-heated 345 degree F oven for 45 to 50 minutes. Feed when cold, adding suitable multi-vitamin supplement. Of course, not all at once. Just divide up into regular portions as you see fit.
Feed this diet for a month and compare the dog's condition at the end of it so that you can evaluate whether or not it has been beneficial. Add "no" salt as too much salt has also been associated with outbreaks of skin irritation. This is particularly true in homes with water softeners. Dogs with persistent dry skin and skin irritations might well benefit by being given purified low sodium water to drink. (01/03/2008)
By Pat
RE: Recipes for a Dog With Allergies
I use ground venison and potatoes for my Beagle with allergies. She is allergic to beef, chicken, and corn so that's all that has worked. I've heard duck is good to for pets with allergies. (01/04/2008)
By TBMEIER
RE: Recipes for a Dog With Allergies
I recently began making my own cat food. I just went to the bookstore and bought a cat food cookbook. It wasn't expensive and has about 50 recipes including treats. I am sure you could find a dog food cook book, too. (01/04/2008)
By Beth
RE: Recipes for a Dog With Allergies
I have found that Natural Balance sweet potato and fish work for my Lab. He has extreme allergies and was constantly biting his paws and suffering horrible ear infections until I switched to this. It is much cheaper than the $80 hypoallergenic food you get from your vet. Petco carries it too! (07/22/2008)
By S.Adams
RE: Recipes for a Dog With Allergies
My dog is allergic to wheat and I finally found some really good recipes to make for her. It's called Hypo-Allergenic Dog Treat Recipe ebook and it is a wonderful cookbook for dogs with food allergies. It contains dozens of recipes for cookies, dinners, and other treats that are wheat free. It also has recipes that are corn, dairy, meat, and egg free. With recipe ingredient suitable substitutions, dietary and herbal supplement suggestions it also has a lot of information about how to reduce allergic reactions and how to strengthen your dog's immune system with vitamins and common herbs. You can find it at http://www.geocities.com/sanchez_ks/AllergyRecipes.html (08/26/2008)
By chamysmom
RE: Recipes for a Dog With Allergies
My Pitbull has 32 different allergies, several that are food allergies. I started buying the Cannidae lamb and rice formula for him and it really seemed to help. His itching has stopped completely. (04/07/2009)
---
Recipes for a Dog With Allergies
I am looking for simple recipes for dog food and treats. Lucky is a Shih Tzu male with allergies.
By Seamus from San Antonio, TX
---
RE: Recipes for a Dog With Allergies
After making several foods for my 9 Shih Tzus, I gave up and now purchase frozen Bil-Jac at a vet's office. I don't go to this vet except for the frozen Bil-Jac. All but one have "lost" their allergic reactions, and number 9 is making good progress! (06/11/2010)
By JoanDogs
RE: Recipes for a Dog With Allergies
When my dog had a sick stomach, my vet recommended boiled chicken breasts and plain white rice. (06/14/2010)
By mollyring
---
Recipes for a Dog With Allergies
Does anyone know a good, easy, hypo-allergenic dog food recipe for Boxers? I have an eight year old Boxer. He recently developed allergies, but all his blood work normal. I would really like to make his dog food at home. I would like to start with a grain free recipe. Any help would be truly appreciated.
By Val-RN from Pittsburgh, PA
---
RE: Recipes for a Dog With Allergies
After finding allergies, making several vet visits, I started doing my own research through my friends. I found a brand called Countrypet Naturals. I tried it and all the allergies disappeared. I did more research on it and found it be a pure food from New Zealand. Their foods do not contain any grains or preservatives, which causes the allergies. My dogs wolfed it up! Their energy level is up and you cannot tell the difference between my puppy or older dog! (07/12/2010)
By dino
RE: Recipes for a Dog With Allergies
My daughter has a dog with severe allergies and feeds him chicken and rice on her vet's recommendation: Chicken thighs in an economy pack from Walmart, white rice in a large bag, also at Walmart (around 5 cents a pound). Cook the chicken thighs in enough water to cover until well done (an hour more or less). Remove thighs and debone, saving cooking water to cook rice. Simmer rice until done (45 minutes?), adding more water as needed so it doesn't burn. Cool deboned chicken and mix into cooled rice. Store in refrigerator up to a week and feed twice a day. Amount you would make would be dependent on the size of the dog, but my daughter cooks 2 packs (18-20 thighs total) and 6 cups of dry rice. It makes a large amount so you need a big pot to store it in. Obviously it would be perfectly good for people to eat as well. (07/14/2010)
By Anonymous
RE: Recipes for a Dog With Allergies
I had a Cairn terrier that was allergic to everything. I tried everything you can think of. I was on my way to the exotic meat market to try lion or water buffalo when I realized I had not tried canned salmon. So I cooked up a batch of brown rice (for fiber) about 8 cups when cooked, and added a 15 oz can of salmon, bones and all. He ate that until he died at age 17 yrs. He was very allergic to some vegetables, so figure out what your dog can tolerate. Broccoli was the worst for my dog. I skipped the veges and gave him a multivitamin. Good luck! (07/23/2010)
By Lizzyanny