Cheese and Crackers for 100 People
I am serving cheese and crackers prior to a large wedding reception dinner. How many lbs of cheese per 100 guest do I need to have?
By Jerry from Houston, TX
Answers: Cheese and Crackers for 100 People
Read answers for this question below.
The Industry standard is one ounce per guest, depending on what else you are serving. That would be about 4 bite size servings per person.
Here's a really, really good chart and platter photos for amounts based on serving 50 people:

http://www.angelfire.com/bc/incredible/appybuffet.html

And here's another link with oodles of ideas and rules of thumb:

http://www.foodnetwork.com/holidays ... o-set-up-a-cheese-platter/index.html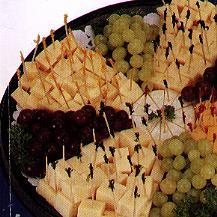 Is it the only thing served at the reception, if yes, have little more backup ready. I do reception food for a living and find that people tend to over estimate how much is needed. I would get 2 pounds of 2 kinds of hard cheeses like cheddar and pepper jack, already cubed, then add 3-5 types soft cheeses whole(brie, goat cheese, blue cheese, boursin) smoked gouda and havarti also work well. little wheel of those sliced thin goes a long way. add whole bunch of grapes, maybe couple whole pears for display. finish display with some black berries, dried apricots, glazed nuts or even honey comb. a great way to serve a cheese platter is to use a large rustic looking floor tile from a home improvement store (2x2 is a good size). Add a basket of french bread and few types of crackers.
Answer This Question
Add your voice to the conversation. Click here to answer this question.
Related Guides
Related Posts