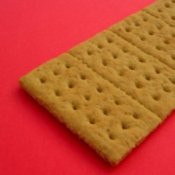 These taste wonderful and are great for lining a pie pan for your homemade graham cracker crust!
Ingredients:
1 cup flour
1 1/4 cup whole wheat flour
5 Tbsp. sugar
1/2 tsp. salt
1/2 tsp. baking soda
1 tsp. baking powder
1/4 tsp. ground cinnamon
3 Tbsp. butter or margarine, cold and sliced in small pieces
1/4 cup solid vegetable shortening
2 Tbsp. honey
1 Tbsp. molasses
1/4 cup water
1 tsp. vanilla extract
Combine flours, sugar, salt, baking soda, baking powder, and cinnamon in a large bowl. Work in the butter and shortening with your fingers until the mixture has the consistency of coarse crumbs.
In a separate bowl, mix the honey, molasses, water and vanilla. Sprinkle this mixture over the dry ingredients and toss with a fork until well blended.
Form the dough into a ball. Cover and chill for several hours.
Cut the dough in half and let it sit for 15 minutes at room temperature. Sprinkle a piece of wax paper with whole wheat flour. Roll out one of the dough pieces flat to about 7x15 inches. If the dough cracks or breaks, just pinch the edges back together.
Poke a fork into the dough at 1/2 to 1" intervals. Then cut into 2 1/2 inch squares. use a spatula to move the squares to a large, ungreased baking sheet. You can place them close together. Repeat with the other half of the dough.
Bake in the center of the oven for 15 minutes at 350 degrees F. or until lightly browned on the edges.
Store at room temperature in an airtight container. They should last up to a month.
For a sweeter treat: sprinkle a mixture of sugar and cinnamon over the top.

by emmamamie
Read More

Comments
I am looking for the recipe for almond graham crackers. We are doing a cookie swap on Saturday. Can anyone help?
By Nancy from Boiling Springs, PA

Answers

July 31, 2014
0

found this helpful
Recipe: Gram's Graham Cracker Cookies
Great tasting and so easy!
Ingredients:
1 box graham crackers (break apart on lines)
2 sticks butter
1 cup light brown sugar
1 cup sliced almonds (more or less)
Directions:
Line a 9x13 inch pan with foil. Place the graham crackers (sides and ends) touching.
In saucepan, melt the 2 sticks of butter and 1 cup of brown sugar. Bring to a boil and simmer 2 minutes. Add sliced almonds. Pour and spread over crackers.
Bake 8 to 10 minutes at 350 degrees F.
That's it - eat and enjoy these great tasting cookies.
I don't make these too often because my husband and I can't stop eating them!
Source: Friend in Orrville, OH
By Dorothy from New Creek, WV
Answer

this Question