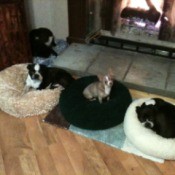 I need something I can mix up really quick to neutralize odor on my furniture. I have three Boston Terriers and they do make themselves comfortable on the furniture with us. I can take the slip-covers off the seat cushions and wash them. I don't know what to do about the backs and arm rests that they lean against.
Eventually we're going to replace all the cloth furniture with leather or something that can be wiped clean and doesn't cause dust.
What can I do in the mean time?
By Susan from Waynesville, GA
Ad
---
By Robyn Fed 394 1,240 02/01/20120 people found this helpful
You can take some baking soda and sprinkle it over the smelly areas. Let it sit overnight. The next day, vacuum the baking soda. The smell will also be gone. Also when washing the dogs laundry put some baking soda in with the wash, and also you can do this in the rinse water if you desire.

Here is a link about lots of uses of baking soda: http://lifehackery.com/2008/07/22/home-4/

I also like vinegar but most people can't stand the smell of the vinegar. By the way, I use Listerine as a cleaner around the kitchen, bathroom and as a hand disinfectant. I keep it in a spray bottle. I would not put Listerine anywhere where the animals can lick it off or get into it. I love it as a hand sanitizer though.

Just make sure you are not spraying Lysol anywhere or anything with Phenol in the ingredients.

Blessings, Robyn