Frugal Freezer Shelf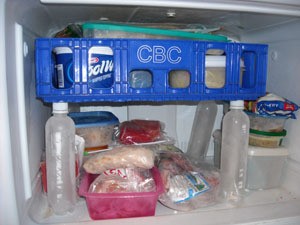 I had a freezer with out the shelf inside. The food, all in different sizes and shapes, would pile up and slide everywhere. I put water in four bottles, found an old soda crate, and put it inside.
Once the water is frozen, you can either leave it right side up with things inside or turn it upside down, which makes it a bit more stable. (See the one in the back?) Enjoy!
By Sandra from Salem OR
Feedback
Read feedback for this post below. Click here to post feedback.

By
02/25/2009
Thank you for the idea. I have shelves that are wire
which sit in a cabinet unused. I will be do this
tomorrow. I am tired of opening freezer and getting
hit with flying frozen objects.
Thank you.

By Polly G (Guest Post)
02/20/2009
I have stackable baskets (bought at the dollar store) that I use in my freezer. The baskets hold a couple of layers of steak, single layers of larger packages. Most everyone has a tendency to put things on the top when storing (including me) so I lift out the whole stack of baskets, get my item from the bottom one, put it back on the bottom and return the stack to the freezer. When the bottom basket is empty, I shift it to the top. You do have to take everything out, but it's only for a moment and the packages aren't sliding around. I have several sets of these in my upright freezer and a smaller set in my refrigerator freezer.

By Rosa G. (Guest Post)
02/20/2009
That is a good idea-but, I have a freezer that is like a bucket. My problem is that I put something in and as soon as I keep adding things I loose the things on the bottom. I thought about making a list of the items in the freezer and that works except I have to practically empty the whole freezer just to get to the bottom. Is there anyone out there with a solution for these kind of freezers? I would appreciate some. Thank you

By
02/20/2009
This is a great tip. I will use it in closets and pantry -- using empty cans, or bottles -- not sure but will find something to replace frozen ice bottles. I don't need it in my freezer. Thanks. From a neighbor Salem dweller.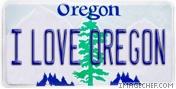 Post Feedback
Add your voice to the conversation.
Related Guides
Related Posts