I have been using old scraps of fabric to make the yo yos for this king size bedspread. It was a pastime while traveling and while watching TV in the evening. I found old clothing and fabric scraps at yard sales and remnants at the fabric store. I won third place with the bedspread at the Texas State Fair three years ago. All of this was hand stitched. I have since made two more.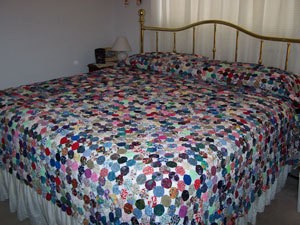 Update: There were so many people who were interested in this bedspread and how to make it that we asked Vicki for directions. Here they are!
Directions:
On underside of fabric, trace a circle (I make a cardboard template) twice the size of your intended yo-yo, adding 1/2 inch for seam allowance.
Cut out fabric circle; fold edge under 1/4 inch. Using a running stitch, sew along the edge of the circle, leaving a tail of thread. I use a pretty sturdy thread to be sure when I gather it won't break.)
Gently pull on thread until the edges gather in the center. Secure gathers with a few good knots and cut the thread.
To make the bedspread, I kept making hundreds of yo-yos so I would have diversity with my colors, then when I had quite a few, I would start sewing them together in strips of ten, then sew the strips together making a square of 100 yo-yos. Finally when I had enough squares, I sewed them together. Just keep making and sewing them together until desired size is achieved.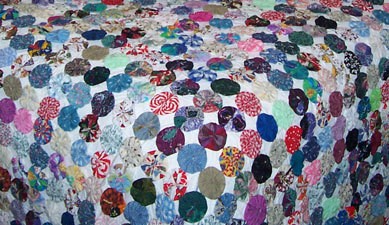 By Vicki from Garland, TX
By Vicki
Ad
---
Feedback Forum
Feedback about this article is posted here. Want to contribute? Click above to post feedback.

By jacque lee (Guest Post)06/15/2008
What a beautiful bedspread, I wonder, how long did it take you? I'm 59 this year and I think I will start mine now, what a wonderful gift to pass down the generations, well done. Jacque

By MawMawto5 (Guest Post)06/10/2008
I do not know how to sew but I went to Joann's & found the template. I love it already made 20. My question is do you use it as a decorating coverlate or do you sew it to a sheet or something & how? Can you launder this if it gets dirty?

By MawMawto 5 (Guest Post)06/10/2008
I went right out & bought a template & I just think they are so much fun to make. I know nothing about sewing so I would like to ask a question. To make it more sturdy how do you attach them to a sheet? Also, can you wash it & if so on delicate?

By susan [2]06/06/2008
you've done a stellar job! i'm currently working on one in fits and starts (great to work on in the car). suggestion for a template instead of cardboard (which can warp or get raggedy on the edges thus changing the size)...a CD. i use one that i was recording onto and messed up. instead of throwing it out (because i couldn't re-record onto it), it became my template. the absolute beauty of it is that if i am anywhere (vacation especially) and find neato fabric i want to cut for yo-yo's the size of CD's is uniform and i don't have to reinvent the template-wheel.

By Cindy in o H I o (Guest Post)06/04/2008
that is just " marvelous " darling, Beautiful

By Little Suzy [93]06/04/2008
Your bedspread is simply lovely. I know it must be very gradifying to have accomplished this. Thanks for the pictures. Happy sewing.

By doodles [8]06/04/2008
It is so beautiful and inspiring! Just how long did it take to complete? Averaging how many hours a day?

By Terri Toledo OH (Guest Post)06/04/2008
I love your quilt. I have made quilts in the past but not with yo-yos. My grandmother made a yo-yo quilt and it was very pretty. You have inspired me to try a yo-yo quilt.
Thank you for sharing

By (Guest Post)06/03/2008
As someone suggested, using a yo-yo maker makes it much easier than doing it without. You can purchase them at Hancocks or Joannes, I believe. Can't remember which store I bought mine. Your quilt is so pretty. Thanks for sharing.

By Jeannie (Guest Post)06/02/2008
You can find the directions to make the clown doll from yo-yos here:

http://sunshinescreations.vintageth ... 006/10/how-to-make-yo-yo-friend.html


By Ziggee06/01/2008
I bought a few yoyo maker templates and love them. I love using the templates better than going freehand.

Zig

By Sally (Guest Post)05/30/2008
Quilt is awesome, I'm sure there isnt a price you can put on something as beautiful as that quilt. Thanks for sending pictures.

By Michawn [16]05/29/2008
I hope you do not mind me saying that you have been truly blessed by God with a gift. I have never seen a yo yo, and find that design absolutely gorgeous! I aspire to one day be able to buy a quilt for my bed, I can only hope that it's as gorgeous as that one!

By dorothy (Guest Post)05/29/2008
Did you sew the yo yo's on a cover or did you just put the yo yo's together? Your quilt is beautiful I love yo yo's. Thanks, Dorothy from Tenn
By Penny Stoehr [28]05/29/2008
Vicki,
PLEASE!!!Can I buy this. I have a king size bed that it would look great on. What do you want for it OR, would you be willing to make one for me. I'll send a down-payment.
Thank you
Penny from Illinois

By connie. (Guest Post)05/29/2008
Vicki,
I just had to let you know your yo yo bedspread is beautifull! Would you please be so kind and send me the instructions on making yo yo's. I just told a friend how I would love to learn how to make the yo yo's.
Thanks
Connie

By siris (Guest Post)05/29/2008
Your a true quilter. It is indeed beautiful, bless you.
Siris

By Janice C. [18]05/29/2008
Wow. Sures looks like a first-place quilt to me. If you got 3rd place, the other two must have been absolutely out of this world.

By hpeter (Guest Post)05/29/2008
Very nice! I'm a quilter. My great grandma used to make the yo-yo quilts. So pretty! I found a yo-yo vest at a thrift shop that someone had made. I cut it apart and made 3 scarfs for a wing chair that I have. One for the back and two for the arms. Love it!

By Katie [3]05/29/2008
Ahhh, reminds me of my grandmother. She was always making yoyos for bed covers. Yours is very pretty.

By Cynthia Mullen05/29/2008
Hey Vicki,
This is a really pretty spread you made. Wow you must have a lot of patience! I've been threatening to try making some yoyos and see what I could do with them. I remember I had a clown doll made with them as a little girl. It had bells on the feet and hands also. Wish I had a pattern for that! Just wanted to spread some love and say how pretty it is! Cindym56 from Abilene, TX

By Jean in GA (Guest Post)05/29/2008
Your bedspread is so pretty! You should have won 1spt place at the fair for such a work of art. I am sure you have lots and lots of hours of work in the bedspread, and it shows. I love it!

By Janet (Guest Post)05/29/2008
During the Second World War, my dad was hospitalized for a long time due to injuries received in battle. My mother began to make yo-yo's for a quilt from fabric donated by others. Although Mom got a lot done, including sewing yo-yo's into large squares to put together, she never finished the quilt. There are many scraps left over to make into yo-yo's, and she passed this all on to me years ago. Although I am by nature a crafter, I only worked a little on this project. Mom died in 2005 at the age of 93 and I regret not having finished the quilt while she was alive. Your beautiful quilt is an inspiration to me to go back to this project and complete it. Thank you for sharing.

By fab4mom (Guest Post)05/29/2008
WOW! I love it! Can you post the directions? I don't even know how you made the little yoyos, much less how you put it all together. But I am much more open to learning how to make something new from something old now that I have more time than money. Thanks for sharing that.

By (Guest Post)05/29/2008
How do you make the yo-yos? and put them together?

Editor's Note: Here's a good link showing how to make them:

http://www.quilterscache.com/Y/Yo-YoQuiltingBlock.html
Post Feedback
Add your voice to the conversation. Click here to share feedback.