I have experienced a buildup of scale (lime?) in the bottom of the toilet bowls in our home. What's the best remedy for eliminating it?
By William from Lynchburg, VA
Recent Answers

By jlamarca01/20/2013
Easiest, simplest, way is to use a box cutter or one of its razors after lowering the water level.

By Emmie12/26/2010
Try mixing 2 tablespoons of salt with 1 teaspoon of white distilled vinegar. Vinegar is a natural cleaning agent.

By Judy 10/15/2010
The house we moved into had horrible deposits. I tried everything imaginable and then someone suggested "The Works". It's cheap, some in a white plastic container (about the size and shape of a Windex bottle. Worked! After getting out yuck use it and let it sit about an hour a week. A bit hard to find but Kroger often has it and usually The Family Dollar Store! I would do a free commercial for this product!

By AZGURL196709/14/2010
I have used a pumuce stone. It gets the stain off and wont scratch. I have a guest bathroom that is not used very often.
Archives
Thrifty Fun has been around so long that many of our pages have been reset several times. Archives are older versions of the page and the feedback that was provided then.
I either have lime or calcium deposits in my toilet and I need a cheap way to soften them or just remove them. We switched to city water and it's been driving me crazy. They look like brown rings, please help.
Rhonda from Michigan
---
RE: Cleaning Lime Deposits Out of a Toilet
Best way that I have found to clean lime deposits from a toilet bowl is to use a pumice stone. (03/02/2005)
By Jack Dittmer
RE: Cleaning Lime Deposits Out of a Toilet
Get a gray pumice bar from the grocery store (with mops, etc) and scrub the deposits off. You'll only have to do it once, then just regular cleaning with bowl cleaner will keep it away. (03/02/2005)
By Katie A.
RE: Cleaning Lime Deposits Out of a Toilet
I, too, swear by a pumice stone which can also be bought at a hardware store. It works as fast as an eraser. I've also used the regular, highly advertised lime-away products that never worked. I've also tried muriatic acid. It's added to solutions for inground swimming pools. It, too, can be bought at a hardware store. If used, be sure you have a fan running in the room with you. DO NOT inhale the fumes. Leave about 1/4 cup of acid in the bowl for 10-15 min. then scrub as usual. It might help to use the pumice stone first then keep up the clean with the muriatic acid. It comes in quart bottles for about $2. (03/03/2005)
By Val from Illinois
RE: Cleaning Lime Deposits Out of a Toilet
Where I used to work, we had a horrible problem with hard-water mineral build-up in the toilets, etc. We used plain white vinegar, and it worked great! We just started with the water-level down a little, poured probably about 1/3-1/2 gal. vinegar (1.48 at Wal-Mart /gal.), and let it sit over the weekend. That would be harder to do at home, but I would try overnight, and see what happens. This also works great for dishes! My co-worker said that she had heard that Tang also can clean toilets great, but we didn't try it. Good luck! (03/05/2005)
By Emily L.
RE: Cleaning Lime Deposits Out of a Toilet
'The Work's' - toilet bowel cleaner. I swear by that stuff. We have well water, and I used every toliet bowel cleaner out there, to no avail. I use to get the hard water ring-Now I just spray it on and it just melts away. Awesome stuff. U can buy it at Walmart even seen it at Dollar Tree. (04/08/2005)
By Cyra
RE: Cleaning Lime Deposits Out of a Toilet
I have looked in grocery store by the mops for a pumice stone but none were to be found. So I looked at what everyone here had to say and took it well to heart. (04/28/2005)
By Jo Ann
RE: Cleaning Lime Deposits Out of a Toilet
You can look at the hardware store. You can also find the ones for sloughing skin off your feet in the foot care section of the drug store. The ones for cleaning toilets have handles but one for feet will work just as well.
Once it is clean there are ChemFree Toilet bowl cleaners which is a mineral magnet that you put in the tank to prevent lime buildup. I just got some from Miles Kimball to test and they seem to be working well. They are safe for kids, pets and septic tanks. (04/29/2005)
By Susan
RE: Cleaning Lime Deposits Out of a Toilet
Keep those stones wet! its the trick with them. Pretty Potty works great and isn't as harsh as "the works". (05/07/2005)
By Sunny
RE: Cleaning Lime Deposits Out of a Toilet
Lime is calcium. the hydrated form of lime is; Ca(OH)2 used in sewage treatments. the word lime is used to describe this stuff because Calcium oxide (CaO) is usually made by the thermal decomposition of materials, such as limestone, or most commonly, limestone.
It is used in water and sewage treatment to reduce acidity, to soften, as a flocculant and to remove phosphates and other impurities; in paper making to dissolve lignin, and as a coagulant and in bleaching;
lime buildup would thus be best cleaned with something that works to absorb minerals, and after thorough research, this article on the web helped me out a lot:
"Removing Mineral Deposits from Household Surfaces" (05/30/2005)
By Pete the cleaner
RE: Cleaning Lime Deposits Out of a Toilet
If you are having trouble finding pumice stones, go to the pool supply store. They are also used for cleaning pool tiles of hard water deposits. (05/30/2005)
By Ron L.
RE: Cleaning Lime Deposits Out of a Toilet
Pumice stones can also be bought at the Dollar General Store for $1 each. A very inexpensive way to make an old looking toilet look like new again. My daughter couldn't believe it when she seen how nice it got when I cleaned it for her while she was working. Not hard to do at all either. (05/30/2005)
By Arlene
RE: Cleaning Lime Deposits Out of a Toilet
I found pumice stone at Walmarts, in the bath cleaner section. It was called "Pumie" heavy duty scouring stick and cost $2. It worked well. If your Walmart doesn't carry it, ask the sales manager. (06/20/2005)
By Ronald
RE: Cleaning Lime Deposits Off a Toilet
I didn't have very good luck with the pumice stone. I clean my commode by first lowering the water level so the lime deposit ring is above the water. You can do this by pushing water down with the bowl brush. Or turn the water off to the commode, and flush.(Don't forget to turn the water back on when you are finished cleaning.) Once the water level is down, sprinkle Zud or Barkeeper's Friend brand of cleanser on the ring, and scrub with a 3M scrubbee pad. I only have to do this once a month and in between my toilet bowl cleaner does a pretty good job. Harlean from Arkansas (10/18/2006)
RE: Cleaning Lime Deposits Off a Toilet
Try Lemon Oil. I use this on my commode, shower, stove and many other appliances. It keeps any scum or grease easy to clean. No toxic, all natural, and really makes for easy cleanup. (11/22/2006)
By Janet
I have lime deposits on the inside of my toilet bowl which causes it to not work. How do I get rid of them?
TIA,
Lois
---
RE: Cleaning Lime Deposits Off a Toilet
I tried everything, as we were selling our house, including emptying the bowl and adding vinegar. I decided that I'd try the pumice stone as a last resort, only I wished I had tried it first. It can even be used wet so you don't have to empty the bowl first. I bought it at the Dollar store, put on some gloves and got the bowl clean in no time. It won't harm the bowl as it's fine, not rough. Whatever you try, good luck. (07/15/2007)
By Mikki
RE: Cleaning Lime Deposits Off a Toilet
I have tried using pumice stones and it worked although it was a lot of work. At Home Depot they sell a product called Zep, and it's just a acidic cleaner that you squirt on. When I used it I was shocked and amazed and will never use anything else, by far the best product out there. (07/15/2007)
By pomsarelv
RE: Cleaning Lime Deposits Off a Toilet
Everyone say together: Spirit of Salts. Pour two cups into the toilet bowl, close the lid and let sit for two hours. Flush and scrub as usual. Repeat if necessary. Ventilate very well.
I moved into a house with a toilet looking like the devil's backside; I had no hope of ever getting it clean. I used Spirit of Salts and it came out clean and sparkling as new.
Editor's Note: For us American's this is hydrochloric acid. This is very caustic so use with extreme care. (07/15/2007)
RE: Cleaning Lime Deposits Off a Toilet
One cleaner that works well is "Lime-Away", just spray on and let sit, the longer the better, then scrub. It works great on shower heads too. (07/16/2007)
Does anyone know if taking supplements causes the toilet to get mineral deposit build up? Our toilet is total covered with deposits. Toilet bowl cleaner does little. I can only get it clean by removing all water and using CLR with a Scotch Brite and a butter knife.
By Sherilyn
---
RE: Cleaning Lime Deposits Off a Toilet
Pumice stones work the best, and they won't scratch either. I've found some good ones at: bkpumice.com
Good luck. (09/19/2009)
By pumouse
RE: Cleaning Lime Deposits Off a Toilet
I had the same problem and tried everything, even a $16 bottle of something from the hardware store. I finally tried The Works that I bought from Walmart for about $1.20. It is amazing! I had to use it a few times at first to get it back to normal, but now I quickly swish it every day and no more build up. Make certain you follow the directions. I assume if you leave it longer than it says it can damage the finish. (09/22/2009)
By Gail216
RE: Cleaning Lime Deposits Off a Toilet
Its not calcium supplements, it's the lime in the water, and this it what the build-up looks like in the back of a toilet. The part you can't see gets more and more built up, reducing the flush. (09/23/2009)
By Ausjulie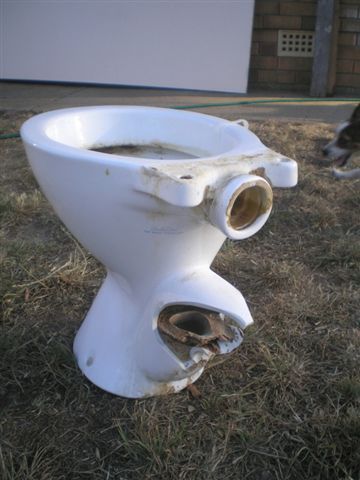 RE: Cleaning Lime Deposits Off a Toilet
If you remove as much water as possible from the bowl then pour down a large bottle of the cheapest cola you can find, leave for as long as possible (overnight best) and brush and flush. Yea, pearly and white! (10/15/2009)
By popet
RE: Cleaning Lime Deposits Off a Toilet
I ended up using the Zep stuff, but my stains were so hard that I was afraid to do anymore than 2 two minute treatments. Then I got the Bar Keepers Friend (bought both at Home Depot, boy they were very helpful). I used the green 3M scrubbers with the BKF and got it off. It didn't take an hour, but needed elbow grease. This was just for a mineral deposit ring on my toilet. Sparkling clean! (08/08/2010)
By SalishT
Answer This Question
Add your voice to the conversation. Click here to answer this question.