I am planning to make simple, inexpensive gifts for all my nephews and nieces for Christmas. I know what I'm doing for the girls (rag dolls). I need some ideas for the boys. They range in age from 3-13.
By Tina from KS
August 12, 2010
0

found this helpful
You could make stuffed animals for the boys, this would be especially neat if you could get your hands on some of their old jeans, etc., and use them for the fabric.
August 12, 2010
0

found this helpful
You could probably make a big cushion or pillow for the older boys. I doubt a 13 year-old would want a stuffed animal.
August 12, 2010
0

found this helpful
Most kids like throw blankets made from Polar Fleece (pre-season sales will be starting soon). Food goes over well with boys, too (think fudge). You could also do "gift certificates" for batches of homemade goodies. Polarfleece also makes easy hats, scarves, and mittens. It also makes cute little stuffed animals for the little ones (that are washable, to boot!) There are (free) sock and slipper patterns online for polarfleece, as well.
August 13, 2010
0

found this helpful
By the way, you can make a single-thickness polarfleece blanket by turning the edges back a half inch and using yarn or craft floss to blanket stitch around the edges. More work than the no-sew knotted ones, but only one piece of fabric!
August 18, 2010
0

found this helpful
Levi quilts are nice for both boys and girls. You just back it with their favorite color fabric. I like to use the pockets on the quilt border so that the kids can put toys or other treasures in them as they hang over the edge of the bed.
Check out this website. It gives pattern designs and instructions:
http://quilting denim_quilts.htm
August 18, 2010
0

found this helpful
What about a sports theme. I made my son a duffle bag for his cleets and towel in his team/school colors and I also made sweat bands for the whole team in their school color
I know it is a little early to be thinking about Christmas, but I like to be prepared. I am in a pickle this year! I like to make homemade things, or at least things with a homemade touch. We usually spend $10-15 on our nieces and nephew. This year, for the nieces I am buying them each a pair of slippers, then filling them with foot lotion, salts, pumice stone, etc. and wrapping it up all nice. But... I have NO CLUE what to do for my 7 year old nephew. I know he is into video games (that is ALL he does) but we are trying to give him other opportunities. Does anyone have suggestions?
Jerusha from Fredericton, NB
By guest (Guest Post)
December 3, 2006
0

found this helpful
I don't mean to offend, but as a kid who grew up a gamer, I'm not sure if a stamp book or something of the like would appeal to him. Yes, video games are pricey, and it is good that you want to branch out his interests. However, I don't know if stamps or bugs are the way to go. If he has a Gameboy/Gameboy Advance/Nintendo DS, a good idea would maybe be a custom-made carrying case for it. There are plenty of good instructions on the internet, and it is something he would use. Also, as tacky as it sounds, if you can find Perler beads (the tiny cylindrical beads that you iron together to make stuff with, you can find them at most any craft or hobby store.) you can go online and find some neat "sprites," or video game characters or objects from early 8-bit or 16-bit games. Simply find a picture of one and use it as a guide to put the perler beads onto a pegboard. When you're done, cover with wax paper and use a clothes iron to melt them together until they hold. Once it cools, stick a magnet on the back. Yes, it sounds tacky, but they often turn out to be VERY cool looking.
By guest (Guest Post)
June 1, 2007
0

found this helpful
I sell marshmallow guns. From snipers to bazookas i got them all. These arent the ones that you buy at the store these ones are made from 100% pvc pipe. From snipers to bazookas i sell them all. I even spray paint them. If your interested in buying one check out my site at www.freewebs.com/klaymmguns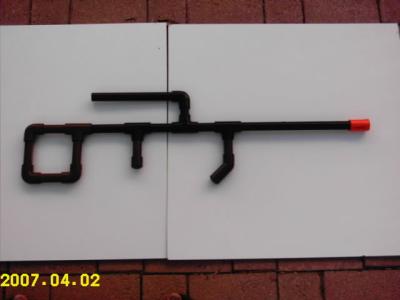 By guest (Guest Post)
November 19, 2007
0

found this helpful
I bought my seven year old brother a star wars action figure
and I'm going to make him a "battle station."
By guest (Guest Post)
September 7, 2008
0

found this helpful
For Christmas last year, I made my bro (10 almost 11 y/o) a jean cover for a little plastic box. (those ones that you put in your drawers or whatever to organize your stuff. They don't have lids.) I just measured the dimensions of the plastic box and sewed a jean cover for it! (And I sewed on a top, too that he can velcro down.) I also embroidered his name on it. He loved it! He uses it as a school pencil/pen/school supplies box and still uses it! You can also fill it with pens, pencils, a mini stapler, tape, etc. Any kid would love this. Oh, and you don't have to use jean fabric, you can use anything you like, but jean fabric is very sturdy and I always have scraps left over of that after making a quilt! hth
By guest (Guest Post)
October 12, 2008
0

found this helpful
Maybe make your little brother a homemade colouring book, if not maybe fun cookies in car shapes. I made the colouring book for my 4 yr old brother, and he loved it.
By guest (Guest Post)
October 20, 2008
0

found this helpful
The way to any man's heart is through his stomach! Those cookie mixes in a jar (soup, brownie, etc.) are perfect for a first time cook. There are tons of recipes online, put it in a cool jar with a decorative label and instructions. Don't forget the special candies mixed in. This is usually VERY cheap. Maybe you could include a shaped muffin tin or something. Craft stores (Michael's/Joann's) often have licensed character pans and you can use their 40% coupons to make the prices reasonable.
By guest (Guest Post)
November 19, 2008
0

found this helpful
How about a fun board game to play with the family? There are LOTS out there! Also, you can find a mp3 player that is around $20 if you shop for it!
By guest (Guest Post)
December 6, 2008
0

found this helpful
When I was a kid my parents farmed and being a dairy farmer in the '80's wasn't very profitable. One year my dad made rubberband guns for my four brothers. They LOVED them. Last year he gave one to each of my nephews, and they still love them. This year I'm going to sew them a target so they don't shoot each other all the time...though that may be part of the fun.
By guest (Guest Post)
December 24, 2008
0

found this helpful
I am having trouble this year with making something for my brother but I cant think straight. It doesn't help that my mom died about 6 months ago. She has always been there to help me with gifts. I am breaking down.
September 1, 2011
0

found this helpful
Why not do the same the thing for him you do for the girls. Only use a ball cap of his favorite team or sport, fill it with maybe hot wheels if he likes those, or are there any kinds of books he likes. I have a 9 year old and he loves WWE wrestling, dinosaurs, his favorite tv show is river monsters, so he likes books about snakes and fish. He thinks he is all grown up and likes to use the Axe products so he smells good like dad and papa. Just a few ideas that might help
Read More Answers