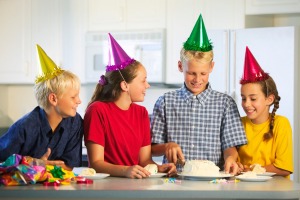 My son is turning 14 and I have no money. How can I make this day fun for him?
By Connie S

Answers

Louise B.
Silver Feedback Medal for All Time! 337 Feedbacks
September 12, 2013
2

found this helpful
Find some sort of event or activity that costs very little. There may be something free that you can have him invite his friends to, and they can all go together. Maybe you can take them so a beach or something. Maybe just have a group go to the park and play ultimate Frisbee or soccer or whatever they might like. If you can afford a wiener roast, have that after they have enjoyed some games. If you cannot, perhaps just cake and drinks.

September 14, 2013
3

found this helpful
Try the website "freecycle.org" to find a chapter in your area. People on there give away all kinds of stuff from clothing to gift stuff to furniture... it's free!
Collect up a bunch of items and have a scavenger hunt where they have to find the items you got, and hid all over the place, or you can hide cards from a deck from the dollar store and each card can correspond with a wrapped prize (wrapped with flyers and newspapers) you got for free. Hide them in your yard or house, or at the park. The wiener roast is pretty cheap... with a home made cake or cup cakes. They sell food at the dollar store. Have fun.
May 7, 2016
1

found this helpful
Teen boys are generally pretty simple; they want to do something with their friends. For most boys, this is what matters. I'm a scout leader and it's pretty universal. My son's birthday party consisted of hot dogs, chips, fruit, cookies, and cupcakes.
They had soda or water to drink. The boys played video games, roughoused, and played Magic. I made it a sleepover until 10am the next day. No decorations or frills. My son and the boys had a blast. All I did was food and drink. Total cost? $110.00.

August 9, 2016
1

found this helpful
I have to keep reminding myself that all the boys want to do is be with each other. I am putting up a tent near the house. I did this last year and they played video games till dark and then went outside and stayed up most the night rough housing and eating junk food. Chips and pop mostly.

October 24, 2016
1

found this helpful
you can give him love with family

March 1, 2017
1

found this helpful
I also have a 13 teen turning 14 teen single parent, no money, so I ' m taking 4 boys swimming & basketball at the YMCA, Than to my house for Pizza Cake Ice cream !
June 5, 2018
0

found this helpful
Im 14 and that is the most boring thing ever.
January 30, 2020
0

found this helpful
This is smart!!
Im a 13 bout to be 14 year old boy who dont know what to do for my bday
Answer

this Question