Doily to Brighten Up Drab Lampshade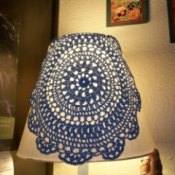 I recently set myself up a little table for just paperwork, radio and desk calendar. The only shade I could find to fit my lamp was a bit drab. I was unpacking crafts when I ran across a Michael's doily that I only paid $1.00 for. Pinning it on the top to let some pretty light shine through was just the whimsy I needed to cheer up my little desk!
Note: Do not ever drape any fabric or doily over the top of the shade. Even with fluorescent light bulbs, it's too much of a risk.
By Sandi A. from Salem, OR
Feedback
Read feedback for this post below. Click here to post feedback.

By
09/02/2011
Love the 'thinking outside of the box' ideas that you share, Sandi, that we all do but simply don't think to share with others. In the mid-80's I was given my paternal grandmothers linen collection and one of the handmade doilies was so beautiful I just had to find something to use it for on a daily basis.

I had one of those old fashioned desk lamps with the glass top that swivels front to back and it looked so plain I decided to dress it up with the doily. Still using it the same way as did a quarter century ago on my living room corner table. The little pink elephants in the photo were part of my grandmothers elephant collectibles :-)

Thanks for making sure to mention not hanging the doily over the top of a regular lampshade too! Definitely would be a fire hazzard. Even though my little lamp has a thick glass top that diffuses the heat I still never put a bulb in it that's over 40 watts.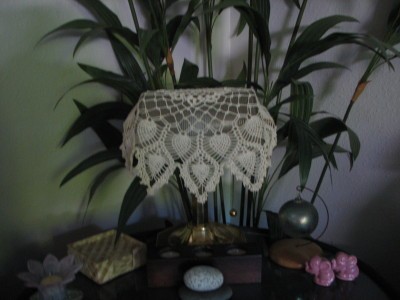 Post Feedback
Add your voice to the conversation.
Related Guides
Related Posts