Making a Recycled Tin Man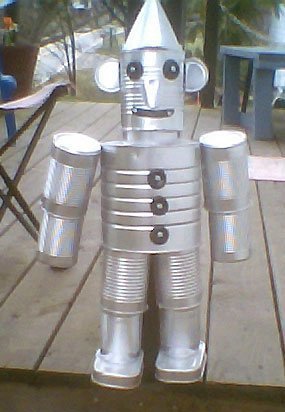 Recycle clean empty food cans into a delightful tin man for your home or garden. This is a guide about
making a recycled tin man
.
Solutions
Share on ThriftyFunThis guide contains the following solutions. Have something to add? Please share your solution!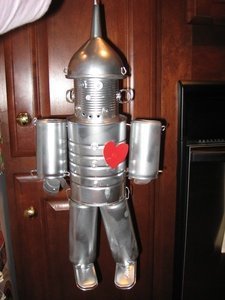 I created this mini man from some recycled soup and coffee cans, soda tabs, funnel, bolts, screws, candy tins for feet, coat hangers, swivel, spray paint and tin snips. I used and awl and hammer to make the holes I needed. Tin snips were used to cut out hands and heart. I hang him in my garden.
By Wendy S from Coopersburg, PA
Read 9 Comments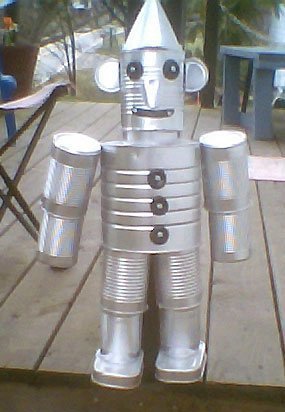 Here's a cute Tin Man made from recycled food cans.
Materials Needed:
1 medium funnel
1 medium vegetable or fruit can
1 big coffee can
8 small vegetable or fruit cans
2 sardine cans
2 lids from tomato paste
5 round metal pop or beer caps
1 tuna can
heavy gauge wire
pliers
2 pieces of cut metal for nose and mouth
7 screws
screwdriver
aluminum colored spray paint
black acrylic paint
Directions:
First spray paint all cans and paint nose and mouth and pop tops black. Then cut slits on both sides of medium can and insert tomato paste ears with glue.
Make two holes in bottom of the medium can, then take the tuna can and poke two holes in top on both sides. Wire medium can into tuna can.
Take a piece of wire and cut to length you want to hang with and double it and push up through the little part of the funnel. Make sure you make it long enough to wire through the medium can under the funnel to hold it together. Screw the funnel down thru the bottom of the medium can then screw in pop caps to make eyes.
Take the 8 small cans and poke holes in top and bottom of all, wire two to gether to make four sets for arms and legs.
Wire the arms into the top of the coffee can. Insert legs up thru bottom of coffee can and wire in. Poke 2 holes in each of the bottom of the sardine cans and wire onto bottom of legs for feet. Screw in the pop caps for buttons.
You can go by the picture to see how to put him together. If you have questions post below.
By Sandy from Bluff City, Tn.
Read 10 Comments
Questions
Ask a QuestionHere are the questions asked by community members. Read on to see the answers provided by the ThriftyFun community or ask a new question.
July 24, 2011
0

found this helpful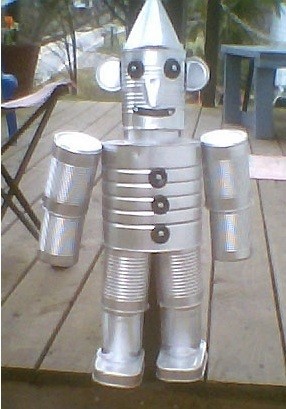 Where can I buy tin funnels to make a tin man? I live in the Vancouver area in BC. All I can find here are plastic ones. Thanks!
By Penny L.
July 14, 2016
0

found this helpful
I found mine a Home Depot in the department where you will find items to fill gasoline mowers, to pour in ?? that has a small hole to get the gasoline or transmission oil into.
Read More Answers
September 20, 2004
0

found this helpful
My sister-in-law received, as a gift from one of her students, a Tin Man Birdfeeder made of used Tin cans. I would like to have instructions of how to make some.
Thanks,
Laurie from Whitman County
By guest (Guest Post)
September 13, 2007
0

found this helpful
Thanks I just wish we could see the feet.
Read More Answers
Where can I find moveable eyes for making a tin man?
By Jeanie
September 26, 2014
0

found this helpful
Walmart in craft area and Dollar store has small bags of various sizes for eyes.
Where can I find the funnels for the tin man project? I cannot find the right size.
By Goosey from Columbia, SC
February 8, 2012
0

found this helpful
Walmarts auto department
I am looking for craft ideas to make a tin man.
By Deena
July 22, 2012
0

found this helpful
I am looking for instructions for making a tin man bird feeder. Does anyone have a pattern or instructions?
By S.C
Archives
ThriftyFun is one of the longest running frugal living communities on the Internet. These are archives of older discussions.
December 5, 2009
0

found this helpful
How do I make a Tin Man out of cans for a Wizard of Oz themed children's party?

By coppekat from Arlington, VA
Answers:
Tin Man Instructions
I'd use duct tape (aluminum colored) or that really shiny metal type tape that's the same size as a roll of duct tape. However, that can give cuts, so even though it's nice and shiny, maybe not. Use duct tape to make joints holding cans together.
For top hat, use aluminum foil to cover a paper cone or an oil funnel, can't quite recall what's on his head except its a cone I think. Cover cardboard or poster board, which you can get most places, with foil for any odd shapes you might need. You could wrap an old pair of sneakers with foil for feet, stuff gloves with plastic bags and cover with foil or duct tape or both for hands. Whatever works. (09/22/2009)

By PIKKA
September 21, 2009
0

found this helpful
I am looking for directions with pictures for making hanging OZ tin man out of cans.

Marcia from WI
Answers:
Tin Man Instructions
Here are some instructions that may help with a picture.
Recycled Tin Man thriftyfun.com (07/21/2007)

By lewis_admin
Tin Man Instructions
I have the instructions how do I get them to you? I don't have a scanner. OK here goes: 1 large coffee can, 1 28 oz. tomato can, 5 soup cans, 6 pop cans, 2 bottle caps, 1 wine bottle cap, 1 funnel, 4 rods for the shoulders, wrists, and knees. Cut out a heart in plastic and paint red. You will need 10 screws and 8 nuts. The coffee can is for the body, the funnel is the hat, the tomato can is the head, the soup cans are the neck, shoulders and lower legs. The pop cans are the lower arms, upper legs, and feet. You can figure out the rest I hope. I also have a tin lady if I can find it. Good luck.
Myrna (07/22/2007)

By Myrna
July 21, 2007
0

found this helpful
I need instructions for a man made from tin cans like in the wizard of oz.
Answers:
Tin Man Instructions
Make The Tin Man

SUPPLIES:
Awl or Ice Pick
Heavy Wire or Clothes Hanger
Wire Cutters
2 - 1" Wood Screws
1 - 1/2" Metal Screw with Nut
2 - 1" Moveable Eyes
32 oz. Coffee Can
13 oz. Coffee Can
20 oz. Fruit Pie Filling Can
4 - 15 3/4 oz. Vegetable Cans
2 - Sardine Cans
4 Soft Drink Cans
Krylon® Silver Spray Paint
Acrylic Paint - Black, Red
6" Funnel
DIRECTIONS:

1. Open tops of each can and remove contents.
Drain cola cans. Spray all cans and funnel with silver
paint. Spray funnel inside and out. Let dry completely.

2. With an awl or ice pick, punch holes in vegetable
cans, each side, 1/2" from top and bottom.
Punch holes in the cola cans, each side, 3 1/2"
from the bottom. Turn vegetable cans upside down over the cola cans until the first set of
holes on the vegetable can meet the holes on the cola can. Run a 3 3/4" piece of wire
through both cans; bend ends of wire. You have just made the arms and legs.

3. Turn sardine cans with open side down (feet). Place each leg combo on the backside of a
sardine can. Run wood screw from open side of sardine can through bottom of cola can to
attach feet to leg.

4. Turn the 32 oz. coffee can (body) upside down and punch a hole in the center bottom.
Punch holes on each side, top and bottom, 1/2" from edge. Punch holes in the fruit can
(neck) 2 1/2" from the bottom on each side, and one hole in the center of the bottom. Set
neck right side up on the body. Bolt together using a screw and nut.

5. Punch holes in the 13 oz. coffee can (head) in the
center bottom and on each side 1 1/2" from the open
end. Cut a 20" piece of wire, bend one end. Run up
through can, leaving bent end inside can. Drop funnel
(hat) upside down over wire and let slide down to
rest on top of the head. Curl the top of the wire; this
will prevent the wire from coming out and will also be
your tin man's hanger. Place the head down over the
neck until the holes meet. Run a 4 1/2" piece of wire
through the holes; bend at both ends.

6. Place legs inside open end of body and attach
a leg to each side of the body by running a 7"
piece of wire through holes. Bend wires at the
end. Arms are attached to the outside of the body
with a 13" piece of wire.

7. Glue the eyes approximately 1 1/2" from the
top of the head. Paint nose, mouth, and ears.
Three 1" crcles (buttons) are painted on body. All
are black. A red heart is painted on the left side of
the chest.
(10/22/2005)

By pcsupply
Related Content